ECM splashdown at Macquarie University
Thursday, October 24, 2013 - 19:05
Neil Fraser's first days on the job as Macquarie University's new Director of Information in July 2010 were not some of his happiest. Macquarie University has a goal of moving 10 million assets from shared drives and other campus repositories into its centralised Alfresco Enterprise ECM platform by the end of 2014, however the journey began inauspiciously.
"I went for the job interview and they didn't tell me at the job interview that actually we'd had a flood in our major record store at the time," said Fraser. "So I began on the job with a major disaster recovery operation going on with the paper having gone mouldy already with mould spores on it
"As we're under the state records legislation, this was a pretty serious thing. Important records were threatened and we had insurance companies involved. "
The project ended up involving the recovery and scanning of six million documents, forming the initial repository in the centralised Alfresco system known at Macquarie University as Truth.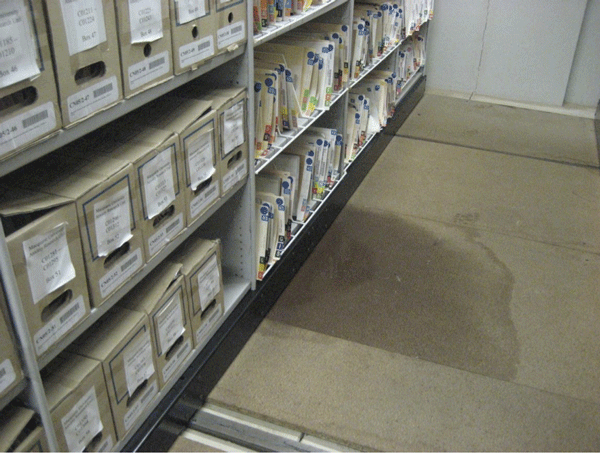 After the flood in the University's record store.
Scanning and OCR'ing the 6 million pages of records was a journey that was initially supposed to take 12 months but ended up taking about 24 months. 
The move to a centralised Alfresco ECM system was a major attempt to reign in a large number of disparate file shares and individual document management systems that met the requirements of a sprawling campus home to 40,000 students, 1500 staff, and 17 different corporate entities. Alfresco-Truth aims to provide a document repository for the entire university, with versioning of documents, an audit log of changes and functionality for document process workflows.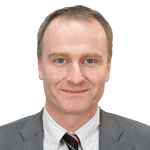 "The amount of material that gets generated by our research community, teaching community and the learning community of the students is enormous. It's one of the most fundamental challenges of universities, how you manage a huge array of material of every type," said Fraser
"The shape and size of a university, and the complexity is enormous. On top of that you have the problem of a diversified operating environments. You've got Macs, PCs, Unix, and others on high-performance computing, things we've never even seen before. You've got everything out there. We've also got large collections in major research archives."
The selection of Alfresco was strongly influenced by its origins as an open source content management platform for documents, web, records, images, and collaborative content development.
"We had to go open standards," said Fraser.
"We had to make sure that we could adopt something which was actually relatively low cost as well, because when you scale to a big platform, you're going to have to think about the long term, total cost management for an organisation that doesn't necessarily want to spend a huge amount of money on this material."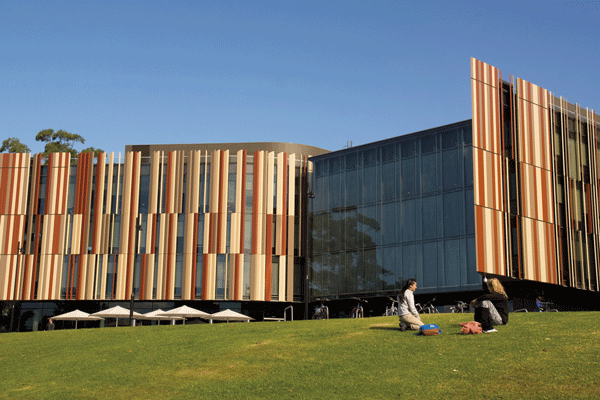 Macuarie University's Library includes Australia's first automated document storage and retrieval system 
The decision to adopt Alfresco in 2010 was a major revolution for the university which had previously not treated document systems as core platforms in the saw ways as financials, student management and other enterprise systems.
"We also had lots of silos of information, and we're often very paper-driven. We have a lot of old business practices that still exist with property division, hospitals and the Macquarie Graduate School of Management doing their own thing," said Fraser.
"We had a lot of diverse, complex people doing off and building their own document solutions, or building and actually bypassing a lot of the business processes that were setting policy or procedures."
Container shock
Recently, the information division was notified of a collection of paper records sitting in a 40 foot container. Someone had lost the keys and they needed an acetylene torch to gain access.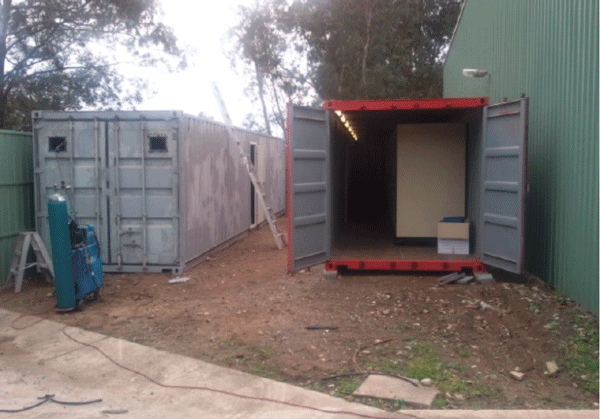 "This was an example of a department in charge of its own record-keeping. We didn't ask them where they were keeping them and then we found that a lot of the stuff was being kept in these sort of conditions," said Fraser.
"Now, I wouldn't be surprised if many organisations out there have a similar sort of problem going on, but they're not just aware of it. Now HR is one of our biggest customers, they've recognised this problem and now do their own scanning." 
After three years of hard work the signs are encouraging that Macquarie University is beginning to win the battle to establish Alfresco -Truth as the single source it aims to be. There are now around 1200 users with around one million files imported and indexed.
Chi Nguyen, Digital Lifecycle Manager and Alfresco Technical Lead at Macquarie University, said "We wanted to make it durable, authoritative, and a place that would have both digital and physical documents as well. And the most important concept we put up, which is a document for every link and a link for every document. A durable, persistent link for every document.
"This is a key which we insist on all our software vendors building for us as a concept into their system. So if you move the object in a repository, the link will persist. It's a durable URL with the object. 
"We have this concept of one ID, which is really a single password that people use to access all the university key business systems: that includes the Wiki, the HR system and now it also includes the Truth system. 
"We are very strong on self-service. So that includes business units being able to set their own access control.
"One of the reasons that we adopted Alfresco as a document management system, and a record management system in one go, is we want to break down these silos of information.
"So the very first decision that we made was to basically put everything, the whole university, under one file plan and the thing that separates each business unit is really the access control. 
"We did some customisation to get rid of the default Flash preview, because we are a device-agnostic kind of institution. We have people using iPads, we have people using iPhone' we can't have Flash. 
"As the PDF format is now natively supported in pretty much all the browsers out there, including the mobile browser, we modified the code to automatically generate the PDF preview
"That's what I like about Alfresco. It's extremely flexible, it has a very nice architecture for you to be able to go in there, and now you don't actually have to do a lot of work on the server side. People will actually use the native browser preview to actually just view the PDF. So if-- previously if they upload the PDF, you have to do a lot of work to generate the PDF to a flash preview for you to see. But this one you don't have to do that."
Some of the University divisions that have migrated their records to Alfresco Truth include Legal and Property Management as well as the University photo library. 
Activiti workflow
The Activiti workflow engine built into Alfresco 4 is also being used to build approval processes to replace agreements that used to be emailed as attachments.
"They would still print things out and then actually get them to be signed and it takes weeks and months for a very simple process to be completed that way," said Nguyen. 
"One thing that we jumped on when we moved to Alfresco Four was the fact that the Activiti workflow engine was now included. It is ideal for having document-centric business process because now you have a workflow engine and you can still leverage all the document management feature of the system. 
"That includes the ability to have a single point of reference for all your documents. You have automatic versioning happening. You'll have customisable metadata. And because it is embedded inside Alfresco now you can leverage all the forms and the minute I control Alfresco, you wipe off them. 
"And one of the key advantage of having workflow engine is the fact that you actually codify the business processes into a system code. So there is no ambiguity in terms of the actual process. 
"Things are still happening in your e-mail inbox. What's going to happen is that you implement workflow but the notification goes to people who are required to perform a particular task via their e-mail inbox and that e-mail is customisable for each of the work flow tasks that they do and people will be able to click on the links within that e-mail and be taken directly to the task they have to do in the system. So, e-mail is still a very important system. This is not to replace the e-mail, it is simply a good way to actually put all the artefact for that particular workflow in the system on the central platform. 
"E-mail is still a very important system and it's one of the areas that we need to look at, how we capture a lot of the e-mail business decisions into our record management system."
Gmail adoption
Macquarie University is a heavy user of the cloud and the biggest Google G-mail customer in Australia with over 170,000 accounts. 
"We partnered with them about four years ago now and we're a heavy user of big cloud services," said Fraser.
"With that, we have sovereignty issues on data and so we've had to go through lots of legal hurdles to adopt cloud services. We house our Gmail in Europe, for example, to avoid the Patriot Act. That's something to consider when you move to the cloud services is that contracts are only so good. With federal-level changes including privacy law changes coming next year, you're going to have to really carefully think about sovereignty and where you archive and where you store stuff. 
"Having been a big user of cloud for the last four years, we're aware of legislation changes that require us to look at how we house and archive information.
" We have lots of partners and lots of people on site, so we are the archetype extended enterprise."
Request further information - Article