ANZ firms edge closer to Enterprise 2.0
Wednesday, July 6, 2011 - 12:14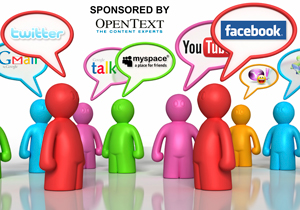 Image & Data Manager looks how Australia and NZ organisations are realising the vision of Knowledge Management through leveraging valuable data and employing new platforms to introduce business process automation and to improve communications and collaboration.
There are many planks to the modern KM platform: from SharePoint Wikis and Workspaces to managed document repositories and better enterprise search.
Knowledge is indeed power, and many organisations are discovering how successful KM is improving sharing, workflow, records management, compliance and information availability.
The end goal an organisation's KM strategies can vary greatly, whether it is to retain IP, provide legal protection, aid compliance or something else entirely.
Large organisations such as the Australian Taxation Office have a range of KM initiatives underway, including Intranet, SharePoint, Social Media discussion group, repositories of common terms and definitions, eWiki pages, and communities of practice (e.g. marketing, business analytics, design etc.).
The end goal of KM at the ATO is enhanced speed to market, to re-use work already delivered, rather than re-invent output with each new task or assignment or product.
The CBH Group is one of Australia's leading grain businesses with net assets of around $A1 billion.
It is embarking upon an integrated ICT - IM - KM strategy, with the intention of utilising existing platforms, i.e. Line of business (LOB) applications, SharePoint and eDocs (5.3). It is also developing a "OneCBH" platform to provide a user interface.
As a greenfield site just commencing the KM journey, CBH Group is anticipating that as a starting point KM will focus on building collaborative platforms - upon which to promote knowledge sharing. The proposed road map will include data harmonisation and Information Governance.
One of Victoria's largest government departments sees the end goal of KM as "To improve the way we work; to connect people and ideas regardless of location, position or organisational structure; to make tacit knowledge more visible and to pinpoint its sources; to fully explore and appreciate our human capital."
For Kerry Gutowski, Knowledge manager at CPA Australia, "The end goal is to make information available to members Anywhere and Anytime and to effectively re-use content and deploy it through multiple channels."
"I think it is important to make the changes incrementally rather than a "big bang" approach. Look for the low hanging fruit or the project where the impact can be seen quite quickly. Find a business unit that is suffering through poor KM approaches and get them to buy-in to the KM strategy and have them become "champions"
Kordia
At NZ telco Kordia, the main goal of KM is to provide compliance with the national records management act as well as enhancing the storing and sharing of knowledge from employees to the rest of the company.
Janet Chambers has worked as a Business Analyst for NZ telco Kordia since 2006. Kordia has over 700 staff in over 20 locations across Australia and New Zealand. Janet's original focus was on the financial systems but in early 2010 she took on the challenge of assisting the Corporate Knowledge Manager with the implementation of SharePoint throughout the business, and the upgrade to SP2010.
With SharePoint as its Intranet and document management platform, Kordia staff are using wiki pages for knowledge sharing.
"One major focus is to make sure all staff are aware of the policies and procedures. Another is the version control on quote and tender documents, so that there is no confusion around which is the latest version."
"Social media has been a bit slow to take off inside our organisation, but people are slowly starting to use Twitter and wikis."
"They are starting to use Team sites and Mysites inside SharePoint. We are decentralising the control of team sites so teams have more input around the content of their own sites.
"You have to make entering and finding data as quick and easy as possible. Busy people get frustrated quickly if they have to spend what they consider 'too much' time saving data or searching for data."
VMIA
Katherine Brooks is records co-ordinator at The Victorian Managed Insurance Authority (VMIA) which provides risk and insurance services for Victorian government bodies. It is a statutory authority which reports to the Victorian Department of Treasury and Finance.
Brooks agrees that KM would improve the ability to share lessons learned, & reduce "reinvention of the wheel".
"Data reuse would be better - particularly if the user was sure that the data was current."
The VMIA is currently exploring the implementation of an EDRMS for RM & DM, and has no initiatives in social media. It is currently using TRIM for paper-based records.
"The implementation of an EDRMS is in the planning stage, as part of a drive for compliance. The KM strategy is in early stages of development. The organisation isn't clear on what they want/expect from KM initiatives. They believe better KM would be good for them, but they're not clear on what better KM might look like, and are wary of how resource hungry it might be."
With a staff of just over 100, KM is seen as a means to improve internal information management and compliance.
"The challenge is choosing which of the plethora of KM products is best suited to the organisation's needs - choosing one of everything could become a maintenance nightmare.
"There's so much relevant information inside and outside the organisation. Harvesting it in a meaningful way would improve productivity immeasurably and hopefully that would translate to more satisfied staff, thereby improving staff retention."
One of the major KM challenges is providing new staff access to the lessons learned by their predecessor. In many cases that information will be filed away on a network drive in a folder named by their predecessor, with an unknown directory structure.
"So you may have to know your predecessor's name and know where to look on the network. That's if it goes on a network drive, in many cases it will be placed on a local drive or a personal drive. So there is a fair amount of memory loss there."
"A lot of organisations are sticking their heads in the sand about social media because it does require a lot of thought and a lot of consideration to figure out how to manage it. The easy response is to say We Just Don't Do it to avoid the problem."
CPA Australia
Kerry Gutowski, Knowledge manager at CPA Australia, thinks it is important to make the changes incrementally rather than a "big bang" approach.
"Look for the low hanging fruit or the project where the impact can be seen quite quickly. Find a business unit that is suffering through poor KM approaches and get them to buy-in to the KM strategy and have them become "champions"
CPA Australia is underway with an Intranet upgrade and looking into a potential SharePoint deployment for document management, as well as federated search with internal and 3rd party repositories.
"By having a KM strategy it makes the storage, use and re-use of content more consistent and makes better leverage of information already created," said Gutowski.
FESA
SharePoint 2010 has been implemented as an Intranet and Extranets platform at The Fire and Emergency Services Authority of Western Australia (FESA), with TRIM for document and records management.
FESA is implementing a corporate map viewer and knowledge kiosk. Knowledge manager Elizabeth Hides says KM highlights what knowledge is available in the organisation, and provides more complete information to assist their decision making or at least increase their awareness of knowledge that may be of use to them.
"Members of the community are using and are becoming more reliant on social media. The challenge will be to balance the needs of the community with the constraints of the agency to provide accurate, timely information," said Hides.
Department of Business and Innovation (DBI)
Victoria's Department of Business and Innovation (DBI) is using the TRIM EDRMS for document management with an intranet running IBM WebSphere linked with Easylink tool. Enterprise search is handled with Autonomy and Business Intelligence with Business Objects. SharePoint is used for CRM.
"There are Knowledge growth sessions about the activities in the Department plus external motivational speakers to get folk thinking about KM, said Vicky Harris, Manager, Knowledge Management.
"We also have Communities of Practice with Divisional Information Owners being a main one and Power Users another one in DBI."
With operations in each state, KM enables sharing and efficient roll out of best practice operating techniques.
Curriculum Council WA
The Curriculum Council is an independent statutory authority in WA with around 100 staff. Information Services Manager Murray Jackson has rolled out a SharePoint intranet to allow better sharing and access to information, while staff must file corporate email and documents in TRIM.
"SharePoint is helping us work across the organisation rather than the silos we used to have," said Jackson.
"We are looking to explore more of the collaboration capabilities of SharePoint while rolling out to more business units in 2011."
Business process mapping occurs in Microsoft Visio and project, although it is a challenge getting business areas to keep their business process maps current. The Curriculum Council is also looking at a Knowledge Retention Solution from iOctane, there are no plans to dip their toes in social media.
"We have a couple of FaceBook sites - just pushing information out - but the organisation's management team is not really convinced that we can control this media. We are not into sales so we have not figured out how social networking fits into a government service yet."
The jury is still out on whether social media is a crucial element to a KM strategy. Many large organisations such as major banks and the defence department have a simple way to eliminate the risk, they ban all use of external social media on their networks.
Others are looking to alternatives to twitter such as Yammer, which has been introduced at NAB and has experienced a strong take up. It was done more as an experiment however is now a fully supported and endorsed communication mechanism.
Seek and ye shall find
How do you find the right person to ask a difficult question in your organisation. Where do you start to look.
Its not surprising really that the search usually begins with the colleague sitting closest, and this approach can still work when your organisation is small enough to enable shared knowledge of internal expertise to be easily known.
But when your colleagues number in the thousands and are spread across dozens of locations, what is there to do?
The Australian Taxation Office (ATO) uses an enterprise-wide staff directory, but it's still primarily word-of-mouth (or who your desk colleague knows).
At NAB, a register has been created using SharePoint where each person in the company can fill out a profile including expertise and experience.
This information is searchable. Although completing this information is "optional" it is being strongly encouraged.
The full C/Vs of all technical and professional staff are retained within the Documentum central repository at Westpac.
Curriculum Council WA is thinking about deploying the My Site capabilities in SharePoint.
"That would allow us to share staff expertise - the blockage we have is that there is a perception that staff will 'enhance' their expertise/skills offering services they can't provide," said Information Services Manager Murray Jackson.
At CPA Australia, currently people find staff by asking others who have been in the organisation for some time or posing a particular question on Yammer.
"A tool to map internal expertise is a project I would like to implement - the framework is there on the intranet - what is required is management endorsement, said Knowledge Manager Kerry Gutowski.
A Directory for staff at Victoria's department of business Innovation is organised by business unit and there is a capability to place details in staff directory re experience but this is rarely used.
 
Request further information - Article