Cotton On to AP Automation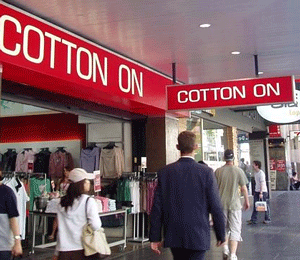 The Cotton On Group, Australia's largest value fashion brand, has selected Xcellerate IT as the preferred solution provider to implement a best practice invoice automation solution within their Accounts Payable (AP) department.
With more than 1,300 stores and a team of over 19,000 employees in 17 countries across the globe, the Cotton On Group processes approximately 120,000 invoices per annum in the Accounts Payable department of their headquarters in Geelong, Victoria.
The capture and workflow platform includes Kofax Capture and e5 Workflow software to automate invoice processing and integrate into Dynamics GP.
"This is a very exciting endeavour for the Cotton On Group, and will enable the Accounts Payable team and drive efficiencies and automate our manual processes" said Brad Evans, Cotton On Group Purchasing Manager.
The solution is designed to automatically identify which branch/division of the Cotton On Group the invoice is for and to trigger complex workflow scenarios for electronic approval. Greater visibility of invoices, identification any duplicates and streamlined approval process into a web-based workflow management solution is now realised. Accordingly, this export of data into the line-of-business systems has reduced the manually entry of data thereby providing a substantial savings both in cost and time for their AP staff. As a result this allows for a more efficient use of organisational resources and time spent on more value-add tasks.
"We are thrilled to be working with such an iconic brand as the Cotton On Group and look forward to empowering the organisation to gain greater efficiencies by boosting staff productivity and providing operational visibility", said Howard Boretsky, Managing Director of Xcellerate IT.