Lexmark announces $US1B Kofax buyout
Monday, March 30, 2015 - 18:47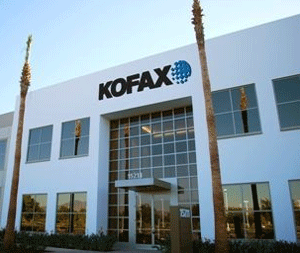 A $US1B buyout of leading enterprise capture vendor Kofax by Lexmark adds more weight to the capture and workflow software holdings of its Perceptive subsidiary, following earlier acquisitions ReadSoft and Brainware. It also potentially brings into play the huge channel network of over 850 partners that Kofax has established worldwide in raising the profile of Perceptive's full suite of information management software.
Many of Kofax's partners compete with the Lexmark/Perceptive offerings, so there will be some sensitivities to be handled here. 
Paul Rooke, Lexmark chairman and CEO, claims the merger will result in more channel solutions.
"Our customers will have a breadth of hardware and software solutions that connect their information silos and automate their business processes - enabling them to access the most relevant information at the moment they need it to drive business forward," he said.
The Kofax purchase effectively doubles the size of Lexmark's enterprise software business to nearly $US700 million annual turnover.
While it is widely perceived that Perceptive will benefit from Kofax's global presence, some have questioned how successfully Kofax has integrated its acquisitions, and how Lexmark and Perceptive can improve this integration.
"The combination of Perceptive Software and Kofax solutions strengthens the breadth and depth of our offering, giving us an unmatched ability to help customers of all sizes, in all industries and across the globe to connect unstructured information to their systems of record," said Scott Coons, Perceptive Software president and chief executive officer and Lexmark vice president.
 Lexmark entered the ECM market with the 2010 acquisition of Perceptive for $US280 million.
US industry analyst Paul Carman, in a company blog, observed that " … large ECM and BPM players who rely on Kofax Capture now find themselves in a very awkward position. For example, Xerox announced a major partnership with Kofax in January, yet they do not sell Perceptive solutions – and in fact compete with Lexmark in the managed print services (MPS) market. Konica Minolta, another Lexmark MPS competitor, just received a partner award from Kofax, but they are also partnered with Hyland, not Perceptive. This also has a major impact on Hyland, especially in light of their counter offers for ReadSoft some months ago."
Forrester analyst Craig Le Clair   believes the main positive for Lexmark is the acquisition of Kofax's TotalAgility (KTA) platform and its related components which will enhance its process platform.
However he warns, "Lexmark may find itself devoting significant investment dollars to purchase a legacy document capture business that has moderate long term value. We estimate around $US200m of Kofax' current business derives from this market with revenue in this area more likely to decline then accelerate. Lexmark would then find itself devoting a lot of management attention to minimizing the impact of that decline."