myGov portal broadens its reach
Friday, July 24, 2015 - 10:01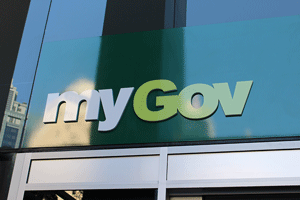 The push is on to drive interactions between Australians and the Commonwealth Government online, and at the heart of this transformation is the two year old myGov portal managed by the Department of Human Services.
CIO Gary Sterrenberg is overseeing a rapid expansion of the services and functionality offered via MyGov, which now provides access to services such as welfare payments, medical rebates and e-health records, disability support, child support and veterans affairs. The Australian Tax Office also adopted the service, further boosting take-up and extending the range of online options on offer.
As at 31 March 2015, there were 6.5 million active myGov accounts and an average of 15,000 new accounts are created each day.  According to the department 30% of the population aged 16 and over have established MyGov accounts. Although it does not anticipate the entire population signing on and expects participation will top out at around 10 million users or less than 50% of the total population. Earlier this year, DHS added optional two-factor authentication to the service, allowing consumers to elect to provide their mobile phone number in order to have an SMS sent to them containing a one-off security code that must be entered into the site before access is granted.
Prior to implementing its digital initiatives, the department offered limited payments and services online with a reliance on traditional methods of claiming and communicating through paper mail and forms. The lack of digital online services forced customers into traditional channels of paper, telephone and face-to-face to conduct their business with the department.
The payoff for MyGov will lie in its reduction of the huge volumes of physical mail and direct interactions with citizens. The scale of the challenge is illustrated by the fact that between July and December 2014 the department distributed over 46 million hard copy mail items. Some 35.4 million letters have now been delivered to the myGov Inbox with an average of 127,000 letters delivered each day.
The Department says the number of letters moving to online channels continues to increase each year and over 50 per cent of Centrelink letters are now sent online. For this Financial Year to date, the number of hard copy letters distributed by the department has dropped by around 15 per cent.
The department's document lodgement service enables Australians to securely lodge and store and access documents such as forms, medical certificates and payslips, online or through the self-service mobile apps. Since its release onto Centrelink platforms in January 2013 an average of 1800 documents have been lodged per day and more than 1.24 million documents were lodged by 30 November 2014.
The service provides improved information and records management and facilitates the move from traditional document management and storage (photocopying and manual records) to readily accessible, appropriately controlled, secure electronic records. Behind the scenes the department uses several technologies including FileNet and TRIM for different record-keeping purposes. SAP is used as the originating data capture interface to collect these documents.
The department does limited extracts from some of the forms available online using Kofax and Fuji-Xerox technology.
To aid with its migration to digital, the department in 2014 implemented an OpenText solution for Outgoing Correspondence management, OpenText Document Presentment (OpenText DP).
The Department says its part of its strategy to move the large number of PDF forms available at http://www.humanservices.gov.au/customer/forms/centrelink-forms online, although it has not announced a timetable for this to be completed.
The 2015 Federal Budget allocated $A7.1 million for developing a "whole-of-government digital mailbox solution to enable individuals and businesses to receive and transact with digital messages and documents from government in a seamless, secure environment."
The newly-established Digital Transformation Office (DTO) plans to expand and improve the myGov digital mail service to provide it as a secure inbox for communications from an increasing number of agencies. Federal communications minister Malcolm Turnbull has announced that myGov will be offered to all other state and local governments at no cost, other than those associated with the initial "onboarding". The myGov digital mail platform is also set to be expanded to allow use by businesses from next year.