Harvesting ECM success at CBH Group
Friday, July 24, 2015 - 10:27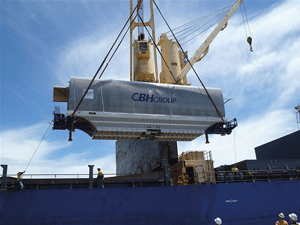 The CBH Group, Australia's largest co-operative owned by around 4,200 Western Australian grain growers, has completed a major ECM migration from OpenText eDOCS 5.3 to Content Server 10.5, implemented by solutions provider Fastman.
Established in 1933, the CBH Group has total assets of more than $A2 billion and employs approximately 1,100 permanent employees, with up to 1,800 casual employees during the harvest period from October through to January.
"The implementation of Content Server immediately improved functionality from eDOCS but also provides us with a platform for the future. Particularly via its integration with SAP through OpenText's Extended ECM for SAP (xECM) solution," said Tris Christian, Project Manager at CBH Group.
CBH has reported users benefitting from, "better searching" and "Inherited permissions that save users manually setting permissions on each document they save"
Each user has personal workspaces for working on draft documents while in the system, and the move to Content Server has provided better integration with SharePoint and Outlook.
"We're all pleased with the way the implementation went. Everyone at Fastman has been a great help throughout the project," said Christian.
CBH Group currently receives and exports around 90 per cent of the Western Australian grain harvest, has a marketing and trading arm and owns a state-of-the-art rail fleet. It also owns a 50% stake in Interflour which operates seven flour mills in Indonesia, Vietnam, Malaysia and Turkey, including a grain port terminal in Vietnam.
The ECM solution has been deployed to 1,200 users on the CBH network, ranging from the head office in Perth along with interstate and international users. A migration of 1.2 million documents from eDOCS was undertaken by Fastman using tools developed by Fastman's Canadian business partners and proven over several years across many similar projects.
Use of these tools enabled the migration to be completed quickly as a single "Big Bang" approach, with permissions on migrated documents being retained and folder permissions mapped so that inheritance is available for new content created in those folders.  The actual cutover was completed over one weekend.  
Christian has some advice for other organisations attempting a similar upgrade.
"We selected the right product for our requirements," he said.
"Also we took the time to engage with the right implementation partner – Fastman – and ensured both eDOCS and CS10 expertise was available."
The scope of the project was carefully managed by holding back the rollout of certain modules to avoid overreach. An example of this is Extended ECM for SAP Solutions which was held back from the initial launch to enable a faster initial rollout and limit change impact on the business. Ultimately xECM will give CBH the ability to marry document management and collaboration with SAP, with content tied to the customer profile in SAP, enabling all documentation and SAP structured data to be accessible in a central repository.
"Many organisations still struggle with user adoption, and strategies for successfully managing enterprise content from creation to destruction are elusive," said Managing Director and Founder of Fastman, Alister Grigg.
CBH met this challenge by insisting that training was made compulsory for all users and offered it as bespoke e-learning or classroom depending on preference.
A decentralised support model was chosen, with local support staff trained for functional issues and 'Folder Administrators' trained for queries on folder structures or permissions.
One aspect of the project that was particularly challenging was the need to work within very strict freeze periods based on the grain harvest period.  This starts around 1 October each year and runs through to January/February the following year.
Minimal changes to systems or processes are permitted in this period.  The close collaboration and flexible engagement model between CBH and Fastman ensured compliance with this, and to a successful project overall.
The company plans to expand OpenText capabilities, applying records management to content within the OpenText Vendor Invoice Management for SAP Solutions application; and expanding the use of OpenText Enterprise Connect, which integrates content management within the Microsoft user environment.
The Fastman formula
Australian solutions provider Fastman has carved out a global profile over 10 years deploying OpenText ECM solutions to customers in 18 countries and now has a physical presence in four.  One of its largest engagements is within a massive deployment of GCDOCS, the Government of Canada's branding of OpenText's enterprise content management system - Content Server - which is the Federal Government of Canada's official electronic documents and records management solution (EDRMS). 
GCDOCS is being deployed to more than 90,000 civil servants across 104 Agencies, many of whom are using Fastman's Permissions Manager product for managing access rights. The program is being managed by Public Works and Government Services Canada (PWGSC), using a combination of centrally hosted and departmental deployments and based on standards defined by the Canadian Treasury Board Secretariat.  Prior to GCDOCS, departments used a combination of products and systems which restricted their ability to work collaboratively and to leverage information held within each system.  The new system supports information sharing both within Government and with external parties whilst maintaining the necessary security and privacy controls.  Fastman Permissions Manager extends the standard Content Server tools by introducing a Permission Overview function that acts as a new central dashboard from which permissions can be quickly viewed and easily managed. 
It is one of the custom solutions that Fastman has developed for its customers since commencing as an Enterprise Information Management (EIM) solutions provider in 2006. It has deployed solutions to energy and engineering companies across three continents, and many public sector organizations.
In Australia and Asia the company's primary focus is on services, primarily around the OpenText Content Suite and to a lesser extent SharePoint. In other markets the focus is on its own products, often supported out of Australia and Singapore by the same people that deliver services to local clients.
When Managing Director and Founder of Fastman, Alister Grigg, started in the IT industry 35 years ago the term "Information Technology" didn't exist. And when he started Fastman in 2006 the term Enterprise Information Management was just gaining currency. Document Management and Records Management were of course mature disciplines, and we had already moved on somewhat from the first iterations of Knowledge Management.
"Fast forward to 2015 and our industry has changed in many ways but in others it's stayed much the same. Mobile IT is ubiquitous, business is regularly done via email and even text messages - both foreign concepts only a short few years ago.
"The IM challenges we now face are being driven by people in their 20s and 30s, even though they are being met by those in their 40s and 50s. Even the new generation of CIOs are having to look to this younger generation to make sure the ideas and strategies they bring to the boardroom are relevant."
"A generation ago a document was a simple concept.  It was a piece of paper or the equivalent in electronic form.  We had only just moved from typing pools to word-processing, to self-serve authoring tools like Word.  We still did business largely by exchanging documents, or emails at a pinch. 
"But today that same 'document' may in fact consist of a number of elements, across multiple channels and across multiple technologies. Email, instant message, video conference, images, traditional documents, videos - the list goes on and changes almost weekly. And of course at the same time we are all very familiar with the issues presented by the explosion of data volumes. "Thankfully there are some very clever people in our industry, and technology has matured immeasurable in that time even if the basic concepts remain familiar.  Clearly as we move quickly to cloud based, hybrid, and file sharing style deployments some of the traditional assumptions are being challenged but the opportunities this presents are immense. 
"We love working with customers to design and deploy solutions which take advantage of such developments, for example the  use of smart devices by field staff to capture video and imaging integrated with business process and archiving managed by strong, enterprise level platforms."
"The operational efficiencies these types of solutions provide, coupled with lower organisational risk and more consistent compliance, are at the core of modern Enterprise Information Management.  But really the most satisfying part of working in this field is the satisfaction we can deliver to business users, both in the office and in the field.  That's what drives us across all aspects of our business."