Veritas maps out independent future
Monday, August 3, 2015 - 12:08
The Veritas Information  Map, a new tool to enable businesses to delve deep into their data stores to recognise and prioritise information across their organisations, is one of a number of releases being delivered over coming months as Veritas completes full operational separation from Symantec, due by October 2015.
Earlier this year Symantec announced the split into two publicly traded companies, one focused on security and the other on being an information management firm.
Currently available in Beta release, Information Map will initially glean metadata from Veritas NetBackup, store it in the cloud and present this data in a user-friendly, visual navigation tool that helps identify areas of risk, areas of value and areas of waste across an organisation's primary content repositories. Later this year the Information Map will be enhanced to query other sources such Enterprise Vault.
The latest version of NetBackup 7.7 now supports hybrid-cloud deployments leveraging Amazon Web Services.
Paul Simos, Managing Director Pacific for Veritas, said, "Customers as we talk to them today are trying to look at how do they deal with the move to hybrid cloud, how do they manage this information explosion, and how do they know what are their core assets.
"The information intelligence piece is a critical part of our strategy moving forward."
Another upcoming launch, Veritas Data Insight 5.0, will extend unstructured data analytics to support governance across on-premises storage platforms and Box cloud storage. It promises enhanced access control tracking and entitlements orchestration, to help ensure file share security. Veritas believes version 5.0 will continue to expand the application of data analytics to facilitate retention management, achieve access compliance, and gain a better understanding of how user risk relates to data sensitivity.
"For us is all about providing customers with insights into their data," said Simos.
"So where is the data?  Who is the true owner of it? What is the usage profile of it? And then what action should you be taking to help you have a better view of your unstructured data, okay?
"Our customers have traditionally done that with us as it related to e-mail, and to a certain extent file and SharePoint archiving.
"The biggest challenge now is when a user leaves an organisation, a certain file will get tagged and re-allocated to the admin of the file share, or their manager.  And until an organisation can find the actual owner of the information, it's hard to take action.
"What Data Insight allows is for a customer to scan that network, monitor the usage, and build up an actual profile of what's in use, who uses it, and then obviously the heaviest user implies the owner of the document.  And then they can set policies and customers can make decisions on what they can actually see happening to that information on the network."
"Data Insight will be a tool to help customers get intelligence and insight into their data, to then make decisions whether to archive it off, or classify and make it a record.
"It is a tool that once established around the parameters of what the business is looking for can then be relatively seamlessly implemented to purely have a review point before an action needs to be taken."
Other new launches from Veritas target the management and failsafe operation of complex, multi-tiered applications in physical and virtual environments.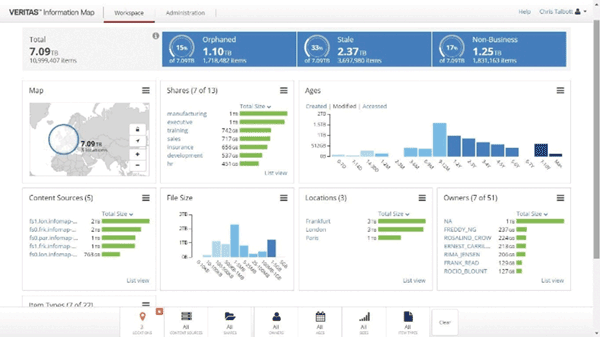 The Veritas Information  Map