Information Governance begins with a single step
Monday, August 17, 2015 - 15:26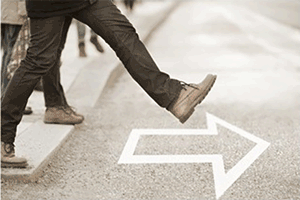 "The journey of a thousand miles begins with a single step" -Lao-tzu, Chinese philosopher (604 BC – 531 BC). That proverb can easily be applied to the effort required of an organisation trying to establish a strong Information Governance program.
The first step of the Information Governance journey should be a thorough and honest assessment of the state of the organisation regarding Information Governance. Where are the risks? What safeguards are currently in place? Where can we improve?
The assessment results should provide you with a deep understanding of your Information Governance strengths, areas of weaknesses, opportunities for improvement and serious risks. At this point it may be tempting to jump straight into a search for the ideal Information Governance technology that will jumpstart your Information Governance program. While technology is almost certainly now a requirement for building, maintaining and enhancing a solid Information Governance program, it is not a silver bullet that will transform your organisation into an Information Governance superstar. Resist the temptation to jump into technology selection before you have a very clear vision of the path ahead.
Step number two of the Information Governance journey should be focused on determining your strategy, identifying the necessary phases of your project and producing an Information Governance roadmap for the organisation. The next several steps should address foundational projects such as the establishment of an Information Governance steering committee and the updating and revision of the organisation's information management policies.
With these foundational elements of your program in place, you can now shift your focus to projects that either require, or would greatly benefit from, the use of specialised Information Governance technology.
Start by identifying the issues that must be addressed and the organisational objectives you are trying to achieve, such as mitigating risk, reducing costs, safeguarding company information and defensible deletion. Second, determine the priority of each objective based on risk and value to the business. With that information in hand, you should be able to produce a detailed list of requirements that must be met in order to accomplish each objective. This should lead you to an understanding of how and where the right technology can assist the organisation in accomplishing its objectives.
The Inner Journey
Seeking out an Information Governance solution can best be viewed as a 'journey within the Information Governance journey' and should not be done in haste. How does an organisation go about identifying just the right Information Governance technology?
Research what's available in the Information Governance solution market. Talk to your peers and seek assistance from Information Governance experts. Determine your budget. Explore vendor websites. Visit vendor conference booths.
Ask questions. For example: is the vendor's solution 'plug-and-play and walk away' software or will the vendor 'walk the journey with you'; does the solution have the capability to govern the organisation's information 'in place' or must it be located in a central repository; does the vendor offer a free trial?
Take special note of any Information Governance solutions that are offered in multiple versions – from a simple version to more complex, feature-laden versions. Having the option to choose between versions will allow your organization to introduce software functionality at a level that is consistent with the current state of your Information Governance program and at a speed that can be sustained by your Information Governance project team. The software can then 'grow' with your Information Governance program as it matures.
For example, perhaps the software is first used only to manage your organisation's records retention schedule. Later, you may take advantage of a higher level of the software that can classify information and manage the deletion of ROT (redundant, outdated or trivial information). Later still, you may use the software to enforce governance of the information in your organisation's critical business systems and repositories, or manage and preserve information that is subject to a legal hold. An Information Governance solution that offers this kind of flexibility will give you the ability to introduce the technology at a pace that enables the growth and maturity of your Information Governance program.
Selecting Information Governance Solutions
Armed with the results of your research, you should now be ready to develop and send a detailed request for proposal (RFP) to the Information Governance software vendors you've identified for consideration. Be sure to include questions relating not just to the software, but to the vendor as well. Ask them to provide references. It's important to understand their corporate culture and their customer service track record.
You're not just selecting a software solution, you're selecting an Information Governance partner. This will be important during implementation as well as in the future when you expand your Information Governance program.
Keep your Information Governance requirements and your overall Information Governance objectives firmly in your mind as you move through the succeeding steps of proposal reviews, software demos and that all-important final Information Governance software selection and implementation.
You will undoubtedly find a number of software solutions that will turn your head with flashy features that you may or may not need, making it a little more difficult to select the software (and the vendor) that comes the closest to meeting all of your requirements. Choosing the best software for your Information Governance program will move you forward on the path to Information Governance health by assisting you and your organisation in achieving the objectives you identified in the beginning of your Information Governance journey.
Success Comes One Step at a Time
Your ultimate success in building a solid, effective and enduring Information Governance program lies in the success you achieve along each step of the Information Governance path, from assessing the organisation, identifying your Information Governance objectives and developing your Information Governance roadmap, to embarking on the 'journey within the journey' of selecting the right technology partner and implementing the right software. Take your time, be deliberate, celebrate the 'wins' and make each step count.
Julian Goringe is Director of Asia Pac at rsd, creator of the GLASS Information Governance solution.