Robotic A2 scanning at National Library of Australia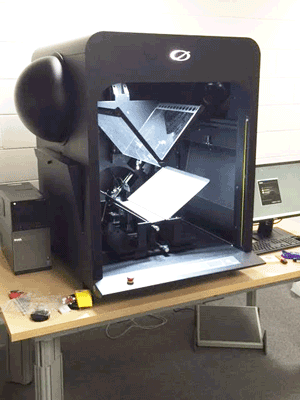 A fully-automatic A2 book scanner from Austria's Qidenus Technologies has found a home in Australia at the National Library in Canberra, supplied by Digital Scanning & Microfilm Equipment (DS&ME) in conjunction with reseller Micrographic Engineering Services (MES). 
The robotic system is able to scan up to 2500 pages/hour at up to 600ppi optical resolution. The book rests in a cradle and the glass "V" descends to flatten the pages, which are photographed by two cameras and digitised. The "V" then ascends, and the robot finger turns the page.
The installation brings the total number of the Qidenus range of book scanners installed in Australia to two with a second A3 page size manual scanner installed at a Sydney based commercial scanning bureau.
DS&ME reports the evaluation team at the National Library of Australia (NLA) conducted 12 months of in-depth investigation & evaluation of the various types of book scanners available internationally from a wide range of manufacturers.
The National Library of France has a total of 15 of the Qidenus scanners installed internally and also with their selective group of Scanning Service Bureaus.
Qidenus scanners are being used at the Vatican Library in Vatican City as part of the Vatican Libraries project to digitise its archives and put them online. The Vatican Library intends to scan and digitally archive about 1.5 million pages from the library's collection of manuscripts, which comprises some 82,000 items consisting of 41 million pages. The initial project will take four years and may be extended.
The NLA also acquired an A2+ book scanner from SMA Electronic Document GmbH of Germany to complement the features and capabilities available with the Qidenus model.
In April 2016 DS&ME and MES combined again to supply an SMA A1+ Size Digital Book & Large Format Fragile Document Scanner to the Australian War Memorial in Canberra.