Melbourne port gets paperless terminal
Friday, October 21, 2016 - 11:53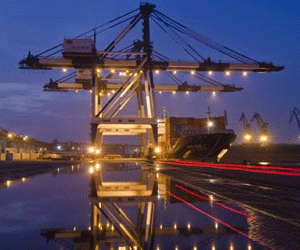 The first fully automated terminal operation in Australia is being promised by the developers of the Victoria International Container Terminal (VICT) in Melbourne, a subsidiary of Filipino company International Container Terminal Services Inc. (ICTSI)
The $A550-million, 26-year concession to build and operate the Webb dock east terminal downstream from the West Gate Bridge and the new empty container park, which ICTSI won in 2014, will be completely paperless, from the gate to the quayside, once operational by December 2016. 
"It will be the only terminal in the world without a human being on the land," said Christian Gonzalez, ICTSI senior vice president and head of Asia-Pacific.
 "Nobody can sustain the same level of efficiency as us. This is going to be quite disruptive in the Melbourne waterfront, nothing that has ever been done before," he added.
Using a one-stop booking system and traffic analytics that allocate booking slots to minimise traffic, VICT will be the first to use the optical character recognition (OCR) among all three existing port operators in Australia.
The OCR scans the license plate of the truck and all other information relevant before it gets inside the yard. The OCR links that information to the terminal operating system interfaces which will identify and validate the transaction, instructing the truck driver where to proceed.
The yard is managed by an automated stacking system (ASC) that requires no manual interference.
The ASCs handle the interchanges between trucks and the container stacking blocks both on the land side and the quay side.
Containers from ships are carried by automated container carriers (ACCs) which provide the horizontal transport of the container storage blocks and the ship-to-shore cranes. The operations are fully controlled by the terminal operating and logistics system or TLS.
Claire Jordan-Whillans, VICT Media and Community Relations manager, said all this automation is in response to prospective clients' demands for efficiency, while removing all the labour constraints associated with the traditional setup.
"It's the first time in Australia, VICT is the most fully automated," Whillans said.