Big Information for Better Information Governance: IIM National Conference 2016 review
Friday, October 28, 2016 - 10:41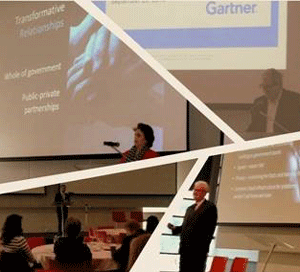 The Institute for Information Management (IIM) National Conference 2016 held in Canberra in September provided a practical platform for the fusion of information management and information science domains. A range of thought-provoking keynotes, presentations, case studies and workshops examined different aspects of the information management discipline.
Over the two days, keynote speakers and information professionals provided insights into this changing world of information management with discussions around agility for managing change, challenges and opportunities.
The conference program was enriched with keynotes from leaders in setting the information agenda, innovation, technology research and implementation of information management principles in the public sector.
Dr Maria Milosavljevic, Chief Innovation Officer of AUSTRAC, in her opening address talked about the need for agility in responding to real time analytics and the importance of understanding the value of information in identifying possible money laundering activities for funding terrorist and crime groups.
The opening address was followed by the keynote speaker Nick Ingelbrecht, Research Director from Gartner Group, who revealed that smart machine technologies will continue to become more human-centric to the point where it will appear seamless between people, businesses and things.  Such smart technologies trends include 4D printing, augmented reality and drones to name but a few.  Nick presented findings of the Gartner's research about the top challenges in getting value from data and key business issues addressed with Big Information. 
He described smart-machine capabilities that are rapidly evolving, offering new generations of digital personal assistants and introducing new governance challenges.  In his keynote, Nick announced the next big disruption in a form of the programmable economy.
David Fricker, Director General from the National Archives of Australia (NAA), spoke about the NAA's Digital Continuity 2020 policy, which defines an approach to digital information governance that complements the Australian Federal Government's Digital Transformation Agenda.  David touched on the NAA Business Systems Assessment Framework, which is a key product in supporting the Digital Continuity 2020 Policy.  Its aim is to provide a consistent approach for Commonwealth Government agencies in assessing business systems for information management functionality.
Jon Cumming, Chief Digital Officer in the ACT Government reinforced the Digital Transformation Agenda message with his key note address on 'Digital Disruption meets Data Diversity' including deriving economic benefits for the community, building on government assets, governance, privacy and the importance of information sharing.  Jon outlined challenges of data kept in silos and potential consequences of not taking advantage of information products that can be derived from this data and many obstacles on the way, from questionable value of underlying data and trust in data sources to inability to find the right data and addressing various cultural issues.  Jon also introduced the key themes of the ACT Digital Strategy.
Information Management Stream
The information management stream provided insights into a changing world of information management with the convergence of information, operational, and consumer technology ecosystems continuing to proliferate and evolve.  This pervasive integration and connectivity continues to accelerate the augmentation and the volume of information and sensor data being created, captured and governed. 
Out of this hyper-connectivity between people and things, new vulnerabilities will be introduced for storage, information security, privacy, personal and citizen safety.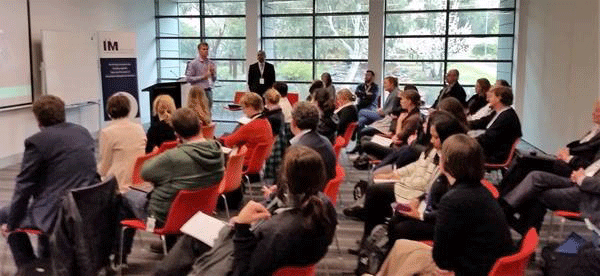 Building upon the message from David Fricker, Director General, National Archives of Australia on the Digital Continuity 2020 Policy, came David Williams, representing the Institute for Information Management.  His presentation on 'Using Information Governance to drive Digital Continuity' provided insights on how organisations might apply practical aspects of information governance to the Digital Continuity 2020 Policy to reduce risk, align it with target dates and how it might be used to better manage the intellectual capital of the organisation.  
Cynthia Love, Executive Manager Information Services, CSIRO gave a presentation 'Information Futures in CSIRO' in which she talked about drivers for change including governance and development.  Cynthia outlined the need for improving discoverability of records and integration of records systems with collaboration tools. 
Coupled with this, Cynthia argued there is the need for determining the value of data assets, designing standards and vocabularies in order to transition and comply with the Digital Continuity 2020 Policy.
Julia Checchia from ServiceNow introduced IIM delegates to agile project management approaches as a means of delivering better information governance.  This session was complimented by Nicole Mathison of Ernst & Young who introduced us to the world of information visualisation principles.  These principles are used to create more effective information design, visual communication and the use of salience, colour, consistency and layout to communicate large data sets and complex ideas with greater clarity.
Pierre Truter, Airservices Australia and Chairman, Information Management Panel introduced the conference attendees to the complex and fascinating world of aviation.  Pierre's presentation on 'Information Management Standards for the Modernisation of Air Traffic Control' was elating.   The objectives of this international panel range from defining a global interoperability framework for describing the functions, architectures and system design to develop transition strategies and guidance for the implementation of global System Wide Information Management (SWIM) solution.   Pierre spoke on the need to identify new information exchange formats, including future avionic requirements.  He discussed the need to identify the quality of service requirements necessary to maintain Air Traffic Management (ATM) information security, integrity, confidentiality and, availability.  Such requirements are all essential to mitigate the risks of intentional disruption or changes to safety-critical ATM information.
Dr Vanessa Douglas-Savage, Senior Consultant from Glentworth, gave us a presentation on '100 Points of Digital Identity' and outlined the need to be flexible in order to support a multitude of identity mechanisms and protocols.  Vanessa touched on the types of authentication and governing identity through balancing responsibility, utility and convenience as well as using the least amount of information when choosing information for identity use.
Linda Shave, National Director IIM took a futuristic approach in her presentation on 'Avoiding the Digital Dark Age'.  Linda introduced the audience to the era of information management biotechnology and bioinformatics, semantic tagging, wrappers, perpetuation and the concept of digital DNA storage.  Linda asserted that we are at the frontier of something tremendous, the digital world of the future, the internet-of-everything, avatars recalling data, pictures, videos etcetera from wrappers embedded in digital data DNA storage.  Linda spoke about the potential of digital data DNA storage to last for thousands of years without degradation, being recovered by avatars, people, civilisations or information archaeologist for many generations to come.
Information Science Stream
This stream brought forth informative and interesting presentations highlighting the importance of understanding the core aspects of information science and its relation to the information management discipline.
Roger Kernode representing the Australian Information Industry Association, emphasised the role of analytics in understanding the complexities and hidden nuggets within the data.  Extending on the theme provided in the keynote by Nick Ingelbrecht from Gartner on the future generations of digital assistants, in his talk Roger outlined the digital danger and the fact that number of jobs and activities currently performed by human workers in likely to be automated. 
He then described the impact of analytics on the economy and how in his view this new form of disruption will change the way organisations operate and potentially provide a risk for many of them to go out of business.  In his presentation, Roger highlighted the importance of the appropriate adoption of analytics, portrayed alternative approaches to applying analytics and outlined the benefits of analytics embedded directly into decision and operational processes.
Don Tonkin from Semantic Software spoke on how to best realise the value of data held in organisational repositories and talked about future emergence of standards in data analytics.  Don explained the importance of semantic computing, which allows processing, interpreting and connecting information elements in order to assist humans to build and consume knowledge.  In the era of massive volumes of data being generated daily, this approach allows search for information that is relevant to a particular interest.  Furthermore, in this session Don explained key components of the semantic computing platform and outlined the differences between the traditional and semantic computing and provided several use cases.
Warwick Graco from the Australian Taxation Office presented on the topic of organisational learning.  Warwick introduced this commonly neglected organisational capability that aims to improve organisation's structure, functioning and development over time, based on learning from its successes and failures.  Warwick then provided a range of war stories and examples of organisations which suffered consequences for failing to develop and nurture this process which, if implemented properly, enhances an organisation's collective ability to accept, understand and respond to internal and external challenges.
Charles Palmer, Managing Consultant – Knowledge & Informatics at Gravity Consulting and adjunct associate professor (UC), spoke about the information assets becoming increasingly complex and diverse, driven by increased demand from the consumers.  In his presentation, Charles proposed a roadmap for managing and exposing information integrity, addressing the current gap in the common knowledge and available literature, which fails to suitably define the need for information consumers to be informed about the level of trust in the information they are consuming.
Dr Neil Brittliff from Datacom spoke about the "schema-last" approach as one of the measures that potentially addresses the big information challenges and supports the demands of the intelligence lifecycle.  Data Analysts regularly wrangle data into a form suitable for computational tools through a tedious process that considerably delays substantive and timely analysis.  The "schema-last" approach noticeably improved the rate of the data ingestion and cleansing, reducing the legging between the received and processed (ready for analysis) data.
Murray Bruce from the IBM Watson team explained how cognitive systems understand imagery, language and other non-structured data like humans.  They can reason, grasp underlying concepts, form hypotheses and extract ideas.  These systems continuously learn to develop and improve their expertise.  They interact with humans in a natural way.  Murray then explained how natural-language analysis translate non-structured content into structured data that is ready for various forms of analysis.
Asim Qayyum and Mary Anne Kennan from Charles Sturt University highlighted the ongoing research and practical data management initiatives currently happening in the academic environments, which aim to address the challenges of managing research data.  They spoke about the need to embrace the culture of open and shared data and discussed some of the key roles required to adequately manage the information lifecycle in a research environment.
Dr Leif Hanlen was the last presenter in this stream.  This session was a real eye-opener for everyone in the jam-packed audience, which was consumed by this incredibly engaging and dynamically delivered presentation on our data-driven future.  Data is the raw material that fuels new industries and disrupts the existing ones. 
Data-driven insights change the way we live, work, invent and innovate.  Dr Leif illustrated his visions with a range of big information use cases, ranging from the advances in medicine, navigating regulation, to the exploration of distant worlds and stopping hackers, terrorists and criminals. 
Business Analytics Community of Practice
For the sincere information enthusiasts, this event offered another activity, a meeting of the IIM's Business Analytics Community of Practice, which was held early on the day two of the conference.  The panel discussion ably led by Bob Connell, a senior research engineer from Semantic Software addressed the theme of "The Role of Cognition in Analysis". 
The panellists included Dr Leif Hanlen, Business Development Manager from Data61, Warwick Graco, Senior Data Scientist from the Australian Taxation Office, Dr Neil Brittliff, Data Scientist from Datacom, Murray Bruce, Director for Cognitive Solutions from IBM Corporation and Dr Don Tonkin, Chief Technology Officer from Semantic Software.  Each panellist provided his views on the topic of Cognition and Analysis, from very different perspectives.
The Public Sector Information Management Forum
For the first time, the IIM's National Conference included the 'Public Sector Information Management Forum', sponsored and facilitated by the National Archives of Australia.  This forum provided the opportunity for attendees to hear first-hand success stories about digital transition and digital continuity.
CSIRO, the Australian National University and National Archives of Australia provided three very different case studies that highlighted the diverse information management landscape in the commonwealth public sector.  Although different in size and function, the case studies all demonstrated that there is a strong need for information governance and a clever alliance with agency business areas to get traction with any information or data management initiative.  The value of information and data was also a theme in the discussion, along with the importance of allocating clear information and data roles and responsibilities.
This conference was filled with exciting topics, interesting ideas and practical examples of utilising Big Information for advancing to a better data-driven future.  The conference finale was as interesting and intriguing as the rest of the program of this event, delivered in a form of a knowledge café-style facilitated dialogue with the audience able to rotate between 7 tables, each discussing a different topic, facilitated by subject matter experts.
The IIM conference committee that worked with brilliant line-up of speakers to deliver the IIM National Conference "Big Information for better Information Governance"
Given the diversity and wealth of information offered at the IIM National Conference 2016, Australia has a bright future ahead of it and IIM has a clear leadership role as we move forward.
Vladimir Videnovic is the current president of IIM. He presented a session discussing the challenges of capturing, storing and processing of huge amounts of data in order to adequately deliver information products addressing very different business problems.  In his talk, Vladimir presented his views on what capabilities would an information-powered organisation require in order to optimise the way they conduct their business, streamline their operations and adapt to new realities.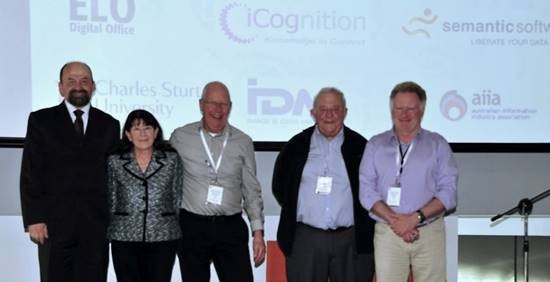 The IIM team has delivered another fantastic conference, packed with hot topics, innovative ideas, inspiring discussions, practical visions and amazing case studies (l-r) Vladimir Videnovic (IIM National President), Linda Shave (IIM Director), Robert Goode (IIM Director), Ben Tosetto (Director Finance & Governance) & David Williams (IIM Director)