One in three Australians now using biometric smartphone security
Friday, November 11, 2016 - 12:20
Biometrics use is moving front and centre stage in driving trends in mobile consumer retail behaviour, according to Stuart Johnston, Partner and the leader of Deloitte's Technology, Media and Telecommunications (TMT) group, with one in three smartphone having a fingerprint scanner on their smartphone, and of these almost 70% use this capability regularly.
"Australians make an estimated 100 million imprints a day using smartphone fingerprint scanners, showing that we are becoming more comfortable with our fingerprint being used for authentication," Johnston said.
"Biometrics and smartphone adoption may provide us with an alternative to having to remember, or even write down, the multitude of passwords required by our growing online accounts, which can be relatively insecure.
"By 2020, Deloitte forecasts that users may have as many as 200 online accounts, each requiring secure controls over access. Biometrics and our smartphone can provide a simple, convenient and quick single tap solution to this challenge."
Johnston said that given the increasing acceptance of biometrics, the range of applications in which fingerprint readers are used is expected to grow.
"Initially we have seen fingerprints being used as a faster alternative to a numeric password to unlock phones, but this has now extended to unlock applications, and authorise payments for online content from an app store."
Deloitte's Mobile Consumer Survey 2016 report finds that Australian smartphone ownership has climbed again to 84% of Australians, ahead of the global average (81%) and up from 79% last year. Australians aged 18 – 24 year olds have the highest level of ownership with 94% having access to at least one smartphone.
 "As consumers and business have become more accepting of biometrics, they are being used for higher-value in-store and app payment verification, and the fingerprint can now be used to authorise a transaction as high as the user's credit card limit," Johnston said.
The survey shows that awareness of fingerprints biometrics is greater with Apple iPhone 6 users (81%), compared to Android smartphone users (49%), most likely due to the more controlled experience when using and Apple device.
"Over the next few years we expect usage of fingerprint readers to increase markedly as they are incorporated into mid-range smartphone models and users become more comfortable with the authentication process," Johnston said.
"We also expect the smartphone's fingerprint reader to be used in conjunction with websites accessed by consumers' computers to authorise payments."
"However, for all its evident merits, the fingerprint reader is not infallible," said Johnston. "It is possible – albeit increasingly difficult – to make copies of a fingerprint. However, the latest fingerprint readers can more readily differentiate between a real finger and a copy of one.
"Another potential problem is that in humid or wet conditions, water on the surface of the finger may inhibit the sensor, increasing the likelihood of false negatives."
At the time the survey was taken, only 9% of Australians use their mobile for payments, either through Near Field Communication (NFC), or purchasing through apps and browsers. The primary reasons Australians are not yet engaging mobile payment are perceived lack of security and lack of benefits, but both of these perceived barriers have come down over the last year, with lack of security reducing from 44% in 2015 to 36% in 2016 and lack of benefits from 41% in 2015 to 35% in 2016.
Over the last eight years, app stores have generated tens of billions of dollars in revenues via download sales and in-app payments. The most successful apps have been downloaded over a billion times.
What might appear to be a straight forward business decision for companies wanting to jump in to the m-commerce market is not so easy. The survey reveals that, although apps are the preferred channel for most of our smartphone related 'entertainment', the browser is preferred for much of our online shopping (71% preferring to use their smartphone browser versus an app)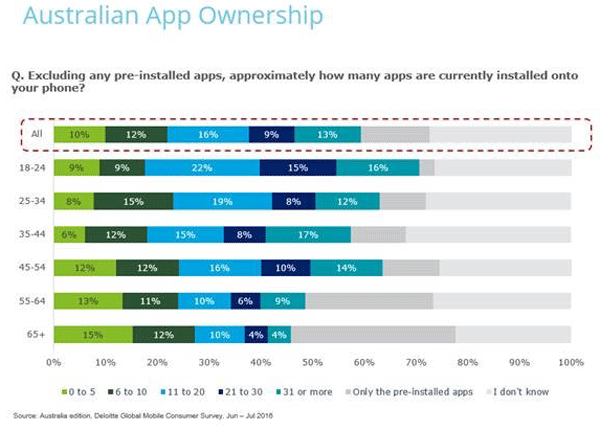 "Apps tend to be preferred and viewed as most successful for tasks that take advantage of the capabilities embedded in the smartphone, like location services and GPS," Johnston said. "Among Australian smartphone owners, over two thirds (71%) use an app to check the weather, rather than a browser. Checking the weather is a simple task that can be achieved with a single swipe – with background feeds running and your location services personalising results."
"The browser remains our go-to source to search, browse and purchase most items, although an app may be suitable when confirming regular purchases, such as the weekly grocery order. Australians are three times more likely to make their mobile purchase for non-standard items in a browser (50%) over an app (15%)."
While we do have a soft-spot for adding the latest app, mobile consumers appear to be regularly curating the apps they keep on their smartphones, limiting the number to less than 25 on average. Regardless of age group, only 13% of mobile consumers have more than 30 apps on their smartphone.
About the survey
The Australian Cut is part of the Deloitte Global Mobile Consumer Survey, a multi-country study of mobile phone users and usage around the world. This 2016 study comprises 53,000 respondents across 31 countries and five continents. Data cited in the report is based on a nationally representative sample of just over 2,000 Australia consumers aged 18-75. Field work took place in June 2016 and was carried out online by Ipsos, an independent research firm, based on a question set provided by Deloitte.