Driving Real ROI with Intelligent Capture
Many technological advancements in the past 100 years have changed the way businesses operate, but perhaps none will have a greater impact than Artificial Intelligence. The past few years have seen new wave of innovations brought about by Artificial Intelligence (AI) that automates business processes and improves efficiencies across enterprises. A recent research by PwC reveals that Artificial intelligence (AI) will contribute as much as $15.7 trillion to the global economy by 2030. That enormous value creation comes from productivity gains resulting from automating business processes and augmenting the existing labor force, as well as increased demand for higher quality and more personalized AI-based products.
These benefits notwithstanding, the absence of simple ways to measure and compare return on investment for AI-powered solutions makes many businesses wary of investing in them. AI requires a fundamental shift in how organization collects, processes and leverages its data for intelligent automation. This calls for update of IT infrastructure and internal processes, changes people's roles in the organizations, even while positive results from these changes may not be visible in the short term.  Such challenges make changes risky enough and could potentially trigger delays in the return on investments. 
This is not always the case, however. A technology like Intelligent Capture that can extract information from any unstructured files and automate an entire business process from start to finish seems like an excellent tool for making money.
As far as workflow goes, modern intelligent capture can transform documents in multiple formats into transaction data even at the point of origination. It can handle the way documents are sorted, filed or routed for approval by applying business rules to the data extracted from those documents. Moving beyond traditional OCR function, Intelligent Capture has taken on more sophisticated roles such as intelligently matching various documents and managing wider range of exceptions. It can read, understand and extract information and insight from any unstructured data source, with a level of accuracy good enough to tackle high-volume, repeatable processes like accounts payable or sales order processing.
Accelerating Business Processes
An unassailable business case for implementing modern intelligent capture technology is its built-in capability to process virtually any type of document. Every organization wants to have their business-critical data readily accessible in such a way that they can be traced anytime, anywhere, and by any authorized employee. Intelligent capture technology can capture and process different types of unstructured data ranging from paper-based documents and images to emails and web content.
AI-powered capture platforms achieve this by leveraging machine-learning capabilities, which enable the technology to learn, adapt and improve at document processing with experience. As well as improving efficiency and accuracy, intelligent capture can be integrated with structure data systems like ERP software to verify and validate results. This becomes even more important given that capture technology not only provides data for processing ongoing transactions, it is also a source of training datasets for machine learning algorithms. This smart platform help to automate business processes and leverage AI to practice and "learn" allowing companies to focus more on their strategic goals and ultimately on improving their bottom line.
Effective and Efficient Data Processing
AI requires training while training requires labelled datasets. If, for example, an organization wants to train AI to control and manage expenses, it needs to ensure that expenses are properly recorded and data from all incoming invoices and receipts is processed accurately and timely. This is exactly what intelligent capture does— capture data with accuracy and precision, which could be used for training of AI systems. Modern intelligent capture technology extracts data from billions of forms, financial documents, medical records, IDs and other sources in thousands of organizations. Efficiency of this transactional data extraction is proven by strong ROI coming from early payment discounts, no late fees, and higher customers' satisfaction. 
Increasing the Value of Data
For today's businesses, structured data is the new currency with a value and a price. Before the digital transformation revolution, the value of capture technology mostly came from streamlining operations and saving processing costs. That explains why the technology was used mostly in business critical transactions. With the widespread adoption of AI, the value of data has grown dramatically as new opportunities emerged for leveraging AI to find new insights or create competitive advantage from the same set of data. For example, in not so distant past, a driver license information was used only for validating a customer's identity. Today, many customer-facing businesses may leverage additional data from the US driver license about customers' height, weight and hair color to personalize their services. When such information sits in document archives, intelligent systems can quickly extract the required data for downstream processing. Whether by extracting information from unstructured files or automating an entire business process from start to finish, the modern AI-based capture technology is driving the real ROI.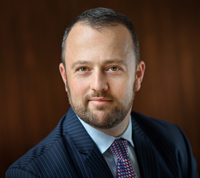 Henry Patishman is Director of Sales (Australasia) at ABBYY. Contact ABBYY at sales@abbyy.com.au or on  (02) 9004 7401 for any further information.