Advance Moves Forward with OPEX
How much paper is it worth scanning as part of an electronic document management project? It's a fraught question, but the answer seems to be 'only what you need' with legacy records and 'Day Forward' scanning of new documents as they are produced. The push towards Day Forward Scanning as a step on the path towards full Digital Transformation is driving strong growth in the scanning business at Australia's Advance Record Management, headquartered in Geelong, Victoria. 
Founder Peter Newland established Advanced Record Management in rented quarters in North Geelong, in 1994. The firm now provides document management solutions to a wide range of customers across Australia, including off-site storage, document imaging, and online content management. 
The company also offers data protection services such as tape vaulting and online back-up capabilities.
Advance provides services to a number of growing businesses across a variety of vertical markets e.g. healthcare, government, education). 
Today, Advance has 9,000 square metres under storage, more than one million boxes and 30 employees. With $A4M invested over the past two years It has added a new storage facility every 18 months, each covering 1000sq m and holding 100,000 boxes, with further construction in the pipeline. 
The Victorian Office of Public Records recognises Advance Record Management as an approved document manager for government record-keeping, and it has also achieved IS0 9001;2008 certification.
Along with long time General Manager Philip D'souza, Peter Newland keeps in direct contact with clients to maintain a consistent presence for the company and stay on top of shifting demands for bureau services.
Advance Record's digital scanning bureau business began operations six years ago and now offers a full document solution that includes identifying record types, determining indexing methods and leveraging content in existing legacy systems.
The company prides itself on helping organisations manage hard copy and digital information – hence the recent installation of industry-leading OPEX Falcon scanning workstations. This is addition to other high volume A3 and A4 flatbed scanners, three A0 plan scanners, an A2 book scanner and letter opening equipment.
Advance acquired its first OPEX Falcon scanning machine two years ago and has since acquired three more. There are six full-time staff now working in the scanning bureau. The latest OPEX model is a top of the line FalcolnRED, which combines OPEX's high-volume production scanning technology with an envelope opening and extraction unit, the OPEX Model 72 Rapid Extraction Desk.
FalconRED, is designed to attack the most difficult and daunting of digital mail centre workflow challenges. Peter Newland said the unique devices have revolutionised mail handling and document management at Advance Record Management.
"A single operator can open, extract, capture, process in-line, print an audit trail, and sort mail contents without a separate preparation process. This provides for much better management of jobs and improved Quality Control."
As documents are removed from envelopes and scanned in one step, operators can view each image to ensure it is properly captured and identified. This reduces time-consuming and costly re-scanning later in the process.
OPEX document scanners are able to scan a wide range of irregular, folded, and damaged media without the need for careful stacking, jogging, or document repair. 
"The Falcons have provided tremendous flexibility and efficiency," said Newland. 
"They have greatly simplified our workflow. In addition to Day Forward scanning, we do a lot of dedicated mailroom scanning and Scan on demand for the huge volume of physical documents we hold in our facilities," said Newland.
"OPEX was also able to help us deliver a specialised mailroom process for one of our clients that required cheques to be scanned as they arrived. The Falcons are now able to scan the cheque and add the image to a spreadsheet along with the unique Magnetic Ink Character Recognition (MICR) code which is printed at the bottom of a cheque. This enables us to bank the cheques and perform an audit for our client in the one workflow"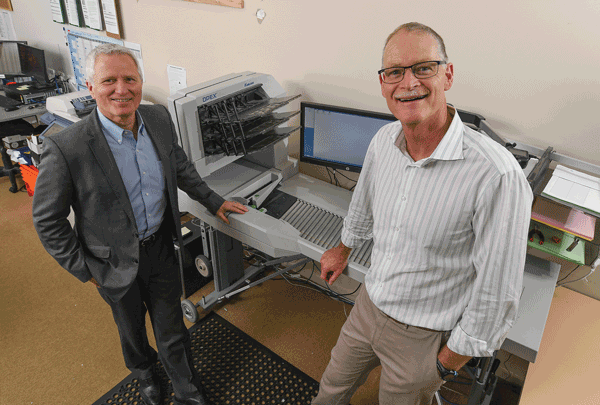 Byron Knowles (l), OPEX Manager of Business Development APAC and Peter Newland (r), Owner, Advance Record Management.
Recognising that the transition to paperless is a long journey that requires extraordinary investments and process changes, businesses need an economical way to fill in the gaps during the conversion from paper to digital.
With the implementation of a content management system there is a focus on "improving" business workflow. Day Forward Scanning allows business to achieve some of the benefits of having information stored electronically while deferring disruptions of workflows that originated with paper. 
Advance now has more than 50 million pages of digitised documents in cloud storage for clients using a variety of Electronic Document and Records Management Systems (EDRMS).
"There is still a huge growth in paper out there and a burgeoning demand to convert that to an image. Getting the image is easy, it's how the client can use it after that, that is the real value add," said Newland.