Text Analytics Boosts Australian Defence Intelligence Capability
Thursday, October 25, 2018 - 14:23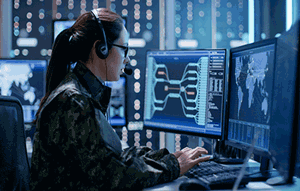 The Joint Command Head Quarters of the Australian Department of Defence (HQ JOC) is deploying a high speed text extraction and analysis application, Sintelix, developed by Semantic Sciences.
The nerve centre of Australia's defence forces. HQJOC is responsible for maintaining continuously up-to-date situational awareness of the defence, national security and emergency response environments.
Staff at HQ JOC review and analyse information continuously received from military assets and other sources across the world. With a vast flow of data constantly flowing into HQ JOC, they needed an efficient solution for directing relevant information to the appropriate team members.
Sintelix technology replaced the existing message parsing solution and automated the manual system of linking information objects within the information object repository, saving a significant amount of time and money, while decreasing error and miss rates.   
Sintelix extracts information from military messages with very fast and highly accurate information extraction capabilities. The information extracted is seamlessly fed into HQ JOC's existing processing pipeline.  This is a completely automated, fully integrated process.  HQ JOC have full control over configuration of the extraction process, allowing HOQ JOC to tailor the solution to their unique needs.
With a powerful tool for rapidly and accurately analysing intelligence, HQ JOC intelligence analysts can now:
Extract geolocations and show them on maps
Conduct advanced searches on extracted data
Explore entity networks
Drill down to source documents and
Analyse topics and community structures
Deploying Sintelix into the Joint Operations Command Support Environment required a number of integrations with their existing systems such as MS Active Directory, an SQL database via the O Data protocol, the Fast search engine and SharePoint. Semantic Sciences developed all of these and a number of enhancements including single sign-on, a unified set of 68 web services and a system for automatically associating related messages. Semantic Sciences provided onsite training by security-cleared personnel.
The Sintelix information extraction solution delivered a broad range of benefits to HQ JOC intelligence analysts including:
Intelligence: Quick and easy conversion of unstructured data from messages into actionable intelligence.
Quality: Sintelix greatly improved the quality of information extracted from data feeds.
Efficiency: The speed of information extraction has been increased exponentially.
Productivity: Increased speed and accuracy is allowing HQ JOC to achieve more with their existing team.
Flexibility: The information extraction process is fully configurable.
Independence: Extraction parameters were easily adjusted by HQ JOC's own staff without needing an external consultant.