Back Office Hurdles Hit Local Government: KPMG
Friday, August 23, 2019 - 11:47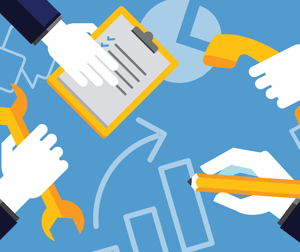 A survey of Australia and New Zealand councils who attended KPMG's public sector network's local government transformation series in May 2019 has found that digital transformation is often 'skin deep', only implemented at the front end.
Only 12% of councils said they were highly digital with high automation. A quarter of those surveyed said they low digital maturity with minimal automation, disparate systems and high level of manual and paper-based processes. The situation was slightly better at the remaining two thirds although they still reported requirements for manual workarounds and few digitally enabled processes.
"A large number of councils are making great progress, with an increase in those moving swiftly to put transactions online, to 'digitise' forms and to change payment methods. However, in many cases this progress is simply being experienced at the front end – the customer-facing end – and not integrated, allowing for transactions to be managed all the way through the organisation to the back office," KPMG concludes in its survey report.
The Customer and technology transformation in Local Government Report compiles responses from 228 attendees at the events held across six cities in Australia and New Zealand. 
They were asked a series of questions regarding their transformation journey.
98 percent of respondents said their transformation program included back office and customer relationship management (CRM) solution replacement. Although nearly three quarters (70 percent) had invested in front end components, including redesigning the council Web site and digital experience design as part of their program, many had not yet embarked on this 'front end' component.
"Replacement of core back office and CRM technology will deliver firm foundations, however to ensure a seamless service experience for customers and council employees, investment in the 'middle section' – including integration, data and payments capabilities – is needed to support end-to-end process delivery.
"That will allow for front end enhancements, such as digitisation of services through council websites and/or the customer portal, the main interaction points between the customer and the council, to be achieved.
"Based on our survey results, this is a significant pain point and a number of transformation programs are suffering from under-investment in these key components that deliver real, direct customer experience improvement," the report concludes.
A majority of survey respondents (51%) said their council is in Strategy or Business case development of the transformation program road map. 37% of survey respondents stated they were in operational roll out while only 3 % of survey respondents stated their councils were fully transformed.
Close to 100 percent of respondents said that Improving Customer Experience, Digitisation and Modernising Technology were the three prime focus areas for transformation. This included adoption of sophisticated data analytics to capture customer information.
"Throughout this year's roadshow, we observed a definite increase in the level of activity being  undertaken by councils and more attendees sighting that they are moving from the thinking and planning stage into operational delivery," the report notes.
"When councils say they are 'fully transformed', this needs to be evaluated with caution as transformation is rarely a finished state – things are always evolving. Perhaps we should consider the phases of transformation and where councils are on this roadmap – for example, have they  addressed the foundations, optimised customer experience or moved onto 'future government' initiatives?"
Tarnya McKenzie, Head of Customer Experience and Transformation, City of Port Phillip, observed, "There is an assumption that transformation equals technology only, and doesn't take into account the internal cultural shift that also has to be included. Transformation encompasses new ways of working and thinking, not just tech. That's our first challenge. The second is that at some point, the transformation process will have to be incorporated into BAU and can no longer be kept separate from it. This can also be disruptive. Every council transformation has to encompass both the practicalities of implementation and the organisational ability to support it."
100 percent of respondents identified a lack of adequately skilled resources as the largest drawback in successfully operationalising their transformation programs. This was followed by lack of clear leadership (83%) and insufficient financial collaboration to deliver the program of work (53%).
Almost half cited difficulties in sourcing procurement partners, which were also cited as obstacles to success. Again, there were regional differences, with NSW citing leadership and procurement as significant challenges, while 86 percent of SA respondents said financial collaboration was an issue.
"Successful delivery of a transformation program obviously requires bringing together a range of unique skill sets across a variety of disciplines, including project management, change management, customer experience and user experience design, solution architecture, data migration, integration, and systems analysts.
"No single council has all these skills to hand, nor does Local Government have a lot of free capacity or funding to release existing resources full time. Councils which were able to tap into diverse disciplines discussed in workshops the importance of using mixed models, including both internal and external resources, to overcome both availability and the lack of technical skills in house. There are definite challenges in vendor and procurement markets.
"There has historically been little choice, and while this has increased, there are still variations in the maturity of offerings available in the market. The key takeaway from presentations by vendors, here and in the market, is that they are presenting piecemeal solutions and propositions to the market that are often confusing and require councils to assemble the jigsaw.
"There is a real opportunity for vendors to engage in real strategic thinking and potentially partnering to focus on how to address and add real value to council challenges.
Mick Cummins CEO Bayside City Council, notes, "Don't assume everyone understands why you need to get better with customer interface, and invest in digital and ICT transformation. There can be tensions between those who see the benefits immediately and the 'traditionalists' who like things to stay the same. Ensure seamless collaboration between all departments and divisions of council to make the transformation a success."
The full report is available HERE.