Digital Transformation – Are You There Yet?
Thursday, June 15, 2023 - 15:23
Having worked with a lot of business leaders, I have noticed that whether they have started or they are knee-deep in their digital transformation (DX) journey, a few questions are always on their minds.
When will we reach our digital transformation goal?
How long will it take?
Do we have enough funds for it?
What approaches can we adopt to accelerate the DX process?
What are the roadblocks that are hindering our path?
How can we overcome them?
How far have we come? Are we there yet?
It is natural to have these questions slip into your mind as you undertake your digital transformation journey as it is hardly an easy goal to accomplish. To understand the current state of digital transformation, we recently undertook a survey with business leaders globally.
And I must say that we have some really interesting findings to share with you.
2022 Peak of Digital Transformation
One intriguing finding was that in 2022, we stood at the peak of interest in digital transformation. 100% of the enterprises that were surveyed for the report hadstarted engaging with DX in one way or another, with 77% of them having kickstarted their journey just over the past two years.
While we uncovered that most of the surveyed enterprises are at the early stage, with a fourth at the discussion stage and around half currently transforming, only 27% of them claim to have successfully completed their digital transformation efforts.
Only 38% of the enterprises surveyed are transforming end-to-end processes. 68% of the enterprises are transforming their front-end processes while 61% are transforming back-end.
We uncovered that 93% of the surveyed enterprises gave importance to transforming complex processes while only 50% were focused on transforming simple processes. The same applied to complex business information and complex customer engagement.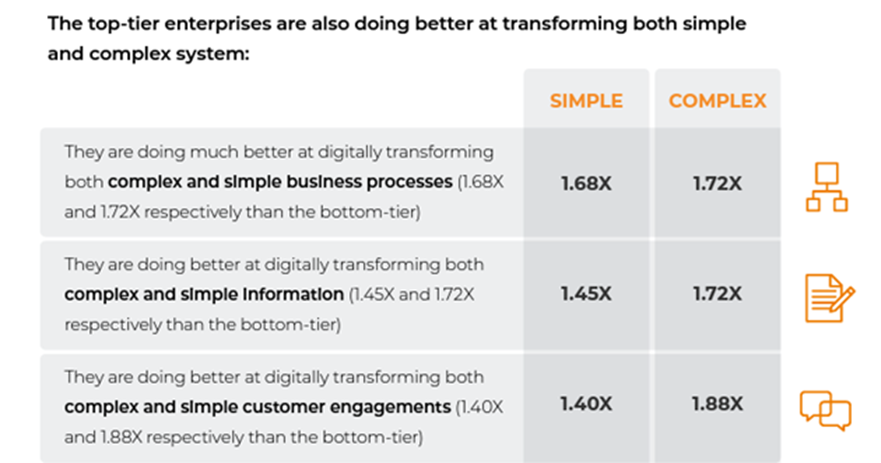 The prevalence of low code platform
A majority of the enterprises that were succeeding in DX, were leveraging low code (63% versus 13%).
To summarize the findings, if you have not jumped on the DX bandwagon as yet, you are late to the party. Successful DX enterprises are looking at transforming end-to-end processes, and also transforming business complexity with low code. But what about the bottlenecks?
Top bottlenecks DX leaders are trying to solve:
As per a BCG report, "Overall, only about a third of transformations meet or exceed their target value and achieve sustainable change: these are the companies in the win zone. Worry-zone companies create some value but do not meet their targets and produce only limited long-term change." 
We can see that pursuing digital transformation does not necessarily guarantee automatic success.
Some of the critical problems that the survey respondents cited include:
Dire Need for Management Support:
Digital transformation is all about reimagining your complex processes, information, and customer engagement through digital transformation. The issue is that these business processes span over multiple siloed departments and require a complex cross-functional approach to deal with them. This makes it quite tricky for DX leaders to execute their plans without excellent management and leadership support.
Threats posed by Cybersecurity Issues:
Every traditional business operation you have will need to shift from manual to digital. This invites a plethora of cybersecurity-related threats and risks that need to be overcome to avoid any future discrepancies.
Need for Sufficient DX Experience:
The DX world is a whole new ballgame. From the right technologies and the most effective strategy to an optimum digital transformation platform, we can call the digital transformation journey a recipe that requires you to have all the ingredients at hand. It is rare for enterprises to have enough experience and resources to fulfill each of these requirements.
As a digital transformation leader, you must delve into each of these bottlenecks to straighten out the wrinkles in your DX journey and assess: Where are you on your DX journey? Are you there yet?
No matter where you are on your DX journey, you can always pause, reassess, and restart.
This research report unravels the secret sauce of successful DX enterprises, their strategies, tools, tips, and technologies. To accelerate your digital transformation journey and unlock the answers to all your questions, download the free copy of our research report on the State of Digital Transformation.