Case Study: Digital by Design
Tuesday, August 16, 2011 - 22:18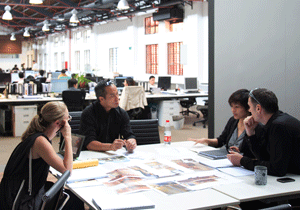 SharePoint is delivering a collaborative enviornment for 900+ employees of international multidisciplinary design practice HASSELL, based in studios in Australia, China, Hong Kong, Singapore, Thailand and the United Kingdom.
The practice has standardised on Microsoft SharePoint as the mechanism to be able to host projects and share projects between these sites.
Technology Solutions Manager Johnny Chloride said the practice has been on a journey with SharePoint for a number of years. Eighteen months ago this ramped up to a major ECM deployment.
"We're trying to create a collaborative design environment where designers and architects can work together in an environment that fosters creativity," said Chloride.
"Central to that is our ability to be able to distribute work and use the resources with different skill sets across our different design studios.
"We want to free up our designers to be able to work within a project life cycle by making our actual systems very robust, with seamless records management that can record all the emails and correspondence around a project."
SharePoint 2010 is used as the company intranet and a repository for PDF plans and drawings as they evolve throughout a project.
There are upwards of 150 different applications used by HASSELL, such as Adobe Creative Suite, AutoCAD, ArchiCAD, Vectorworks, Microstation and Revit.
Most files are still stored on the HASSELL network fileservers as the practice is still in the early stages of rolling out SharePoint.
There are many different file formats used in design and engineering that as yet can't be saved into SharePoint document libraries. This also includes individual .exe files or Access databases which HASSELL is forced to use as a format for some of its applications.
"We still require a hybrid system as some of our files won't live in there happily because they're accessed via WebDAV rather than inside the document library in different compound documents."
Adobe InDesign presented particular challenges. A quirk of the InDesign file format means the .indd files won't work from inside a SharePoint document library. They must be checked out and opened  offline.
HASSELL is using SharePoint for tracking different types of drawings held as PDF or DWF documents and the revisions and different versions sent to its clients.
Architectural and Design drawings typically are circulated in PDF format and "red-line" mark ups are performed inside Acrobat Pro.
HASSELL has developed a series of dynamic stamps inside Acrobat which use java script to automate the addition of information about who modified the document and when.
"It is critical, particularly in the construction phase of projects, that we are very sure about what plans and drawings are being sent out from our different studios and what revision they're on," said Chloride.
"We have a well established method of handling what documents we send out, what we refer to as transmittals, using paper.
"We were pulled toward SharePoint for handling it electronically because we see it being used in other parts of the business, our ERP system Microsoft Dynamics AX integrates well, so a lot of the different reporting functions out of our financial systems are presented via SharePoint.
"Looking at the maturity level of the platform, particularly at the point when SharePoint 2007 was made available, we saw that as a point where we could start to do proof of concept using it on projects."
In the early phases of implementation there were some issues with integration between Outlook and SharePoint, which have since been solved with the aid of a third party application from Colligo.
Colligo provides the ability to easily file documents within SharePoint libraries from Outlook  task panel.
"Colligo provided our users with the ability to file those masses of emails they get every day and it has assisted a great deal in getting widespread buy-in with the whole project," said Chloride.
Hosted document management solutions such as Aconex and ProjectWeb are popularly used within the construction and engineering sector, usually specified by the lead construction company that won the tender.
For the future, HASSELL is looking to use SharePoint's ability to share particular document libraries with the outside world as an extranet.
HASSELL is currently pushing technologies such as digital pens which can 'draw' on screen for mark-ups, with fantastic results. At the same time, some still prefer to work on large format paper prints.
When a bunch of architects and designers get together  over a large scale drawing and want the ability to comment, mark-up and trace new suggestions, they often do so with layers of tracing paper sitting on top of an existing drawing.
Each HASSELL studio has large format scanners to take the results from these collaborative sessions and bring it back within the digital domain.