Cerebrant promises rapid insight into 'Big Content'
A SaaS-based discovery platform designed to enable subject matter experts in any industry to gain rapid insight into the growing collections of unstructured content they must analyse has been announced by Content Analyst Company (US), developer of the CAAT machine learning text analytics engine.
The company says its Cerebrant product  enables users to quickly and effectively find the most relevant internal and external content and discover important, non-obvious relationships buried within massive collections of unstructured information.
Cerebrant is designed to enable subject matter experts to create an online workbench with large collections of content from disparate sources, and navigate and explore their content sets in a matter of hours. Users can identify and select disparate collections of public and premium unstructured content such as scientific research papers, industry reports, syndicated research, news, Wikipedia and other internal and external repositories.
The company claims that unlike alternative solutions, Cerebrant is not dependent upon Boolean search strings, exhaustive taxonomies, or word libraries since it leverages the power of the company's proprietary Latent Semantic Indexing (LSI)-based learning engine. Users simply take a selection of text ranging from a short phrase, sentence, paragraph, or entire document and Cerebrant identifies and ranks the most conceptually related documents, articles and terms across the selected content sets ranging from tens of thousands to millions of text items.
Cerebrant utilises the CAAT text analytics engine that's been used to process billions of text items in the US Intelligence Community and dozens of eDiscovery software products. It is offered in the cloud through a simple browser-based interface, requiring little or no IT support to implement and use across targeted large scale content repositories.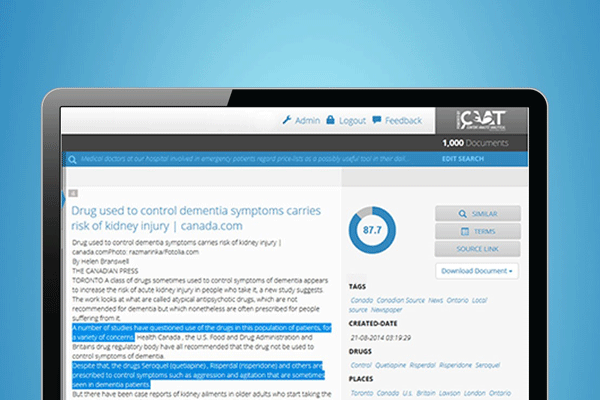 Kurt Michel, President and CEO of Content Analyst said, "Cerebrant liberates analysts everywhere from the limitations of traditional analytics solutions. Cerebrant places the immense power of our proven, patented, machine-learning software into the hands of subject matter experts in every industry, unlocking relevant answers to their most challenging questions hidden in massive volumes of disparate, unstructured content collections.
"The powerful capabilities that Cerebrant provides through its SaaS accessibility combine to dramatically accelerate discovery of breakthrough insights in ways never before possible. The potential impact of such unbridled discovery is nothing short of game-changing."