Wearable Electronics at the Novelty Peak
Friday, May 2, 2014 - 15:01
By Dr Peter Harrop, Chairman, IDTechEx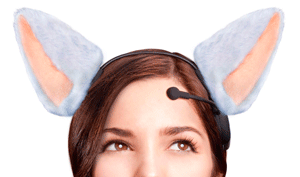 Last Christmas and New Year the ideal present, for a girl of a certain age, from Japan to the UK was the neurowear clip-on of floppy ears driven by brain waves to reflect your mood. They would have been played with for one day and then put away forever. Such novelty peaks can be expected with many forms of wearable technology as it enters its manic phase with hugely overpriced acquisitions. Facebook is buying tiny Oculus VR, a Californian company which specialises in virtual reality headware, for around $2 billion. Is it worth that much? 
We now have wearable technology for all parts of our body but Nike has recently exited fitness monitoring wristbands after a collapse in sales. That market reached $400 million very rapidly and big names in electronics invested, but it turns out that people are getting bored with them. They may have changed their lifestyle as a consequence of using them but that does not merit ongoing "mind time". It must be even more true of versions now available for your dog.
If novelty peaks do not ruin your sales of wearable devices then commoditisation may. The lessons of history are clear; from the Chinese electronic wristwatches averaging three dollars each, to their earphones at even less. Hearing aids go the same way. Only niches remain for manufacturers from other countries. 
The third bit of bad news for manufacturers is the sheer misery of using a lot of these wearable devices. Eloquently, a speaker at a recent event said that, "Using these new smart wristwatches is like assembling an ocean liner through a keyhole". 
The good news is that the Google Glass and some other devices have hugely improved human interfaces so they are a pleasure to use. Wearable electronics in the form of infotainment may be largely exposed to commoditisation but medical wearables are cleverer, the IP better protected and the short runs are less attractive to the Chinese.
A diabetic kept alive by a smart patch will not give you a novelty peak any more than the management of a care home putting safety electronics on disoriented patients in their care or a paraplegic walking because of an exoskeleton.
That is why the new IDTechEx report, Wearable Technology 2014-2024: Technologies, Markets, Forecasts, concludes that the merging sectors of healthcare, medical, fitness and wellness have the most potential with industrial, commercial and even fashion applications becoming appreciable as the market powers to over $US70 billion in 2024. There will be many false starts but even informatics wearables will not be fully commoditised.
For more information see www.IDTechEx.com.