Depp's dogs in the firing line with missing paperwork
Friday, May 15, 2015 - 10:37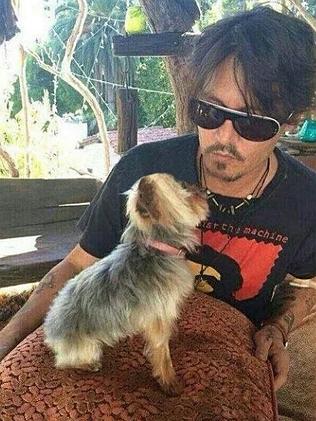 Actor Johnny Depp could have avoided the threat of his Yorkshire Terriers Boo and Pistol being put down by Australian Customs officials if he had completed a simple application form online at the Department of Agriculture Web site.  The large Australian Commonwealth agency is underway with a huge end-to end digital drive to assist in the fight to maintain Australia's biosecurity, although it appears the Hollywood star considered his ability to fly the dogs in on his private jet entitled him to sidestep official requirements.
Minister for Agriculture Barnaby Joyce had only just completed passage of a major overhaul to Australia's biosecurity system via the Bioescurity Bill 2014,  which passed through the Senate on May 13, when presented with evidence that Mr Depp had sidestepped protocols put in place to safeguard the nation's $A52 billion agricultural industries, 
The Agriculture Minister was visibly angry as he announced on Thursday that the two Yorkshire Terriers Depp "snuck in" to the country would be put down unless the actor removed them in 50 hours. Depp has been staying on the Gold Coast to film the latest Pirates Of The Caribbean movie.

The threat of canine diseases such as Rabies is behind the complex and time-consuming 19-step process laid out on the Department of Agriculture's Web site at http://www.agriculture.gov.au/cats-dogs/step-by-step-guides/category-3-step-by-step-guide-for-dogs
Mr Depp should have been able to afford the application lodgement fee of $A125.00, although he would have suffered the inconvenience of weeks of preparation and animals possibly being quarantined for 10 days.
Mr Depp or his agents would not have even been put to the trouble of downloading and printing a PDF application form to submit the application, as it is available online as an eform at https://apps.daff.gov.au/PermitApplication/Pages/ImporterExporterDetails.aspx
Like most Australian government agencies, the Department of Agriculture transacts its business via hundreds of forms. Many are now available as efoms in addition to downloadable PDFs as the Agency undertakes the massive task to overhaul and refresh its systems and processes to digital modes.
This process will take some years to complete, although the Department is confident it is able to meet the 2015 Digital Transition schedule and all records created digitally now are archived accordingly.
Behind the scenes the Department is migrating to a new version of Trim (RM8) going into production in July 2015 to facilitate digital recordkeeping. Data that is submitted from paper or PDF forms is entered manually into business systems, although frontline staff are now using a mixture of SharePoint 2013 and Oracle BPM for inputting data into the workflow via HP Elite Pads.
The department desktop environment is running Windows 8 and Windows 7 concurrently and Office 2010 on Windows 7 and Office 2013 on Windows 8. At the backend is Windows Server 2012 and Red Hat Linux for applications with an Oracle stack.
A diverse range of business applications include: Cargo Online Lodgement System (COLS), Plant Export Management System (PEMS), Maritime Arrivals System (MARS), an EDW, Illegal Logging Compliance and TRIM.
Graham Gathercole, CIO, Department of Agriculture, said "We have a technology revolution underway at the Department of Agriculture, one that has delivered huge benefits in mobility and connectivity for our people who work on the biosecurity front line."
"Our department's remit includes agriculture, fisheries and forestries. A large chunk of our business is protecting those industries from pests and diseases. Our biosecurity officer's work in seaports, airports and mail centres around the country and their work is vitally important for the future of the country. We have around 4000 departmental staff and close to 300 sites across Australia and a relatively small IT department with around 135 employees.
"Previously, access to our systems was challenging from a mobility and connectivity perspective which impacted our field workers productivity. As a result, three years ago we began evaluating a number of devices to run Windows 8.1 and our direct access technology and we settled on the HP Elite Pad. We've now rolled out around 500 of these tablets. By the end of December 2016, there will be 1000 more tablets deployed.
"We have a small trial program for Windows 10 and expect to transition to the new operating system during 2016. People are very comfortable with Windows 10. It gives them the technology they need to do their job. When they turn up to work they don't have to be a technologist as well as a scientist or vet or bio security officer.
"The innovation we have got from this platform has been incredible, from the point of view of both staff and clients. For example our inspectors used to go to sites and they would need to file a lot of paperwork. Sometimes this would take 24 hours to process, now if there are no issues, they can be in and out in under 15 minutes. Goods used to take 24-48 hours for clearance – now we can do almost on the spot clearance. Our clients have told us they only want officers with tablets doing their import clearances because those officers can do what's necessary in real time at the point of service.
"Our clients have told us they only want officers with tablets doing their import clearances because those officers can do what's necessary in real time at the point of service.
"Now we are working on new software to be used on the tablets for inspections at seaports, on board vessels that are coming into the country. That is going to deliver a totally paperless environment which is really exciting as there is currently quite a lot of paper involved in that type of inspection."
Immigration Minister Peter Dutton has reportedly requested a review of the undocumented arrival of Mr Depp's dogs,
"I am advised Customs and Border Protection officers attended the flight and conducted a clearance process, including face to passport checks and document verification," he told the Brisbane Times.
"I have asked for a report from Customs and Border Protection on the procedures followed for the arrival of these aircraft and whether there was any deviation from accepted practice."
Another online form that Mr Depp could have read before electing to bring his dogs into Australia without any clearance is the Customs Declarations form at http://www.customs.gov.au/webdata/resources/files/15.pdf, which clearly asks for a declaration if you are bringing in animals.