GMCT drives ahead with digitisation
Thursday, November 5, 2015 - 17:08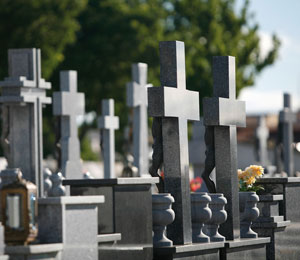 A major program is underway to digitise more than three million pages of paper records recording the history of more than 20 cemeteries dispersed across Melbourne stretching from Lilydale to Werribee. Created in March 2010 by amalgamating eight former cemetery trusts, the Greater Metropolitan Cemeteries Trust (GMCT) has begun the vast undertaking in tandem with a move to adopt the ELO electronic document and records management system.
Cemetery Trusts in general, and GMCT in particular, face a range of records management challenges.
Over the past 150 years practices have changed from storing records in bound leather volumes, site plans and other ledgers, to using complex digital Cemetery Management Systems, however, the GMCT still has ongoing needs to reference information within the historical documents. Cemetery records range from documenting the core business of managing burials as well as routine administrative functions.
Noela Bajjali, GMCT Manager Corporate Information and Records, said, "Over 150 years there have been frequent cemetery trust amalgamations and administrative changes. The provenance of our records is complex and to date largely unmapped.
"Relationships with our clients can typically span many decades and generations as we navigate ownership, use and maintenance of an interment or memorial location over time. Because of this, a very large percentage of our records are permanently valuable and our historical records remain in continuing use by our business for many, many years.
Many of our Historical records are in demand by members of the Public for projects such as family history and other historical research.
"Record formats have changed over time and the condition of these records varies greatly. "
"Over the years, prior to GMCT's existence, business systems have been merged with varying levels of quality and success, creating some disconnect between our authoritative original records and our summary data," said Noela.
"Recordkeeping systems within the former Trusts have been inconsistent. The records have always been valued but we want to apply improved tools and methodologies to their management "In many sites history records that significant records have been lost to fire. Physically protecting the hard-copy records that we have was one of our very first priorities upon commencement of the GMCT  The whereabouts of some significant records (like engineering specifications) are currently unknown, meaning we have to 'relearn' things at a potentially high cost."
Recognising the scale of the challenge, a 3-person Corporate Information team was engaged in 2013 to begin the work of aligning GMCT's recordkeeping practices to the Public Records Office of Victoria (PROV) Standards.
Although it receives no direct government funding the Trust is heavily regulated and must comply with a range of legislation including the Public Records Act, Freedom of Information, evidence act, Environmental legislation, relevant privacy legislation, and so forth.
GMCT operates as a not for profit organisation; with profits directed toward the perpetual maintenance of the cemeteries. Trustees are appointed by Government.
"A primary component of our Records Management strategy is working out what to do with the enormous volumes of historical records from all of the cemeteries that make up our Trust (18 in total across Melbourne's north, east and west). We need to preserve them and make them more available to the business and to future researchers," said Noela.
 "We see digitisation of our legacy records as key to improved customer service, ensuring decisions can be based upon the full body of available evidence, regardless of location, ensuring greater accuracy and responsiveness and supporting greater mobility of our staff by giving secure access to high quality information from anywhere.
"We want to make historical records available to researchers without jeopardising the fragile originals and we want to be able to drill down into the content of things like our Trust records and Engineering case files via the facility of Optical Character Recognition (OCR)."
An initial survey of records held by the Trust found over three million pages of documentation would need to be scanned.
A three month digitisation pilot was undertaken in 2014 to accomplish a number of things, among them:
Establish Metadata schemas
Compare in-house versus outsourced digitisation for key record categories
Explore outsourced hosting of digitised images
Trial secure transfer of items for off-site scanning
Estimate the costs of all approaches
"We wanted to make sure we do the job right the first time so that we can transfer scanned originals to the Public Records Office of Victoria (PROV) with a set of digital documents and metadata to facilitate use by researchers", said Noela.
Following the pilot, GMCT chose to continue with its existing supplier Grace Records Management for hosted digital image storage via the Grace Image Silo, as an interim solution, pending establishment of the ELO Electronic Document Management System (EDRMS).
For in-house scanning GMCT purchased a Kodak I3400 feed scanner with an A3 flatbed attachment to add to a fleet of Multi-function devices, and is trialling the use of indexing support software to simplify indexing and improve accuracy.
Evaluation of the digitisation of 54,000 images for the pilot established that many GMCT Records could not be cost-effectively digitised in-house due:
to the size, format or fragile nature of the documents
the need for high-end specialist equipment and
the level of human resources required to accurately index the records
It found in-house scanning could be cost-effective if:
Low preparation required
No/easy removable binding
Good quality paper suitable for feed-scanning
Document size less than A3
Simple metadata requirements
Some other findings include:
Document preparation is critical to a good result and can take longer than the scanning.
Outsourcing document preparation was not as effective as in-house preparation (but document preparation by providers got better as they learned about our records).
In-house scanning needs a dedicated staff allocation to make the most of the equipment. It's not something to do in the non-existent 'spare time'.
The provision of 'on-demand' retrieval services gives our users confidence that they can still access their records during the scanning process if needed.
Indexing accuracy can be improved by extracts of data from our Cemetery Management Systems (automating some indexing or for verification).
Application of OCR wherever possible improves search and retrieval enormously.
GMCT has recently completed an open tender to establish a digitisation procurement panel and is setting out on the digitisation program that it expects to complete over a 3-4 year period.
"We hope to partner with historical societies and other history-oriented organisations to start making key collections available for historical research," said Noela.
 "I think it's fair to say that cemeteries are strongly rooted in history, as well as in the communities that they serve. Looking out across a cemetery with 1000 grave and memorial locations is really looking out at 1000 stories. 1000 histories of people who lived in and had an impact in our community."
This article is based on a presentation given at inForum 2015, the annual convention run by Records and Information Management Professionals Australasia (RIMPA).