ABBYY unveils Mobile Capture SDK at 2015 Summit
Thursday, December 3, 2015 - 15:52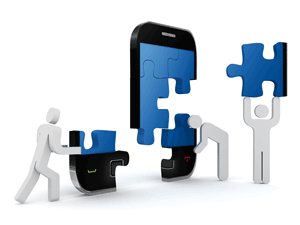 The 2015 ABBYY North America Technology Summit was held in California in November, where a team from ABBYY Australia was joined by local distributor ACA Pacific and channel partners to experience the latest developments in data capture and data analytics.
New announcements from the ABBYY R&D team, which includes over 500 engineers, came in the field of mobile capture and integration into Web platforms. ABBYY also revealed details of its next release of recognition Server, Version 4 (see story HERE).
Sushil Gajwani, Sales Manager for ABBYY Australian distributor ACA Pacific said, "It was great to see firsthand how actively ABBYY is focusing on the Mobile Capture market and Semantic Understanding of Natural Language technologies while maintaining dominance and enhancing its traditional OCR and Data Capture offerings."
A realtime Mobile Capture SDK that works within the viewfinder of a smartphone was announced at the Summit. It is designed to enable the creation of applications for instant mobile data capture, translation or simply plain text OCR.
ABBYY will offer the realtime capture platform as a core technology, while looking to its partners to develop solutions for mobile parsing and backend integration.
Performance benchmarks for text recognition on typical Smartphones were announced: for instance 1-2 lines of text in the centre of the screen can be captured in less than 0.2 seconds, while a full Smartphone screen capture may take 1-2 seconds. (The benchmarks are for Smartphones such as the Samsung Galaxy A5.)
One of the challenges of capturing data from mobile phone screens is the number of stages to go through:
Receiving a frame from smartphone's camera, focusing, etc.
Analysing the frame, converting to grayscale and detection of text segments
OCR of detected text
Translation of text
Finally, drawing the results on the Smartphones's screen (with motion compensation).
Easy and seamless capture of receipts on Smartphones is the Holy Grail of mobile capture. It has huge potential for Consumer Loyalty and Rewards programs as well as corporate/personal expense management.
The challenge is to establish templates that recognise the wide variety of invoice formats in use across the retail and business spectrum.
ABBYY is beginning by incorporating the standard invoice templates of leading US retailers and merchants such as Walmart, Costco, Target and McDonalds.
At the Summit, ABBYY also demonstrated how some of its biggest international customers are tackling the future and replacing legacy systems and processes
Purolator, one of the larger local courier companies in Canada and a subsidiary of Canada Post Corporation, had a major headache with waybills, the document used as a record of movement of items. It needed to scan between 25-45,000 waybills per day, and 50% of these waybills need to be processed within 8 hours of receipt.
Purolator handles more than one million items daily. It has more than $US1.5 Billion annual revenue and 11,000+ employees.
To solve the problem, Purolator has adopted an ABBYY data capture solution using a distributed 100-core FlexiCapture 11 deployment.
All waybills are now scanned and saved electronically and Purolator is shredding already scanned pages. The streamlined solution has also provided full PCI compliance.
Contact ABBYY at sales@abbyy.com.au or on 02 9004 7401 for any further information.