Toga embarks on digital journey with AP automation
Friday, September 9, 2016 - 11:58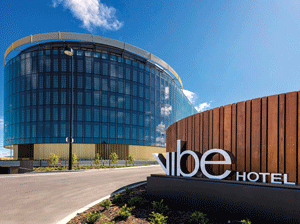 Toga, a private Australian company which operates or owns more than 80 hotels in Australia, New Zealand, Asia and Europe in a joint venture with Far East Orchard, has implemented Accounts Payable automation on a Kofax platform through solution provider Efficiency Leaders.
Toga has 10 residential development projects in the design or construction phase, to open in the next two years and has more than 30 commercial and retail properties in Australia and Europe.
Launched in 1963 by the Sydney-based Vidor family, the Toga Group had amassed 57 hotels before signing a 50-50 joint venture with Singapore's Far East Hospitality Group in 2013.
Its six hotel brands include: Adina Apartment Hotels, Medina Serviced Apartments, Rendezvous Hotels, Vibe Hotels, Travelodge Hotels and the new TFE Hotels Collection.
Designed to ingest more than 230,000 invoices per annum, the AP automation solution is accepting invoices delivered by email as PDF attachments. These are being scanned and OCR'd for extraction of data into Accpac and JDEdwards financials, with SharePoint utilised as the document repository.
One of the challenges for this particular project was developing a workflow that could incorporate over 150 approvers within the widely spread organisation.
Supplied and installed by Efficiency Leaders over an 18 month period, the AP automation solution is now delivering approximately $A700,000 per annum savings over the previous manual approach and has reduced the headcount in Accounts Payable from 12 FTE by more than half to 5 FTE.
"Our cost per invoice is now down at $A2.60 and still going down." said Michael Gowing, Toga's Financial Controller.
The benefits of moving away from a time-consuming paper-based workflow have been immense.
"It was amazing how much time we'd spent filing those 1.2 million pieces of paper and just hunting for paper," said Gowing.
"We didn't realise how much time was being devoted by AP clerks hunting through boxes trying to find a particular invoice, particularly at year end audit, and it had to be an AP clerk because if it was someone else, they'd misfile it, and if it was misfiled you'd never find it again. Whereas now, by having it online, the search facilities in SharePoint are heavily utilised."
"I won't even take a paper bill now, if I've got a supplier that sends me a paper bill, I just write back to them, tell them I've put it in the bin and here's the email address they need to send it to in future. You just don't want the paper.
"We had so much paper our AP clerks were moving between floors in head office that we actually had to install a lift, a special little goods lift that lifts you about six steps up, so that they could move trolleys of paper.
"In fact, as part of the business case when we put it up, we actually took a series of photos showing a day in the life of AP, and a day in the life of an approver. When we did it, we actually showed a pile of paper on a seated AP clerk's desk that that was up to their head."
Despite the tangible benefits the Kofax solution has delivered, Gowing warns anyone looking to attempt migrating their AP processes to digital not to underestimate the change management effort that's required.
"We have a number of sites where admin skills are not their prime responsibility," he said.
"A hotelier is there because they make you feel very welcome.  We hire the chef because he's good at cooking.  So the process of coding and approving invoices had to be simple.
"This was a key piece for it, and when we looked at the Efficiency Leaders platform it was the simplest system that we saw."
Adoption by around 90% of the organisation was achieved in the first six months by initially targetting people who are receptive to technology, and leaving those who weren't till the end.
"The last 10% took another six months, which were late adopters, and they were really battling to get away from paper."
"You've got to be careful that you focus on the end user and not the finance function."
Moving from a head high pile of paper to a gushing torrent of emailed approval requests was another scenario that Toga sought to avoid.
The company did not want a scenario where a manager at a hotel that does 9,000 invoices a year, would end up with the same number of emails. They receive two emails a day, one in the morning and one in the afternoon, with a link to a simple panel with buttons to approve or query a list of invoices.
Apart from the efficiencies and cost saving to the business delivered by automating AP, the digitisation is promising further benefits by opening up the potential for discount bidding on invoices.
This is where a company is able to have its suppliers bid for a discount for early payment
Gowing explains, "If I have a supplier whose payment terms are say, 30 days, and now because its digital and trackable I know exactly where it is on the payment process, I can contact the supplier and ask what discount will you give me if I pay you in 14 days?  As a large company the rate we're getting with money on overnight deposit is quite low, but a lot of these small suppliers who have an overdraft, they might be paying double-digit interest rates, so you essentially take business off the banks, and you get that as a credit back.
'The potential is only there if you have that insight into where your invoice is, it's the richness of the data that opens up avenues that you don't have in a manual environment," he said.
With the AP automation platform bedded down, future plans include looking at the possibility of digitising payroll processes that are company specific, as well as mailroom automation.
"We're just at the beginning of the journey we started on with AP," said Gowing.
"Nobody wanted to touch AP because it was seen as boring, and then you get to the end of a major process like this and you go, wow, that's half a million dollars that we'll get back into the business that we wouldn't have if we hadn't started down this process.
"It is, for us, the lynchpin to what we then get going forward, because it gives us an industrial-strength process that enables us to get value in procurement that we wouldn't otherwise get, and enables us to get value on the payment side that we wouldn't otherwise get."