Drakes Supermarkets digitises with FileBound
Drakes Supermarkets is a family-owned business established in 1974 when Roger Drake purchased his first supermarket. Today, the company is the largest independent grocery retailer in Australia with more than 50 stores across South Australia and Queensland.
Drakes processes more than 80,000 invoices per month; a staggering amount for any business, let alone one that still relied on manual invoice processing. Drakes has an annual turnover of more than $A1 billion and employs more than 5500 staff.
The company processed all invoices through its head office in Torrensville, South Australia. This meant each of its stores, located as far away as Rockhampton in Queensland and Port Lincoln in South Australia, had to put invoices in overnight bags. This was an expensive and inefficient way to manage invoices.
Furthermore, the hard copies of invoices were taking up a huge amount of space. Drakes had seven 40-foot containers filled with paperwork that the company had to keep for taxation purposes.
Roger Drake, CEO, Drakes Supermarkets, said, "Drakes is a centralised organisation. Keeping all data in one location makes it easier to make smarter decisions, faster. But the manual invoicing processes introduced a potential for error, since it would take just one mistyped piece of information to make it impossible to find that invoice again. It could also mean payment errors, which could cost the company. Consequently, it was clear that Drakes needed a solution that would eliminate the manual component of invoice processing."
A digital solution would also likely help Drakes overcome an additional issue of approving expenditure. With such a huge volume of invoices being processed daily, it was easy for people throughout the company to approve payments for any amounts. Drakes needed to gain better control over budgets by setting policies around which employees are authorised to approve payments for what purposes, and for how much.
Roger Drake said, "If there was a disputed invoice, it was difficult to find it. Drakes wasn't always able to take advantage of supplier early invoice payment incentives. Processes were slow and error-prone, and the manual workload was very heavy, which meant high costs."
Drakes examined three options from three different providers, including Konica Minolta. The company had an existing relationship with Konica Minolta, so it made sense to continue working together.
Roger Drake said, "We were in uncharted waters in terms of the volume of invoices we needed to process, so we weren't sure what solution was going to work best. We knew we needed to have the right people on board to make the solution a success and, with Konica Minolta, we definitely had that."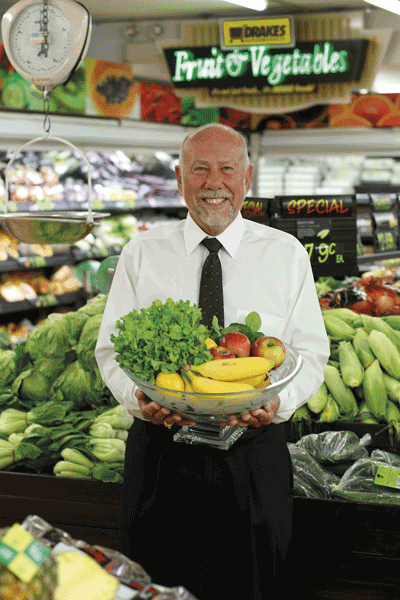 The biggest challenge was getting our own people on board because this was a dramatic change for them. Once we did that, we were able to redeploy people to more rewarding roles where they could analyse data and make decisions rather than just key in information. The result is a much more proactive and streamlined invoice management process." - Roger Drake, CEO Drakes.
Konica Minolta recommended FileBound to manage the invoices digitally. FileBound is a cloud-based enterprise content management (ECM) application that automates the flow of enterprise work. It manages business processes from beginning to end, reliably connecting people and information regardless of location. This was particularly important for Drakes, as the business is geographically dispersed.
FileBound helps drive out paper-based processes to decrease cost and increase productivity. It lets Drakes scan all invoices, then uses optical character recognition (OCR) to make the invoices searchable within the database.
Konica Minolta designed a workflow process for Drakes so that now, all invoices are scanned for each store into a watched folder on the company network. The capture solution applies OCR to each invoice and strips the required information to send it to a content management system. Using an automated workflow process, each invoice is routed based on invoice type, escalations and approval requirements. Once processed, the information is uploaded into Drake's enterprise resource planning (ERP) system. Since implementing the FileBound solution, Drakes can process invoices within two to three days, adding efficiency and cost savings for the business.
Roger Drake said, "Conservative estimates suggest that the FileBound solution from Konica Minolta will save the business more than $A500,000 over the next 12 months."
These savings are due to the fact that manual labour required to process invoices has been significantly reduced. Less manual work has led to fewer errors and greater accuracy, so invoices are paid on time and the business can take advantage of discounts.
Roger Drake said, "One of the most important goals of this project, which we have achieved, was the need to get a single version of the truth. Having one set of numbers around stock and invoices makes it easier for the business to get the data and insights we need to make better decisions.
"This solution has positioned Drakes Supermarkets for future growth, which is essential in a competitive industry like retail.
A big part of the success of this project was having the right project team in place, according to Roger Drake.
Roger Drake said, "With a project of this scale it's so important to have a team in place that knows the business. The implementation went well and change management was a key focus.
"Konica Minolta's staff were unbelievably good. Key team members were working all hours just to make sure the implementation happened successfully. I was amazed at Konica Minolta's commitment to make it happen.