Navigating the ECM Big Bang
Friday, July 28, 2017 - 12:10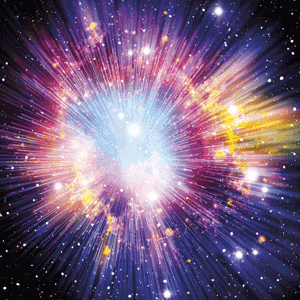 Just as it's well-nigh impossible to bake a nice cake without cracking a few eggs, introducing "meaningful change" into any large organisation will no doubt require the ruffling of a few feathers, as change of itself necessitates doing things differently. When Melbourne's Knox City Council took a long hard look at the way it was, or in this case was not, managing retention and disposal of corporate records, the conclusion was that a complete overhaul of its information management practices was warranted.
And while it is well accepted in the world of enterprise software that a "Big Bang" approach to introducing updates is not ideal, in this case it was impossible to avoid.
The Melbourne local government authority has 1,100 staff, 850 of those with Active Directory accounts. Their existing document management system, DataWorks was introduced in 1999 and last updated eight years ago in 2009. KCC had looked at upgrading the system during the past 5 years, but the project was unable to gain traction until late 2015 when the management team gave their support and got behind the project, understanding the implications of not moving forward.
Meanwhile, information was becoming increasingly siloed while stored in network fileshares under the control of individual departments, on individual desktops and in some cases on USB sticks.  Dataworks was not compulsory for staff, but those that were using the system were struggling with the unfamiliar interface and complex but limited searching. With no file naming conventions in place and multiple indexes to store records against, this course meant that finding documents had become a challenge.
It also meant that Knox was unable to implement a retention and disposal scheme, and thus the Council was not compliant with the Victorian Electronic Records Strategy (VERS).
A project team was formed to evaluate a way forward, and it determined that a full ECM refresh was required in addition to a standardised corporate taxonomy.
A tender process was initiated, won by local solution provider Kapish with a proposal to implement HPE Content Manager 9.0 in tandem with several Kapish products, most notably the Kapish Explorer product.
The fact that Kapish Explorer presents to a standard user much like the traditional Windows Explorer interface was to prove very important.
With so many changes about to take place in terms of how users saved, searched and interacted with corporate documents, asking them to learn to use an entirely new application at the same time would have been a bridge too far. Kapish Explorer was also rebadged as "Knox eXplorer" to help give a sense of familiarity. Staff now refer to it as 'KX', or simply 'eXplorer'.
Implementing Kapish Explorer as the main interface for end users has allowed Knox to take a more user-friendly and simplified approach to information management, while still enforcing all business rules and record keeping requirements. Knox eXplorer is used by staff to access HPE CM Trays as top-level folders, preview multiple documents at once and drag and drop records to create relationships without launching HPE CM.
Over a nine-month period in 2016, HPE CM 9.0 was successfully implemented by a team of 15 Knox City Council staff assisted by two Kapish Consultants and another consultant from Infor, developer of council's Gateway Property & Ratings software - Pathway.
The implementation included retaining integration with Pathway, EzeScan capture software, Intramaps GIS, PeopleStreme PDR, SharePoint 7 (Intranet and TeamSites), Objective Trapeze and Microsoft Office, which was updated during the Knox eXplorer Project to the 2016 edition.  It also included migration of 3.9 million documents from Dataworks.
Six weeks after the golive date, network fileshares were switched to read only and users asked to save any changes into Content Manager via the Knox eXplorer interface. A further project to migrate documents from these fileshares will begin on July 1 this year.
The final switchover took three days over the Labour Day long weekend in March this year.
A three-level folder hierarchy was introduced following the adoption of a standard Victorian local government authority functional Business Classification System (BCS), with an extensive communication program taking place with every department across Council for 12 months prior to golive.
"When people create a document, they see it as their own possession, so trying to change behaviours is quite a task," admits Knox City Council Project Manager Mel Fisher.
"Moving from a departmentally-based structure, where folders are located all over the place, to a strict hierarchy does present some challenges."
"We knew this would be the case and committed to a massive amount of change management. This included dedicated training before we made the switch and a series of masterclasses after golive."
Since "Knox eXplorer" has gone live, there's been a large increase in folder creation within the new 3-level structure. Users must fit this within the function/activity/subject BCS.
"If they don't know how to classify something they can make a request to our Corporate Records team to create something new that complies with the BCS," said Ms Fisher.
"We will keep up the training for the next 12 months and keep moving forward with consistent messaging. It's vital that we embed the change and not let any negative experiences with the new BCS generate resentment towards the system".
"People are already discovering that searching for documents is now superior. Dataworks had so many indexes, like drawers in a filing cabinet that you could only search one at a time, whereas "Knox eXplorer" searches across everything."
With the Knox eXplorer rollout complete, council has been busy with the further introduction of a follow-me printing and scan to email across the organisation. The acquisition of eight new Toshiba Multi-Function Devices (MFDs) means staff are now able to use their swipe pass to release print jobs and scan to email from where documents can be saved to Knox eXplorer. In the future, this will be extended to allow scanning directly via "Knox eXplorer."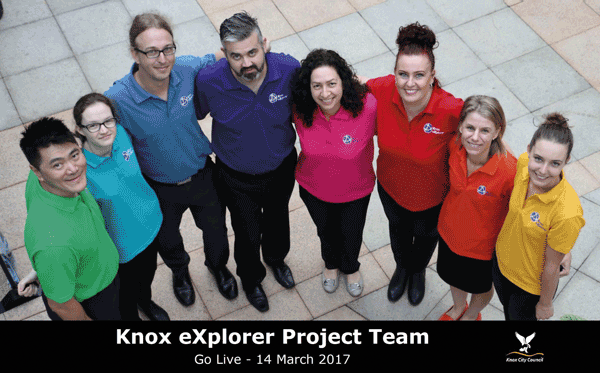 Left to Right: Kenny Khamly, DBA; Alicia Merry, system administrator/trainer; Stuart Penrose, senior technician; Chris Vincent, coordinator corporate records; Dawn Saad, business systems analyst; Mel Fisher, project manager/business analyst; Rebecca Hill; project officer; Jane Batey, system administrator/trainer.