State Archives and Records NSW selects new software solutions
Friday, October 20, 2017 - 10:09
State Archives and Records NSW is undertaking a complete renewal of its underlying infrastructure and systems in a push improve the online discoverability of its vast collections, and make it easier to find and use records.
State Archives has just announced that it will be adopting Ex Libris solutions Primo discovery and delivery solution and Rosetta digital asset management and preservation solution, and Axiell Group's Adlib software, to manage its archival collection. These solutions will replace multiple legacy systems. Together, these integrated systems will enable State Archives to offer a world-class discovery experience to its large user community.
Primo is a cloud-based solution promoted as a seamless, modern resource-discovery experience for users, helping them to easily find and access print and electronic resources.
It provides a customisable interface, comprehensive search capabilities, and personalised search results.
The digital preservation system, Rosetta, forms a key part of Ex Libris's suite library resource tools. The system copes with diverse content types via plug-ins, which enable the management, preservation and delivery of almost any content.
Rosetta promises to fully consolidate siloed DAM and preservation operations in one unified solution, allowing for the elimination of duplicate processes and administration, to ensure data consistency.
Over 1600 institutions use Adlib collections management and Web presentation platform worldwide, including the British Film Institute, Van Gogh Museum, Rijksmuseum and the Vienna Technical Museum.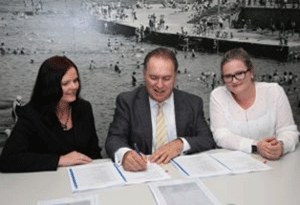 Vickie Wood (Axiell Group), Geoff Hinchcliffe (State Archives), Amanda Healy (ExLibris)