Simple setup the key to Alaris scan strategy
While it's fair to say that BYOD and the wider use of mobile devices resulted in a steady decline in paper usage - the reality is that the paperless office is still a pipe dream for most.
It's not that we are lacking the technology to go paperless, it's that we don't want to get rid of paper in our day-to-day activities.
One of the biggest barriers to transforming from paper-based to paper-free processes is a resistance to change, and despite the contention that hard copy workflows are an inhibitor of efficiency and growth, people keep using paper because that's what they have always done.
In fact, one of the key findings of a digitisation and workflow automation study by Quocirca was that paper remains a key element of many businesses. Quocirca interviewed 200 organisations in the USA, UK, France and Germany, and respondents reported that 27 percent of business processes are paper-based.
The top reasons cited for paper were: physical signatures (55 percent), customers/suppliers require it (48 percent), and most notably, that staff prefer paper (41 percent). And while a clear majority of organisations recognise that the digitisation journey is one they are keen to begin, 62% cite complexity as the main barrier to deploying information capture.
The Kodak Alaris strategy begins with making the scanning process simple to setup.
Configuring scanners can be a time-consuming task for reseller personnel and IT professionals, especially when there are multiple devices that need to be set up. And often end users will change device settings, which can impede productivity for subsequent users.
Kodak Alaris' EasySetup feature, which debuted on the i1190WN and i1150WN models, alleviates these hassles with a first-of-its-kind automated configuration process. The technician tasked with deploying the scanner simply enters the desired settings information on Kodak Alaris' online EasySetup portal, prints the resulting configuration page, and scans it on the target device to enter the settings.
Moreover, EasySetup sheets can enhance network security by allowing the administrator to enable password access on the scanner without the user ever knowing the password
Kara Rayburn, World Wide Portfolio Manager, Information Management at Kodak Alaris, said "Our latest generation of scanners the Alaris S2000 Series are compact and easy to use and they allow our users to more than just capture text and push it on through somewhere. People need to be able to create usable data and have the ability to automatically send it where it needs to go."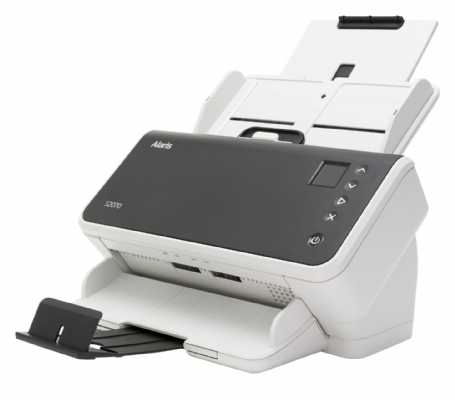 Alaris S2070 scanner.
All of the new S2000 Series scanners include a Limited Edition (LE) of Alaris Info Input Express software to provide the ability to initiate intelligent workflow and provide a personalised interface.
Previously, only the high-end i5000 series of scanners had the inbuilt ability to use a separator sheet with a QR code to initiate processes with scanned documents. Using the bundled Info Input Express LE or Capture Pro Software now provides this capability to every S2000 Scanner model.
The scanners also include Intelligent Exception Processing to handle immediate validation of forms so any missing information can be identified and fixed at the point of transaction.
Imagine the scenario of a loans officer and a mortgage applicant working through dozens or hundreds of pages in a lengthy application form that require signatures or ticks in multiple boxes, using Capture Pro software the scanner can watch for exceptions and immediately issue an alert.
A new cataloguing capability with Info Input Express makes a list of everything scanned and where it was sent so if you later on can't remember where it is you can find a scanning job by date and name and get a link to where it is.
Also included with Info Input Express LE is the ability to provide up to 20 individual buttons for unique workflows via the S2000 Series Scanner control panel
Intelligent Job Select is a new feature in Capture Pro and Info Input Express Software that works in conjunction with scanners to automatically index documents and reconfigure the scanner with the best settings for a particular document type. Separator sheets coded with job configurations are inserted between jobs within the same stack, and the software automatically switches properties as the pages are scanned. This feature works across multiple sized batches and multiple types of documents, up to the capacity of the scanner's feeder. This completely automates some of the activity spent prepping documents for scanning, and reducing manual steps in the process.
Kodak Alaris is seeking to engage more partners that can build unique solutions based on its software APIs and SDKs, rather than just sell scanners. In the US market, Alaris has teamed with BPO COMPU-DATA to integrate its Virtual File Room with Info Input software for a simple one-click user experience to handle all capture at point of origin. A Video Case Study is available HERE.
The company has also begun rolling out a new Managed Service offering for direct sales accounts in the US, UK and German markets which will soon be offered worldwide.