Objective embraces a digital future at new Sydney HQ
Friday, March 16, 2018 - 12:05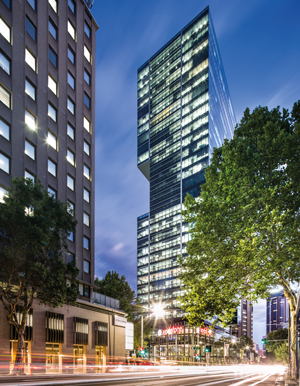 The cubicle walls in today's workplace are coming down, nowhere more obvious than at Objective Corporation's impressive new global HQ, known internally as The Skylab, located in the IT heartland of North Sydney.Moving to the new premises in 2017 required staff hike only a short distance up the road from their old office, however Objective took the opportunity to design a purpose-built new facility for more than 250 staff, including around 100 software engineers and developers, that fully embraced the trend towards activity-based working and digital processes.
Founded by CEO Tony Walls in 1987, Objective Corporation is the creator of the Objective ECM platform. Objective now directly employs 280 people and generates domestic and export sales of $A63 million a year. It has diversified in recent years from ECM software to cloud-based document generation and collaboration, and now operates across the globe.
"The move to Skylab was designed to lift our ability to foster greater collaboration and to attract gifted employees so we may accelerate the development of innovative new ideas and scale our business globally," said Objective COO Frank Volckmar.
"The office and tools underpin a more flexible, collaborative and high performance approach to working together across all our offices and teams, and we are already seeing benefits in terms of engagement and performance.  We are becoming more competitive in the manner we conceive, develop and deliver outcomes for our customers and aim to remain a leading software development company in Australia."
The extent to which paper-based processes have been eliminated from day to day business at The Skylab is demonstrated by the lonely presence of a single MFP serving the entire main office floor.
The new office has been designed around how people work, not where they sit, and provides a variety of flexible spaces designed for activity-based working.
Employees are able to choose which space to use based on the task they are doing that day, from desk-based working to collaborative 'zones' to share ideas. Modern cloud-based platforms such as Objective Connect, Right Now and Salesforce as well as the adoption of Concur for digital invoice processing have enabled the 'paper-less' office.
Today's employees rank mobility as more important than an assigned space or even a corner office. Instead of being chained to their workspace eight hours a day, they want the freedom to choose where they will be working at any given time on any given day.
Like many office buildings today The Skylab includes spaces with varying levels of privacy: collaboration areas, multi-purpose rooms, smaller "huddle rooms" or conference rooms, and semi-private areas for individual use.
There is no phone system in the new building, with Skype for Business and headsets the new normal, which means staff working from home or on the road able to fully participate as if they were at a workspace on the same floor or via one of a number of flexible meeting spaces equipped with digital whiteboarding.
"All our internal systems, including our ECM or Electronic Records Management system, enable our employees to work anywhere, anytime and across any device," said Volckmar.
"ABW isn't something we just do in the office, the thinking also encompasses people working at customer or home offices and access to records digitally is simply a fundamental requisite.  The fact we have redesigned our application interfaces to be highly intuitive, easy and performant from anywhere and any device was a huge step forward.  Our systems simply allow our employees to focus more time productively rather than on admin so they may achieve more.  We are reviewing all our processes and systems to ensure they deliver similar outcomes for our teams and our changes to expense management reflect that drive."
Legacy migration
Like any organisation that has been in business for over 30 years, Objective has faced a challenge to transition legacy systems or operational processes into a digital form. A key driver has been the desire to provide an unobstructed flow of information between content management and line of business systems.
Chief Financial Officer Ben Tregoning joined Objective in September 2016, at which time the organisation had already completed the difficult transition from a small business accounting system to the enterprise-level NetSuite providing cloud-based ERP and Financials.
"At the moment at Objective, like many other businesses that have grown quickly, we have some disparate systems which we tie together through Excel.
"We actually didn't make a conscious effort to reduce paper, it just wherever the processes are slowest tends to be in those places where there's lots of printing, handing around and emailing and back and forth. Those are the ones where we've noticed we've got the biggest opportunities for gains.
"There are also Finance processes that have traditionally required that a document is printed out, edited, signed, scanned, then saved in Objective.  By using Objective properly, which is simply by building a workflow around the document, we don't actually need to print it any more, it's just done via approvals within a workflow in Objective, which is as rigorous as a physical signing but is much easier to track.
"We've just introduced an expense management system called Concur in an effort to reduce the error in expense claiming, make it easier on our staff, using e-receipts and automatic email capture, so that people don't have to go to the scanner and scan their receipts in and reconcile them by hand to individual expenses.
"We don't have a huge volume of incoming invoices but the challenge is not immaterial.  We operate in a number of offices and all of those invoices come into the individual offices and then they've got to make their way to the central office, then we need to process them, print them, email them back to the person, asking for approval, they print it out, probably sign it, scan it, send it back, it goes on the file.  It's just the nature of having that sort of documentation. 
"Concur documents will be digital from the moment they're received. We receive everything via email, so the documents never need to go out of the digital environment right up to payment.  They can get processed throughout through the work flow for approval and they're always trackable as to where they went, who approved it, and their approval limit," said Tregoning.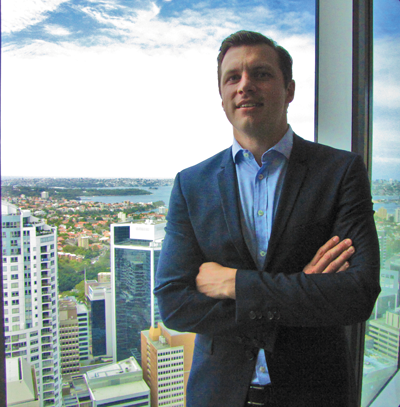 ""One of the things we've got at the top of our list is trying to move beyond being a transactional team, to being an analytical team and I think that's something that's reflected across the board for finance teams.  It's not an easy journey, there is a lot of work that is required in trying to ensure that the transactional stuff is done very accurately and efficiently, in order to free time for people to be able to focus on doing analytics and insights which is really what ultimately, as a mature finance team, you want to be providing. – Objective CFO Ben Tregoning
Human Resources
Outside of Finance, Human Resources is the department typically faces the biggest challenge in making their lives paper free.
Pauline Nel, Leader, People and Culture at Objective Corporation, explains the company took a Big Bang approach in 2016 by digitising all of its personnel files and placing them in Objective.
"We already had some information in Objective, however when we moved we decided to digitise everything and do away with all of the paper-based files.  Everything was transferred into Objective.
That way, managers, employees, Finance and People and Culture all have access to the relevant information they need.  We own the file structure and the files and we update them as necessary," said Nel.
"The other big change came when we digitised our annual review process, changing from annual reviews to quarterly check-ins.  Previously, people had typed out their reviews and printed them off but that was all put online. "
There are also a range of internal HR process that required printed and signed forms that are being automated via workflows in Objective.
"We've reduced our paper significantly, which also helps us hugely with our working remotely.  Our team is diverse, and they're globally located.  People work from home regularly and they are easily able to share information via the wiki, which functions like an intranet providing access to our policy and procedures documents which are stored in Objective.