Brother drives Europcar into the digital economy.
Friday, December 7, 2018 - 10:45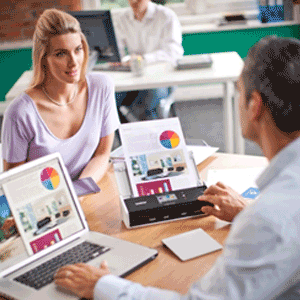 Brother Australia has worked closely with car rental vendor Europcar, to optimise the integration of its Document Scanners with a POS Solution for processing customer identification, which is now deployed at over 150 Europcar locations throughout ANZ.
Through scalable distribution and ongoing support, Brother has played an important role in ensuring seamless integration and functionality of the Europcar POS solution that is proving an invaluable tool, enhancing productivity among staff, en masse.
The leading car rental company required a solution to streamline repetitive processes, which would in turn allow employees to focus on providing greater customer service. The main aim was to improve document management, which could be achieved by storing digital copies of printed customer rental records.
To enact this in full, Brother executives Chuck Leszyk, Steve Bennett, and Luke Howard worked closely to devise a strategy that was suitable not only for initial deployment, but one that was also scalable to implement across the wider Europcar ANZ network.
In partnership with the distributor, Brother drew upon its technical expertise to test and validate their ADS-1600W scanner's functionality in the context of Europcar's ideal POS workflow, building a case which led to the successful acquisition of the Europcar bid for 160 units between two of their resellers. Brother executives continued to work with Europcar to assist in assessing the potential benefits of moving to the ADS-2800W scanner upon its development.
In partnership with Europcar Head Office Help Desk Team, Brother performed spot checks at Europcar's Melbourne metro locations to survey employee workflows and interactions with the scanners, with the purpose of exploring further refinements in the process. In response to such observations, Brother is submitting a brief to the Help Desk Team, to provide recommendations that may help to further enhance operational efficiencies around the scanning process for the business.
Brother continues to work with Europcar on the best way to maintain their fleet for the future, focusing on a viable plan for replacing aging units. While proving unwarranted due to the effective implementation and maintenance of the project by all parties, Brother has ensured their Custom UI Solution remains a scalable option across the ADS-2800W fleet should Europcar's needs change. The extended 3 Year Hot Swap Support that was included in the bid for Europcar continues to provide a more comprehensive cover as well as easier and more-timely turnaround for any warranty repairs.
This corporate solution has streamlined the way that Europcar records and manages their print and digital transactions, increasing the effectiveness of employee workflows and the efficiency of the organisation's overall administrative process.
However, a significant portion of the two million businesses in Australia are still experiencing the challenge of a complete transition into the digital economy. By investing into and developing its Corporate Solutions programs, Brother aims to add value to everyday Australian businesses by providing them with expert solutions to seamlessly transition towards a digital system.
Website: www.brother.com.au  
Phone: 1300 885 989
Email: corporatesales@brother.com.au
Website: http://corpsolutions.brother.com.au/