RPA and AI across the intelligent automation spectrum
By Lee Beardmore, Capgemini Business Services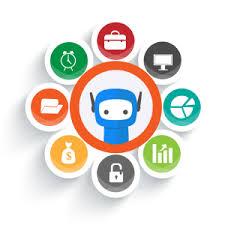 It's true to say that RPA has taken us a long way towards unlocking productivity benefits tied up in manual processes. It has galvanized a mindset that things can change without a need for massive systems reengineering.
Although wholesale change isn't always a realistic option for most organization, RPA acts as a catalyst to help businesses progress and add value, enabling them to build strategic plans around investments they've already made into their legacy systems. It doesn't preclude big change – it simply supports a faster release of benefits alongside greater change initiatives, so that everyone's a winner!
The expansion into artificial intelligence (AI) is the next step of this more granular, faster form of transformation, with more and more business activities either wholly or partially automated by increasingly sophisticated means.
At Capgemini, we use a framework called the "Five Senses of Intelligent Automation" to help classify and structure solution components on the intelligent automation spectrum.
This framework takes an "automation first" approach to understanding technology, and is based on the observation that almost every solution in which AI is involved consists of five senses. Combinations of these senses deliver automation systems that offer dramatic improvements over their manual counterparts.
Naturally, this must come with some process restructuring – it's not possible to generate significant benefits if you automate the current "as is" process state. Processes must be optimized with an automation-first mindset.
Practical uses
With all of this in mind, here are some real-world use cases that combine RPA and AI into broader intelligent automation solutions:
Process discovery – often the biggest question for RPA is: "Where do I build the robots and what benefit will I achieve?" Analytics, machine learning, and AI provides an evidence-based, bottom-up view of what is actually happening in an organization's operational processes that helps understand how to change processes, where to deploy robots, and assesses the benefits once they've been deployed. This can be compared and contrasted with the traditional top-down view provided by process leaders and operators.
Managing unstructured data – RPA is a transport mechanism for getting raw data such as documents, forms, correspondence, contracts, and other free text content to AI components. RPA is surrounded by these AI modules – such as computer vision, pattern matching, classifiers, and natural language processing – which deliver specific capabilities to carry out subjective processing tasks that have traditionally been done by people. RPA is then used, alongside APIs, to input the answers into the target systems.
Corporate memory – one area that AI can really help is in knowledge management. Leveraging cognitive search engines and knowledge bases to inform customers and employees quickly can have a huge impact on their satisfaction. Although not directly related to RPA, corporate memory is an essential ingredient in the AI mix offering an automation capability that can divert interactions towards viable self-service and away from asking an agent or colleague.
The conversational interface – my children are constantly talking to their devices. It's a natural (and sometimes amusing) activity, and this style of conversation, whether voice or textural, is increasing dramatically. As chatbots and voicebots continue to offer a new user experience, RPA can open up access to an organization's application estate – particularly those that are difficult to integrate with – enabling them to participate in the new world of conversational interfaces.
Speed to insight – RPA can be leveraged to improve productivity of corporate reporting and support the generation of insight and interpretation of data. RPA supports the "last mile" of supplementary analysis needed to hone in on a key piece of insight. AI can be used to model and predict through a traditional machine learning approach, or through natural language generation techniques to create a grammatically correct, narrative summary of the findings within a block of raw data.
As new AI techniques and solutions come on to market, the spectrum of intelligent automation continues to expand – and it's already changing the future of work in a radical but positive way.
The ability to introduce these connected, yet granular solutions is helping drive a dual-speed transformation and a new era of business and IT alignment.
Lee Beardmore is Vice President and Chief Innovation Officer, Capgemini Business Services, contact:lee.beardmore@capgemini.com
This article was originally published in Capgemini's February 2019 Intelligent Automation Special Edition publication, available for free direct download HERE