Kodak Alaris 2019 Summit a hit with ANZ partners
Friday, August 23, 2019 - 13:13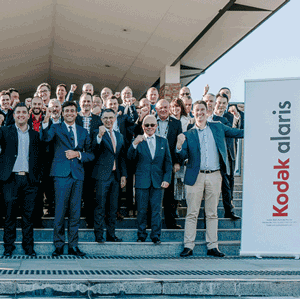 Key international Kodak Alaris executives flew into the NSW Hunter Valley last month for the global imaging giant's first ANZ partner event in over 10 years. There they were joined by the company's growing roster of dedicated Australian staff as well as Australian and New Zealand BPOs, resellers and system integrators who experienced an intensive two days showcasing the drive towards Digital Transformation in 2020 and beyond.
Shaking off its troubled corporate past after separating from the Kodak company, Kodak Alaris celebrated with its growing regional partner network and new global AI partner, Singapore company TAIGER. A new Alaris 'terminal" scanner that connects directly to an EDRMS and does not require a host PC was also unveiled.
Kodak Alaris staff numbers in the region have grown significantly with the addition of a new ANZ Channel Manager David Hassell, ANZ Pre Sales Manager Latha Balaji and ANZ Service Manager Ryan Smith.
Angelo Krstevski, General Manager of Sales, Kodak Alaris, Australia & New Zealand, kicked off the event with the announcement that the company is tracking in first place for market share of A3 production capture in ANZ, with 50% growth over the previous fiscal year. With a 100% channel-based go to market strategy, Kodak Alaris also reports a 9% growth in Distributed Capture revenue for the region.
"The market has experienced a strong demand for Workgroup and Departmental scanners," said Krstevski. "This helped drive our revenue growth by 29% in 2019."
"In the ANZ production capture market Alaris is the leading vendor with 46% unit share while we continue to also grow our share of the distributed capture market."
Significant drivers of growth in the ANZ capture market include the push towards digital at all levels of government and a large scale overhaul of the health industry with a focus on sharing medical records with patients and other institutions.
"The strategic importance of Digital Transformation is similarly high compared to other geographies. However, Australia is putting an even higher focus on Digital Transformation with the government providing guidance and leading by example," said Krstevski.
"The Public Sector, Banking, Insurance and Outsourcing are industries with more advanced strategies for digitization while many in Retail, Utilities and Transportation are taking their first steps. "
Leonel Da Costa, Regional Managing Director, APAC, Alaris, flew in from Singapore to present on the fundamental importance of Data Capture and Digital Transformation for economic development in this region
"Australia and New Zealand are key countries in APAC that we are investing in to add value and bring talent to our team," said Da Costa.
"The rise of cognitive technology, working together with robotic process automation (RPA), will drive the next wave of growth in enterprise capture over the next 3-5 years.
"Many are now recognising how important it is to use data for business process improvement and productivity and achieve compliance."
In pursuit of this aim, Kodak Alaris has announced a global strategic alliance with Singapore-based TAIGER, a developer of artificial intelligence solutions.  TAIGER is headquartered in Singapore with offices in Hong Kong, New York, Madrid, and Mexico.
It will initially focus on certifying the Kodak Scan Station 730EX and the Alaris S2060w Scanners for use with TAIGER's AI solutions.
David Soo, Director of Strategic Sales Alliance at TAIGER, demonstrated how select models of Alaris scanners will now use AI-based software to recognise and interpret text, whether it's a name, address or other important information that an organization requires. The company says this capability is not available in traditional OCR solutions and will be a key differentiator for TAIGER and Alaris.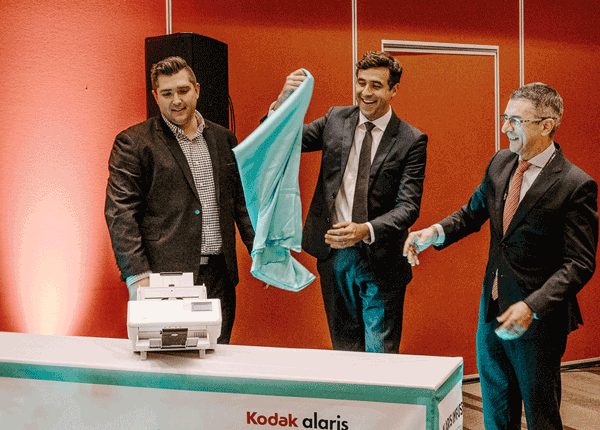 Angelo Krstevski - Country Manager ANZ, Cassio Vaquero - VP Global Sales and Leonel Da Costa, Regional Managing Director, APAC, unveiling a new network scanning product due for release in 2019 that is specifically designed to integrate with ECM and business processes.
"This new solution will allow our customers to deploy capture at the start of business processes with no need for any other infrastructure between the scanner terminal and their ECM-enabled apps. It will be able to validate data that is captured and send information back to the terminal on anything that is missing to enable action to be taken immediately at the frontline," said Da Costa.
A new software agent is also being developed to enable USB-connected scanners to be managed as effectively as network printers are today.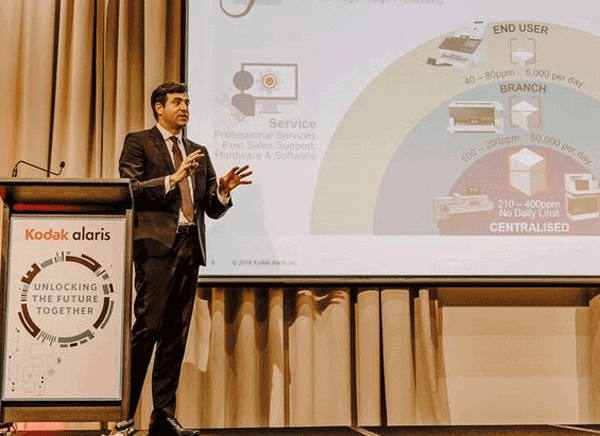 Visiting from Kodak Alaris HQ in Rochester, New York, Cássio Vaquero, Vice President of Global Sales, revealed the surprising growth in the scanner market worldwide.
"Worldwide, the A4 market continues to be strong with 2018 market revenues being slightly higher than in 2016. The A3 scanner market has increased strongly in 2018 after a very weak 2017."
Vaquero emphasised the importance of Intelligent Capture being implemented early in a business process to enable true automation. He quoted recent market research that found that more than two thirds of businesses have automated less than half of business processes.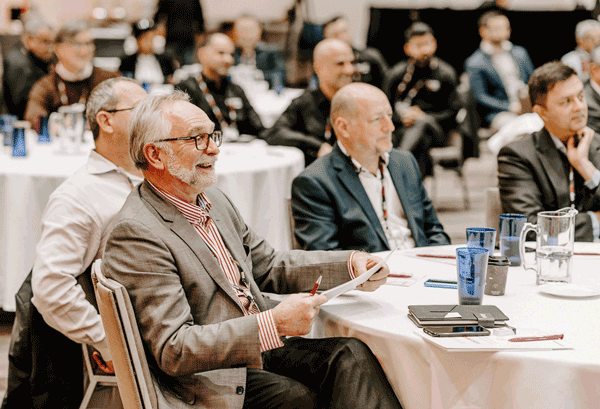 Tony Cartwright (Neopost) was one of many local Kodak Alaris partners in attendance.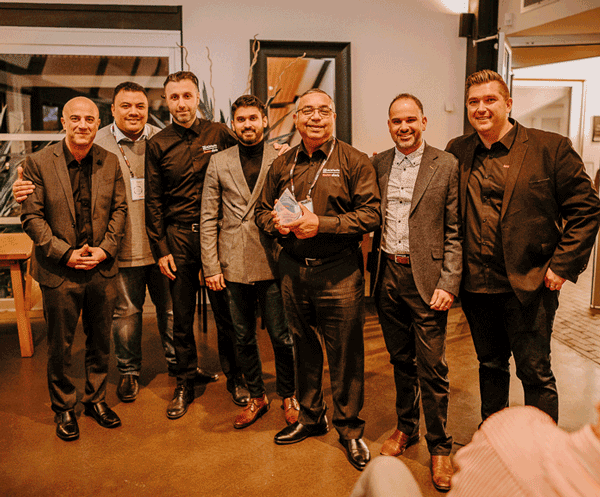 Some of the growing team at Kodak Alaris ANZ distributor ACA Pacific, which has also recently opened a new office in Auckland, New Zealand: (l to r) Australian Channel Sales Manager Adam Mahdavi, NZ Channel Sales Manager Angus Malietoa, Solutions Specialist Rey Azizi, Solution Consultant Husni Karuni, National Sales Manager Sushil Gajwani (holding his Award recognising 20 years supporting Kodak Alaris Australia), Head of Marketing A/NZ Raj Saini (ACA Pacific) and Angelo Krstevski, Kodak Alaris Country Manager ANZ