Snowdon Building a Digital Future with FileBound
Friday, September 13, 2019 - 11:34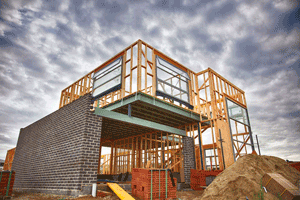 Over the past 35 years, Melbourne's Snowdon Developments has grown from a family business building just a few homes in Melbourne's Western Suburbs, to become one of Victoria's key home builders, with over 100 staff and more than 1000 residential homes under construction across the state each year.
The construction industry is traditionally not an early adopter of technology, but in 2018 Snowdon Developments realised it needed to undertake a digital transformation to improve the efficiency of internal business process to ensure compliance with industry legislation, remove laborious manual tasks, maximum current resource base efforts to higher valued tasks, enhance its ability to manage exceptions, project variations and company growth.
Each of the homes under construction would require many financial interactions with subcontractors and tradespeople that were 100% paper based. Even invoices that arrived by email as PDF were printed out for approval.
The approvals process was a significant burden as construction managers would need to leave their site every Tuesday and come into head office to wade through a bulging Manila folder of paper invoices to approve.
To enable its digital transformation Snowdon Developments engaged FileBound Australia to implement a fully cloud-based invoice capture and workflow platform that integrates with its Databuild ERP and financials. The company now processes approx. 200,000 AP invoices a year in an automated workflow integrated with Databuild.
AP automation can prevent fraud by detecting fraudulent patterns, providing full control of employee spending, establishing approval processes, identifying invoice errors, and flagging vendor inconsistencies, and specifically to the construction industry is budget checking/controls.
It also ensures you won't run into the problem of your sub-contractor being paid 80%, when only 50% of the work is complete, due to lack of visibility into payment details.
In addition to processing efficiencies, Snowdon Developments was seeking to introduce stronger controls on procurement. A lot of money flows through construction companies, which makes it easier to conduct fraud unnoticed. The traditional method to handle over runs (or extras) on a construction site involves construction managers creating a manual order in a book of triplicates. The subcontractor or tradie then submits their invoice copy for payment.
"This allowed little oversight and so now all invoices must match a purchase order or be rejected or submitted to the estimates team for evaluation," said Dave Campbell, Operations, Manager, Snowdon Developments
"Instead of reaching for their book of triplicates, construction managers now fill out a FileBound online form to raise the overrun/extra. Then depending on the value this is either submitted for payment or diverted to the estimating team for analysis.
To keep rogue expenses to a minimum, implementation of a compliance system that keeps digital records of all expenses can eliminate the opportunity for unapproved spending and make reconciliations much simpler. With all documents in one place, it's easy to monitor trends for each vendor you work with and it ensures you hire responsible sub-contractors by tracking their spending in realtime.
Another major motive for the digital transformation was to improve compliance. FileBound has introduced full Document lifecycle automation as part of the new platform. This means being able to automatically perform additional checks when an invoice arrives and is captured, for instance going online to check that the tradesperson has the correct insurance and the insurance is up to date. It also checks that the BSB/ACC that is provided is valid and matches the company name.
Lee Green, Sales Director, FileBound Australia, said that this transformation provided an "Instant Win" for Snowdon Developments.
"There is a huge amount of regulation in the construction industry, now that all documents are digitised we are able to provide warnings when any process runs over time to avoid the risk of non-compliance in payments."
Another benefit has been delivered in the process of Rebate Management.
Construction firms with multiple sites under development typically submit large orders to suppliers that are filled out as products are required. They will usually require a rebate at the end of each month as the completed deliveries are match to the blanket order.
Previously this was undertaken manually in Excel, however FileBound is now able to collate and generate these reports automatically at the end of each month.
Their biggest motivations for implementing the FileBound Solution included:
Getting rid of paper
Saving valuable staff time
Improving Approval controls
Improving visibility into spend
Improve Supplier Relationship
Creating a foundation for Company Growth
Increased Data Integrity for Insights and Future planning
Future plans to expand the role of FileBound include managing sales workflows and Human Resources (HR), with staff able to access leave forms, sick forms and OH&S from their iPads while onsite.
For more information visit www.filebound.com.au