AEC keeps faith with Paper Certified Lists
Thursday, March 16, 2023 - 14:34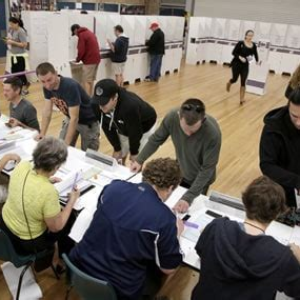 Being ticked off in pencil on election day will remain a rite of Australian federal elections for some time to come, as the Australian Electoral Commission (AEC) has issued a tender for scanning and processing of Paper Certified Lists for the next 5 years.
The Paper Certified Lists are used as a record of who has voted in an election, allowing electoral officials to track who has cast a vote and who has not. The lists are supplied to each voting booth marked in pencil by an electoral official to certify that the individual has voted, after they have volunteered their name and address and it is matched to the electoral roll.
For the 2019 and 2022 elections, electronic certified lists were deployed at a relatively small number of polling booths nationwide.
In 2020 the AEC issued a request for information investigating the possibility of operating its electronic certified list (ECL) system at "100 percent of polling places" in the future.
However, that appears to have been put in the too hard or too expensive basket, as the new tender for Paper Certified Lists is for 5 years commencing in 2023 with two option periods of one year each.
At the 2022 Federal Election, there were 17,228,900 eligible electors able to vote and the AEC produced 34,796 paper Certified Lists. Only 44% of electors (6,965,772) that voted in 2022 were marked off on a paper certified list on election day, with over half choosing to vote at more than 500 early voting centres or via post.
The RFT indicates that future elections will require the scanning of more than 30,000 Paper Lists generating more than 17,400,000 individual images.
The marked-up lists must be captured at 5 scanning sites located in each mainland state.
The winning tenderer will need to provide Optical Character Recognition (OCR)/ Intelligent Character Recognition (ICR) or Optical Mark Recognition (OMR) services to capture marks and other data from the Lists.
It must also provide a portal so electoral officials and scrutineers can review scanned images and review images of questionable or unclear marks and decide whether a mark should be captured or not.