What is enterprise application integration?
By Lindsay Sterrett, Micro Focus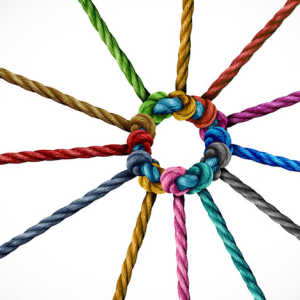 Did you know that the volume of enterprise content is expected to increase by 4.5x over the next two years? If you're facing information management challenges such as siloed data, content sprawl, disjointed workflows and multiple disparate systems, strong and reliable integrations can help!
When done right, enterprise application integration can play a significant role in an organization's ability to manage the high volumes of information required to keep business moving.
Broadly speaking, enterprise application integration (EAI) is the process of connecting and integrating business applications and systems – such as enterprise resource planning (ERP), customer relationship management (CRM), human capital management (HCM) and supply chain management (SCM) solutions – so they can exchange data and interact with each other.
EAI can help organizations streamline and automate their business processes, improve efficiency, overcome siloes, shore up security and compliance, and make better use of the data they generate.
For example, an organization may use one system to generate customer invoices, and another to create and share customer communications. But staff need information from both systems to have a full picture of a customer's situation (especially if that person is calling in with a complaint). Without integrating these systems, staff are left switching back and forth between applications, wasting time and creating friction throughout the process – a problem for both employee engagement and customer satisfaction.
What are some challenges of integrating enterprise applications?
"When information must flow across multiple departments, systems, and lines of business, it leads to fractured information contained in each of the individual applications. And if you don't establish a way to overcome these silos of information, then you end up with decision-making that's incomplete and based on a very limited view of the business process," says Wolfgang Schmidhuber-Tindle, an information management expert at OpenText.
Implementing EAI solutions comes with a range of challenges, including:
Complexity: Integrating multiple applications and systems can be technically challenging and time-consuming, especially when those systems use different technologies or data formats, which is often the case. However, using EAI to deliver content into lead applications is a critical requirement for large businesses looking to automate key workflows.
Security: Protecting the data being exchanged between systems is critical, so organizations need to ensure that their EAI solutions include strong security measures and data privacy protections.
Scalability: As organizations grow and change, their EAI solutions need to be able to adapt to meet their changing needs.
Usability: "In the end, it's always about the end user," says Bernd Hennicke, an EAI expert with OpenText. "If it's not usable, seamless and easy for the end user then it's pretty much worth nothing. You can protect all kinds of content and fulfill all kinds of regulations. But if the end user can't work with that content and do their job more efficiently, you've got a problem."
How does enterprise application integration work?
Enabling EAI usually involves many enterprise application integration technologies and approaches, including APIs, middleware, integration platforms, highly customized solutions and more. The specific technologies and approaches depend on the unique needs and requirements of the organization or use case.
"For us, it's not about a generic capability of connecting anything to anything. It's about bringing relevant Information Management solutions into all sorts of lead business applications, and by virtue of that, we need to be very good at integrating," says Schmidhuber-Tindle.
Integrating with lead applications is one critical way organizations can solve information management challenges in the context of a user's workflow – whether they're working in SAP S/4HAHA or SuccessFactors, Microsoft 365 or Dynamics, Salesforce Sales Cloud or Service Cloud, IBM Maximo, or AutoCAD, to name a few.
"OpenText has been building integration capabilities into its solutions for decades. The list is long and growing constantly. It's in our DNA to make our services relevant in those environments where end users work and where the business processes actually run," says Hennicke.
How does integrating enterprise applications support business growth?
By streamlining processes, improving data accessibility, increasing agility, and enhancing customer service, EAI can help organizations operate more efficiently and effectively, and stay competitive in fast-changing markets. Let's break that down in more detail:
Enhanced data accessibility: EAI allows both organizations and end-users to access and share data across different systems and departments, regardless of which application users are working in or where they are in the business process. These insights drive more informed decision-making and business planning.
Greater agility: With EAI, organizations can more easily respond to changing business needs and adapt to new technologies or processes. That's helpful when it comes to staying competitive in fast-changing markets (including downturns/recessions) and capitalizing on growth opportunities.
Better customer service: By integrating customer management information across systems, organizations can provide a more seamless and personalized experience for customers. Boosting customer satisfaction and loyalty, of course, can drive business growth.
Improved efficiency: By automating information management and business processes, and reducing the need for manual data entry and reconciliation, EAI can help boost operational efficiency. That efficiency can lead to cost savings, increased productivity, and higher employee satisfaction.
Why is governance critical to successful enterprise application integration?
Organizations need to automate and optimize their information management processes while being careful to meet and exceed internal and regulatory data privacy and compliance requirements.
"Any industry that operates in a highly regulated environment – financial services, government and energy utilities, healthcare and so on – is very much in need of governance and security when it comes to integration with lead business applications," says Hennicke. "It's never simply a question of technical integration, but also business logic integration, and governance around that."
It's also a matter of integration – or strategic partnership – at a company level. "We have unique partnerships with the lead application providers that drive business – Microsoft, SAP, IBM, Salesforce and many more," says Schmidhuber-Tindle. "As a result, we're often involved in not just addressing integration requirements down the line, but in defining specifications for APIs and interfaces from the very beginning. Working this way means we can attend to governance issues throughout the process."
For example, a European customer, FARYS, in the highly regulated energy sector needed a consolidated platform for processing and sharing 2M+ communications each year. "Now, every document that is generated in SAP, be it a bill, purchase order, or letter to personnel, is done by one system," Hennicke explains.
FARYS CIO, Inge Opreel, says that "the upgrade has enabled us to use APIs so we can connect more easily to SAP and to other systems. The connection between SAP and OpenText is a huge benefit for us." Read the full case study.
What does the future of enterprise application integration look like?
"What I think is next is to make integration more intelligent, more automated and more seamless for the end user, delivering an increasingly differentiated experience," says Schmidhuber-Tindle. "We're on a continuous journey – internally, with our partners, and with our customers – moving from multiple, siloed enterprise integration points to a unified cloud platform that integrates entire ecosystems."
The main objectives of this kind of innovation, says Hennicke, are cloud-to-cloud application integration, API stability and security, and the ability to get things done through configuration rather than complex customization.
"When solutions are integrated seamlessly into the front-end of lead business applications, customers connect business processes, end-user and backend systems in a transparent and organic way," he concludes. "That transforms optimal user experience, process efficiencies and holistic information governance into a high-value information ecosystem."
Originally published HERE