HP adds new File Analysis software solutions
HP has announced the availability of two software solutions that help businesses leverage advanced analytics and policy management technology to address the rising information management, governance, and data storage challenges resulting from the growth of big data.HP ControlPoint and HP Storage Optimizer aim to help organisations lower data storage costs, drive stronger compliance and information governance initiatives, and accelerate their path to hybrid cloud environments.
With unstructured (human-generated) data volumes increasing 43% annually and shrinking IT budgets, organizations are being forced to rethink how, where and what information they should store and backup.  File analysis-based solutions can play a key role in this endeavour, and HP is investing in innovative solutions that help organizations solve their most pressing information challenges.
According to Gartner's Market Guide for File Analysis Software Report from September 2014, File analysis (FA) tools analyse, index, search, track and report on file metadata and, in some cases, file content, enabling organisations to take action on files according to what was identified. Storage managers, legal and security professionals and business analysts are seeking ways to manage unstructured data stores to reduce costs and risk, and increase efficiency of valuable business-critical data. File analysis enables better information management decisions for unstructured data.
HP Storage Optimizer
HP Storage Optimizer is a new offering that combines file analytics with policy-based storage tiering and information optimisation. The combination of these technologies allows users to intelligently reduce the total volume of storage, shrink the cost and complexity of managing unstructured data and intelligently distribute information across multiple storage repositories including the cloud. Analytics plays a key role in helping CIOs, IT, infrastructure and storage executives realise these advantages. With deeper information quality and insight, more granular policies can be applied for each set of data, before the data is stubbed and stored according to policy. This provides a holistic view of all unstructured data within the organization.
HP Storage Optimizer provides connectivity to a wide range of repositories including Hadoop, SharePoint, Exchange and others, and offers enterprise-grade scalability, built-in workflow security and audibility features and seamless retrieval by end users, as needed.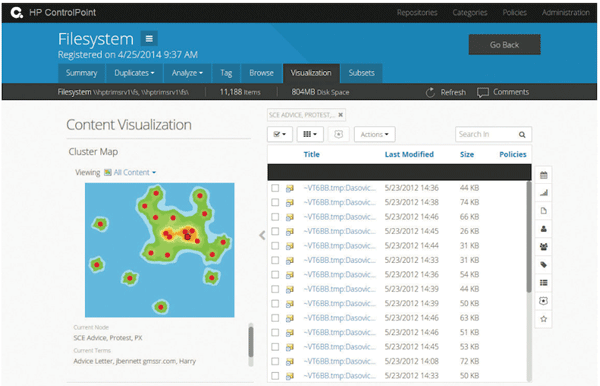 HP ControlPoint
HP also announced a new solution based on its ControlPoint file analysis product that analyses enterprise information and automates the migration of data to the most appropriate on-premise, cloud, Hadoop, or virtual repository.
This solution, which is an integral part of many cloud modernisation strategies, helps organisations prioritise which information is moved to the cloud, as well as the appropriate cloud deployment to move it based on the content's business importance, risk profile usefulness and governance policies. By delivering added insight prior to migration, organisations are able to better manage retention, reduce complexity and improve searchability, resulting in improved security, productivity and lower overall storage costs.
ControlPoint is integrated with HP Helion, an open, scalable, extensible cloud platform for large businesses and service providers.  With a built-in connector to Helion, ControlPoint can apply intelligence to data that is earmarked for the cloud and then migrate only the most relevant data to the Helion cloud instead of transferring the access, control and management problems intrinsic in one repository to another.
"With the explosion of data volumes and complexity, more and more organisations are turning to cloud-based solutions like HP Helion to break down data silos, reduce CapEx and achieve economies of scale," said Pete Brey, Worldwide HP Helion Manager for Cloud Storage.  "HP ControlPoint serves a critical role in migrating to the cloud, ensuring that organisations are not simply transferring a data lake from a file share to the cloud, but instead moving the right information based on its inherent value."
Leveraging HP Haven technology, a next generation analytics engine, HP ControlPoint bridges the gap between IT, legal and compliance departments to ensure appropriate information is transparently and defensibly disposed, and delivers intelligence for more-informed migration decisions.  Its latest integration with HP Helion gives customers an all-HP solution for analysing, migrating, governing and managing information throughout its lifecycle for additional risk and cost savings benefits.
 "Information management and governance are converging due to some fundamental challenges presented by Big Data, which is causing organizations to rethink previous IT strategies," said David Jones, senior vice president and general manager, Big Data Solutions, HP Software (@HPSoftware). "HP is leading the way to helping our customers transform to meet these evolving needs and challenges by investing in infrastructure and analytics that help our customers make smarter, more-informed decisions on what to do with their information to ultimately reduce costs, improve manageability and protect and govern their information with cloud-first solutions."
Earlier this year, HP launched Connected MX, which brings together policy-based endpoint backup with policy-based file synchronisation and sharing capabilities for desktop administrators as another Information Management and Governance that helps customers accelerate their path to the cloud.