KM software looking for answers
German developer Theum AG has launched Theum 2.0, the next major release of its knowledge management software that aims to deliver "answers" instead of documents.
Theum 2.0 allows knowledge owners throughout the enterprise to contribute documents such as policies and procedures, human resources manuals, safety regulations, marketing and sales information, financial reporting guidelines, reports, and more to a local Theum knowledge base with a few clicks.
Document management systems and authoring tools remain unchanged, and no specialised training or authoring tools are required. This lack of complexity enables anyone to be a knowledge contributor.
Theum atomises contributed documents into a thematic network of knowledge atoms and stores these in a designated knowledge base. Because all Theum knowledge bases know about each other, knowledge becomes accessible enterprise-wide without a centrally coordinated effort.
Users access knowledge using Theum's Knowledge Navigator or its answer-oriented Thematic Query function. A thematic query, which runs in parallel in all or in designated knowledge bases, dynamically assembles context-relevant knowledge atoms from all relevant sources into ready-to-use, big-picture "answers" containing the text, images, tables, and supporting information users need to get right to work. The need to scroll through pages of document search hits and scan through documents is eliminated.
New to Theum 2.0:
Open-source knowledge bases that run on any web server and are free from platform software and CALs;
Thematic Query technology that dynamically generates complete, "big-picture" answers from relevant knowledge atoms;
Architecture supporting a distributed, evolutionary knowledge management paradigm; and
Consistent user experience on every device, online and offline
"Theum is a game-changer because it goes beyond document-oriented thinking and gets right to the heart of a key enterprise requirement: knowledge," said Paul Caspers, Theum AG's CEO.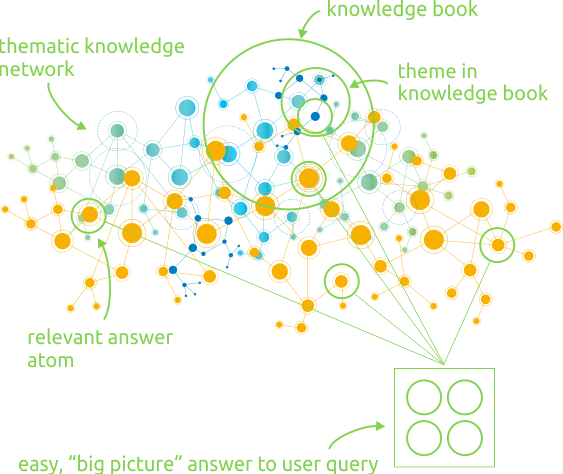 "The ability to direct users to the answers they need in seconds without time-wasting searches enables businesses to take a major leap forward in productivity and efficiency. Management will find Theum to be an intuitive, non-complicated way to get information chaos under control, eliminate internal costs, break down the barriers between information silos, and ensure the workforce knows what the business knows."
Theum AG is headquartered near Stuttgart, Germany, and is active in the EU, the US, and APAC.
Example Theum Knowledge Base: examples.theum.com