Ephesoft updates Smart Document Capture Solution: Transact 4.5
Ephesoft has launched Ephesoft Transact 4.5, for smart document capture, classification and export of unstructured content. Version 4.5 includes over 200 new features and enhancements expanding the company's ability to help organisations accelerate data capture and analysis, reduce errors and increase productivity.
"The latest version of Ephesoft Transact adds features that our users have asked for as well as important capabilities for our growing global customer base—from 5-person to Fortune 500 companies," said Ike Kavas, CEO of Ephesoft.
"System administrators, department heads and IT staff in banking, insurance and other industries processing high-volume, high-value documents will enjoy the increased power and efficiency of the Transact 4.5 platform, and the improved plug-in connectivity with web-based partner content services platforms. By enhancing our patented supervised machine learning technology, we continue to improve accuracy, speed and efficiency for our customers."
New features in Ephesoft Transact 4.5 include:
Machine learning Web Services APIs. This provides developers and IT professionals with flexibility to integrate machine learning into existing document capture solutions to capture metadata fields.
Auto extraction using supervised machine learning. Ephesoft Transact introduces powerful capabilities to configure and extract metadata from tables and line items. Admins can train the system to "learn" tables, improving accuracy—particularly with accounts payable processing. 
Improved processing speed. The Ephesoft platform runs on a 4-core processor as its baseline, which can be upgraded depending on the volume of documents to be processed. Customers with higher volumes of data will see up to a 64 percent performance increase and more than 750 pages processed per minute.
Export functionality for Box, SharePoint, SAP and Web Services. This increases the export options for enterprises. As a member of the Box Technology Partner Program, Ephesoft extends Box's capabilities providing customers with the industry's first purely cloud-based solution. Ephesoft's Box and SharePoint export plugins are ready-to-use connectors eliminating the need for custom code. Finally, the new Web Services export feature lets developers export directly from Transact to any custom Web Services endpoint.
Added language support. Chinese, Japanese, Korean and Thai have been added to OCR functionality in addition to Dutch, English, French, German, Spanish and Italian that are currently supported. For Transact on Linux (using the Nuance OCR engine), Transact 4.5 adds Arabic and Asian languages.
Other features. Transact 4.5 adds knowledge bases, side-by-side table extraction, the ability to perform RESTful API lookups into other systems, as well as support for Microsoft Exchange Web Services.
Additional supported operating systems. Windows 10, RHEL 7, Ubuntu 16.04, centOS 6.9, and centOS 7.2.
Used by hundreds of organizations worldwide, Ephesoft Transact is a smart document capture solution specializing in ingesting, classifying, extracting and delivering documents. It does this regardless of the format or input method (e.g., handwritten forms, email, scans).
For further information contact Ephesoft Australia Tel: +61 2 8415 9840 or email: andrew.rootes@ephesoft.com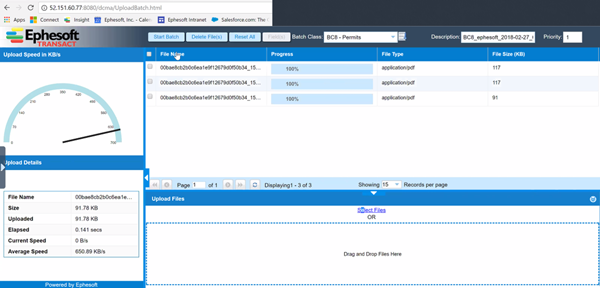 Uploading a batch class in Ephesoft Transact 4.5