iCognition strikes twice with Cloud EDRMS
Information Management and Governance (IMG) specialist, iCognition has announced two new significant Australian wins in the Government and FinTech sector for its cloud-based EDRMS platform, EDRMSaaS.Cloud. The Tasmanian Department of Primary Industry, Parks, Water and the Environment is migrating over 1400 users from on-premise Micro Focus Content Manager/TRIM to the iCognition cloud after an exhaustive open tender process.
Meanwhile 125-year old ASX listed investment and trustee group Perpetual has selected EDRMSaaS.Cloud after iCognition consultants undertook an Information Management & Governance strategic review.
Additionally, iCognition are transitioning other small to medium organisations such as the Canberra-Goulburn Catholic Education Office and The GeoGroup Australia, a correctional services provider.
"This proves that not only does scale not matter, but organisations from all market sectors are keen to make the transition to cloud services and secure the benefits. The range is from Government to FinTech, and corporations to Not-for-Profits," said Nigel Carruthers-Taylor, iCognition Executive Director.
The cloud transformation started in Web sites, more recently desktop applications, and now the rush is on across the enterprise application suite, including content management and Electronic Document and Records Management Systems (EDRMS).
"Having been in the field for over 20 years, this transformation is really exciting. Cloud services are the biggest game changer since document management went electronic," said Mr Carruthers-Taylor.
"The benefits of cloud are proven. iCognition successfully transitioned 2100 TRIM users at University of NSW to our cloud service, EDRMSaaS.Cloud. This service has been in operation for over 16 months now and consistently meets all Service Level Agreements, including the availability SLA."
EDRMS is now available as software as a service (SaaS) offerings but how do you make the transition while ensuring continuity, security and governance is maintained?
"We've been able to pour all our 20 years of experience, intellectual property and practical knowledge into our EDRMSaaS Cloud Service. Our EDRMSaaS.Cloud includes iCognition's award-winning RM Workspace for secure web-based end-user access and collaboration, RM Workflow to deliver easy-to-use Content Manager workflows, and RM Public View for publishing and sharing to non-Content Manager users.
Many organisations struggle to keep their TRIM systems updated, patched and configured to best practice and the latest security requirements. iCognition has responded by developing a government standard highly-secure and robust platform through Microsoft Azure Central, which is encrypted end-to-end, and is delivered with iCognition's innovative Content Manager/TRIM interfaces that provide the opportunity to re-tune application security for a more secure and usable solution.
The overall result is a highly secure, robust cloud EDRMS with up to 99.9% availability, fully assured with DR and back-up, and delivered with stringent SLAs.
"EDRMSaaS.Cloud can be set up as a brand-new system, but the current rush of clients are transitioning their existing TRIM / Content Manager system to our cloud, where we upgrade it, optimise it and add our innovations to it," according to Mr Carruthers-Taylor.
 "This transition process can be made in as little as two to three months. As a result, not only do clients quickly achieve a significant increase in the security of their content, but they immediately start getting a greater return on their existing investment because their current content and TRIM functionality is accessed and used in more innovative, useful, usable and functional ways," said Mr Carruthers-Taylor.
iCognition are now conducting workshops for organisations to demystify the technology, to share their experience in making the transition a success and to develop roadmaps for greater productivity in contemporary enterprise content management.
For more information about the how to make the transition to cloud services visit www.icognition.com.au  or contact
Nigel Carruthers-Taylor, Principal and Director,
Ph: 0417 692 178
Email: nigelct@icognition.com.au
​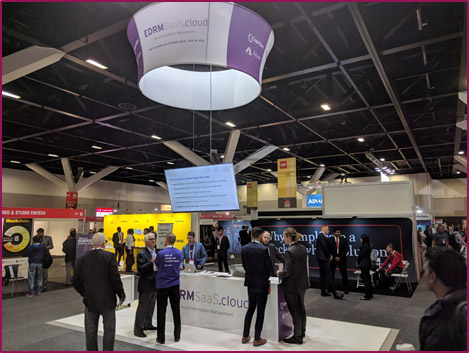 EDRMSaaS.Cloud stand at Cebit 2018