Clinton email furore highlights FOI loophole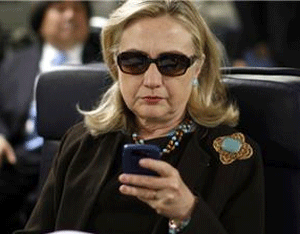 There has been widespread dismay at revelations that former US Secretary of State Hillary Clinton used a personal email server for both private and official government communication during her term in office. A number of senior Australian and New Zealand government ministers have confirmed that they don't follow the Clinton protocol in carrying out their own affairs, although it appears there are no specific restrictions that prevent the practice.
Clinton's private e-mail address - hdr22@clintonemail.com - was reportedly established on a domain set up January 13, 2009, the same day a US Senate committee held her confirmation hearing. She was confirmed and sworn in on January 21 as President Barack Obama's first Secretary of State.
The fact that Clinton's emails were not a part of official State Department records until recently means many of them would not have been located in response to Freedom of Information Act requests, subpoenas or other document searches conducted over the past six years.
Clinton's actions are being analysed primarily through the lens of political allegiance, with many Democrats regarding it as a storm in a teacup while republicans consider it an apparent deliberate destruction of federal electronic communication records not under the control of any federal archivist and being sought in a Congressional investigation.
Lawyer and commentator Jon Neiditz "Writes that "Most troubling, however, is that decisions were apparently made simply to destroy all communications deemed "personal" in this system without any review by a trusted third party, on the purported basis of protecting the "privacy" of all such communications, even though those who made the decision to destroy all such records were undoubtedly well aware that the privacy of all such communications could easily have been preserved by such a privileged and confidential third-party review.
"Many of the hundreds of thousands of you who, like me, deal with legal burdens regarding the preservation of information relevant to a reasonably likely investigation or litigation and legal requirements to maintain "reasonable security" regarding sensitive personal information — let alone the information sent by government officials to the Secretary of State — may be thinking what I … thought when I just read these words:  This is Watergate, and then some."
Following the New York Times story on March 2 that revealed Ms Clinton's email arrangements, Time Magazine contacted 13 members of the present Obama Cabinet to ask whether they followed her lead. All responded in the negative.
IDM made a similar request of Australian and New Zealand government minsters.
A Senior Media Adviser in the office of Australian Defence Minister Kevin Andrews confirmed "Minister Andrews uses a government email account to transact parliamentary and government business. "
A spokesperson for Finance Minister Senator Mathias Cormann said, "The Minister does not use a private email account for official government business."
These responses were echoed by representatives of New Zealand's Defence Minister Gerry Brownlee; Minister of Energy and Resources and Minister of Transport, Simon Bridges; and Paula Bennett, Minister of Local Government, Social Housing and State Services .
In Australia, the Department of the Prime Minister and Cabinet is responsible for Commonwealth whole-of-government coordination and leadership for cyber policy issues. Nothing about the Ministerial Standards of Oath of Office requires adherence to any particular computing standards.
IDM asked the Department whether it issued firm guidelines on the use of personal versus official government email accounts for official business.It responded, "The Australian Government's Information Security Manual recommends agencies take a risk based approach to the use of email and the infrastructure supporting its provision. It further recommends that agencies implement a requirement for all official business to be conducted through agency infrastructure, in agency IT security policies.".
The National Archives of Australia responded that "Federal government ministers' documents are subject to the Archives Act if they are records of their work as a government minister. It isn't against the Archives Act to use personal email for Commonwealth business, as long as there is a mechanism for records to be retained in accordance with the relevant records authority.
"Unauthorised destruction of a Commonwealth record is a potential breach of the Archives Act.
The Clinton controversy centres around the US Presidential and Federal Records Act Amendments of 2014 (which became law in November 2014). This specifies restrictions on the use of "non-official electronic messaging accounts" and mandates that if one is used then a copy must be forwarded to an "official account" at the time of sending the message, or within 20 days.
Clinton was Secretary of State from 2009 to 2013, before the law was enacted.
Responding to criticism, Clinton said it was her practice to email government officials on their ".gov" accounts, so her work emails were immediately captured and preserved. She did not state how this transposed when emailing non-US government officials.
In recent months, Clinton has turned 55,000 pages of printouts of her emails to the State Department, claiming about 90% of these emails were already in the Department's record-keeping system because they were sent to or received by "state.gov" accounts.
She defended her decision to hand over printed copies, stating that is simply following the instructions regarding electronic mail in the US Foreign Affairs Manual which require that "until technology allowing archival capabilities for long-term electronic storage and retrieval of E-mail messages is available and installed, those messages warranting preservation as records (for periods longer than current E-mail systems routinely maintain them) must be printed out and filed with related records."
On March 5, US Secretary of State John Kerry pledged that the department would work "as rapidly as possible" to go through all the new documents, redact any sensitive information, and then release them to the public. The department has since said that the effort will take several months and it is estimated the task will cost millions.
Mike Pompeo, a Republican Senator and member of the House special committee on Benghazi that is subpoenaing Clinton's personal emails, told US media that based on his committee's experience sorting through 44,000 other hard-copy paper documents provided by the State Department last year, the new effort could involve "hundreds and hundreds of man hours."
"I think the effort of reviewing these documents will greatly exceed a million bucks," said Pompeo. "The United States taxpayer is going to pay for that."
The State Department must have employees review every page to ensure that no sensitive or classified information will be released. Those redacted documents must then be scanned and compiled into a database searchable by the public.
If Clinton had used her departmental email account — as she insisted her employees do during her tenure — the messages would already be in the government's electronic records management system and could be redacted and released as part of the regular Freedom of Information Act process, Pompeo said.
"Remember, this challenge was created when a government employee decided not to use the government system," he said. "This is another reason that the directive secretary Clinton gave to all State Department employees to use the official system actually did matter.
"It's not only the time of printing out the paper and reviewing it, it's the next step of redacting it," added Gary Bass, the founder of the non-profit group OMB Watch (now called the Center for Effective Government. "It's a very lengthy process.
Alan Morrison, a public interest professor at the George Washington University Law School, told the US National Law Journal, "I don't know of any statute under which a person can be indicted or charged for not saving something on a federal computer. It doesn't mean [Clinton] wasn't supposed to … but I don't know of any remedy available" to punish a former government official, said.
The US Federal Records Act requires agency heads to "preserve records containing adequate and proper documentation of the organisation, functions, policies, decisions, procedures and essential transactions of the agency."
But the law doesn't spell out any consequences for violations — nor is it apparent Clinton violated the letter (if not the spirit) of the law, the Journal reported.
"There's not any blanket prohibition on any federal employee from using a personal email account to conduct government business," said lawyer Neil Koslowe, a former Justice Department special litigation counsel who has worked on cases involving the US Federal Records Act.
If it turns out that Clinton destroyed documents or mishandled classified information that would be another story — such violations can be criminal. However, the US State Department has said there are "no indications" that Clinton improperly used her email for classified information.
One Canberra insider commented that, "The irony is that Snowden leaked documents suggesting that internal US Government networks are basically permanently hacked by other state operators; so it's quite possible that Clinton's arrangements were more secure by virtue of their independence!"