UNSW increases student engagement with Microsoft Teams
By Dawesh Chand, University of New South Wales.
The University of New South Wales (UNSW) in Sydney is one of Australia's leading research and teaching institutions. Established in 1949, UNSW has grown into one of the most respected universities in the world—ranked third in Australia and 45th overall by the 2018 QS World University Rankings.
Our dedication to excellence and innovation is something that we model for our students, not just in what we teach but in how we support their learning experiences.
As part of our strategic plan to become "Australia's global university," we seek out and test technologies to help us simplify and extend collaboration—not only among students and faculty, but within organizational work groups, between researchers, and with our local and global partners. We've already laid the groundwork for scalable collaboration with more than 55,000 seats of Microsoft Office 365 cloud-based services.
It's not uncommon in university settings to find a mix of standalone solutions and a legacy learning management system (LMS), all of which require separate usernames and passwords, none of which work seamlessly with one another, and some of which are so archaic that they're simply not utilized. But with Office 365, we have an integrated system of powerful solutions that are familiar and easy to use.
Now we're looking at Microsoft Teams as a game changer. With Teams, every Office 365 tool is accessible through a single digital hub. One click and you're in—chat, Office 365 apps, files, and more. All in one place. All seamlessly integrated.
Plus, Teams is customizable and extensible, so it has enormous potential as a pedagogical tool.
Dr. David Kellermann, a lecturer in the School of Mechanical and Manufacturing Engineering, saw a disparity between the learning experiences of students who attended his lectures in person and those who, due to limited seating in the lecture theater, accessed online recordings of his lectures (usually automated slide decks with embedded audio). Kellermann felt that these "web students" were missing out on the full lecture experience—the use of visual aids and nonverbal communication, not to mention the opportunity to raise questions and participate in class discussions.
Kellermann wanted web students to have the uncompromised experience of the lectures, and a framework that his colleagues could easily replicate. When he reached out to us in IT Infrastructure, he'd already cobbled together a makeshift solution through our LMS that greatly improved the web students' experience—including streaming video, downloadable notes, and a chat room for posting questions and comments—but he felt this system was too complex, not scalable, and lacked seamless integration between tools.
So Kellermann told us what he wanted to accomplish, and we partnered on a classroom pilot. Because we were already familiar with Office 365, it only took us two weeks to create a customized solution in Teams for a group of 370 students—including simplifications that would make future implementations practically effortless. Kellermann's students could stream video lectures (with closed captions if desired), take and view live-synchronized notes, ask questions from their smartphones or PCs, and access class materials all from within the Teams environment. We could not have achieved the same results with standalone technologies or through our LMS, especially within the timeframe that we were able to execute the pilot.
Beyond improving the communication experience for web students, the fluid, interactive nature of Teams has dramatically enhanced student engagement across the board. "Engagement is one of the most important things in teaching," says Kellerman. "You have to get your students into it, just like a good movie or a good football match. Using Teams grabs the students' attention and makes learning part of their everyday lives—inside of the classroom and out."
Kellermann found an 800 percent increase in discussion posts since moving to Teams. At the conclusion of his course, 100 percent of the students who participated in the student experience survey agreed that they "felt part of the learning community." And as Kellermann points out, "What was their learning community? Their learning community was Teams." This increased engagement has also had a measurable impact on student success. Kellermann reported that the exam pass rate for the class using Teams increased from 65 to 85 percent.
In addition, Kellermann's pilot demonstrates that using Teams can simplify class administration, thanks to its integration with other Office 365 apps. Lecturers can quickly push a meeting, assignment, or exam date out to students from within their own Outlook calendars; lecture notes automatically synchronize in OneNote Class Notebooks; and videos are available through Microsoft Stream. "I can't express to you how joyful it is to end a lecture and know that I don't have to spend another hour or more on these tasks," says Kellermann.
As a technology, Teams is easy—easy to use and, as part of our Office 365 tenant, easy to turn on. In our pilot programs, we've seen a very organic adoption process. Kellermann's students began to use the chat feature within minutes and now they're sharing their enthusiasm with peers and professors. In 2018, we expect to see a push from the students and faculty for wider adoption, so our next step is to put the necessary support resources in place so we can roll it out across UNSW.
We're eager to see how UNSW students, faculty, and staff apply Teams and Office 365 to innovate, collaborate, and help fulfill our vision to become Australia's global university.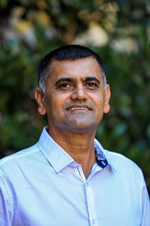 Dawesh Chand is team leader of infrastructure delivery services at the University of New South Wales. The article appeared first on Office Blogs.
Learn more about Microsoft Teams for Education or download a Quick Start Guide for IT administrators.