Alfred Health scans its digital future
Tuesday, May 10, 2011 - 21:22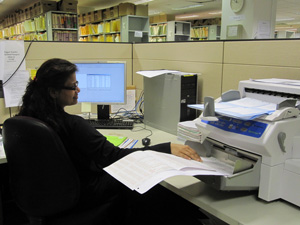 Victoria's Alfred Health has taken a major step toward the future of Medical Recordkeeping with its implementation of Cerner Provision Document Imaging (CPDI) digital scanning system.
During 2010, Alfred Health became the first Victorian site to adopt the Cerner scanning platform, as part of its quest to provide clinicians with improved access to medical records. It is now handling over 10,000 documents a day via a solution that includes Kofax Ascent Capture 7.5 software and Bowe Bell & Howell/Kodak scanners.
With a Cerner clinical information system in place since 1999, including online access to pathology and radiology results, the decision was made in 2007 to add a scanned medical record component. A business case was developed and funding was made available by the Victorian Department of Health (formerly DHS) in 2008 through a capital advance/interest free loan. Following a tender process, Cerner Provision Document Imaging (CPDI) was chosen in 2009. This was followed by a 12 month implementation period.
There were many challenges to be overcome on the way, including the organisation and barcoding of documents, as well as structuring the way these are presented in the clinical viewing portal. Ensuring clinical uptake of the new system was essential, as well as maintaining HIS turnaround times while ensuring quality.
The rollout of medical record scanning commenced at The Alfred in Melbourne in March 2010, followed by Caulfield Hospital in August and Sandringham Hospital in November.
Alfred Health is still operating a hybrid model. Some data is input into the Cerner application directly, while many clinicians make handwritten notes on barcoded forms.
The main driver for implementing a scanned medical record was to enhance clinical access to patient information. This would address issues of delayed delivery of paper medical records to clinical areas and missing records both of which adversely affected patient care.
A related aim of the project was to significantly reduce patient safety/organisational risk and enhance patient care by having medical record images available online in a timely manner. The system provides multiple users with simultaneous access for patient care, research, audit and review.
There is no OCR being performed on the scanned images of documents.
Ross Buchanan, Director Health Information Services (HIS) at Alfred Health, said "We tried to get this in the tender but none of the vendors could supply a system that was accurate enough."
One of the main challenges in designing the imaging platform was to ensure that the clinicians had a straightforward job to locate scanned documents once they had been placed online.
"Clinicians like the improved online access and not having to waste time locating the paper medical record," said Buchanan.
"Some have found the transition harder and slower than flicking through the paper record. We saw the project more as a clinical change rather than an IT or HIS project. Even though the project closed in December, we are still working with the clinicians to make navigating the scanned documents easier."
There is WiFi access to the digital patient record in some surgical areas and wards via portable PCs.
All records are able to viewed from within the Cerner PowerChart portal, from where the GE PACS system can also be launched to access medical imaging records.
Before the scanning system went live there was nearly a year spent in planning the rationalising, cataloguing, numbering and bar-coding of forms.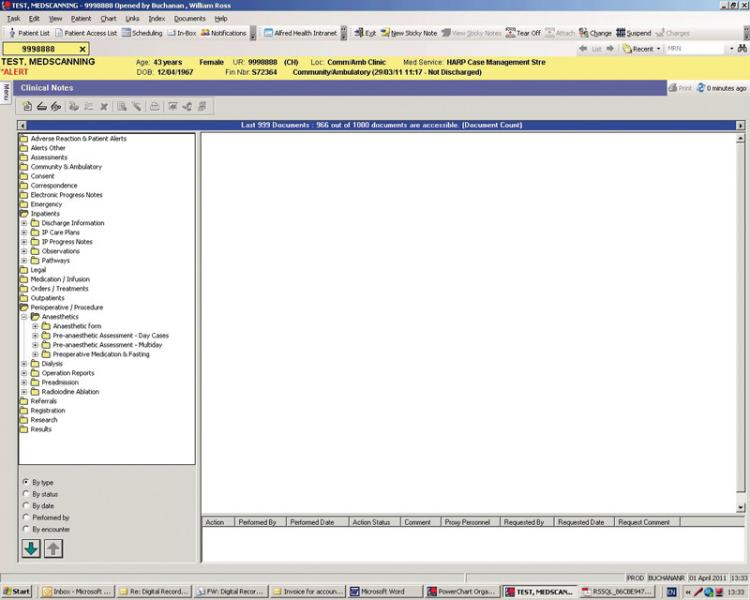 Significant input was also provided by clinical staff and the project team to reach an agreed forms structure and folder display "tree" in the Cerner PowerChart clinical viewing portal (technically known as the Event Set Hierarchy – ESH).
The ESH orders different types of documents by category and displays them in folders in a logical manner for viewing. Clinicians can opt to view or skip past any document. The content of the ESH includes scanned medical record forms, direct entry clinical documents and imported documents.
There was considerable debate around which viewing categories and sub-categories to establish, where individual forms would sit in the record structure, and the benefits of having a detailed structure versus a simpler model. More detail would add to the time taken to navigate and open each folder to locate particular documents, with a simpler structure taking less time to navigate but potentially making it more difficult for clinicians to find what they are looking for.
Alfred Health will not be back-scanning older paper records, so these will still be delivered to clinical areas traditionally to complement scanned documents available in Cerner PowerChart.
Clerical staffing numbers are expected to reduce over the next 4-5 years as the use of digital records becomes more universal, with the expectation that half the number of staff will be required to deliver a scanned medical record service.
"Staff are happy with the move away from manual paper handling, and find the CPDI and Kofax scanning software easy to use and reliable, as with the Bowe Bell and Howell batch scanners," said Buchanan.
"Having all patient information online has now opened up opportunities for Health Information Manager (HIMs) to undertake clinical coding from home. This has been trialled with a view to developing a formal program, which will help to retain HIMs and clinical coders and assist Alfred Health to manage the coder workforce shortfall.
"The Cerner system has the ability for clinicians to directly enter patient care information. As more of this occurs and we get closer to an electronic health record, the need for scanning will diminish. In the meantime, we are viewing the medical record scanning process as the transition from paper to an EHR."
This article incorporates material originally published in HIM-Interchange, Volume 1, Number 1, 2011. HIM-Interchange is the professional practice journal of the Health Information Management Association of Australia.