LaserFiche goes trucking in NSW
Wednesday, January 11, 2012 - 23:22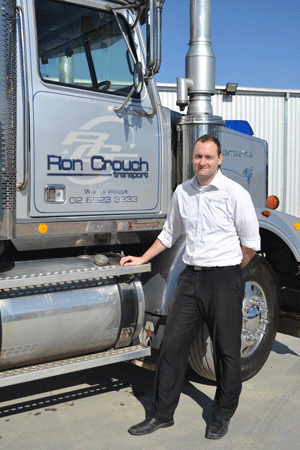 NSW family-owned business Ron Crouch Transport has adopted a  customised Laserfiche solution from Ricoh Australia to manage thousands of vital documents. The firm  employs close to 50 people, operates a fleet of 50 vehicles and has depots in Wagga, Melbourne, Sydney, Adelaide, Brisbane and Canberra.
"Every job has a corresponding hard-copy proof of delivery [POD] document that the recipient signs," says the company's Compliance Manager, Matt Christian. "With the vast majority of our customers, we don't get paid unless there is a POD as evidence the job has been completed."
With approximately 500 new PODs generated each day and an archive of over 300,000, managing this documentation is vital to the success of the business. Yet the sheer volume was rapidly becoming unmanageable and the company needed to move to an online system that improved efficiency, allowed for better customer service and also integrated with existing systems.
Following extensive discussions with the company's local Ricoh Business Partner, Ron Crouch Transport made the decision to upgrade from paper-based filing to a customised Laserfiche Avante Document Management Solution to facilitate online digital document filing, management and retrieval capabilities.
According to Matt, the customised Laserfiche solution was designed to allow signed PODs to be batch scanned and then put through an Optical Character Recognition (OCR) process to capture the printed information. Each document would then be stored in a searchable electronic repository while custom scripting exported copies of each POD to the company's information management system.
Managing PODs electronically was seen as a definite means of saving the company time, ensuring more rapid response to customer queries; and the customised integration with existing systems would save the company from having to make substantial infrastructure investments.
Matt estimates filing paper PODs took a half-day every day under the old system. With the introduction of the Laserfiche solution, there has been a reduction of that workload of 80 per cent, which has given staff more time to focus on other work and helped the company respond much faster to customers.
"A common situation is when a customer claims they haven't received a delivery," Matt explains. "With Laserfiche we now have the ability, while we're on the phone with them, to say, 'Actually, person X signed for that delivery and we can email you a copy of the proof of delivery right now' And it really is as quick as that. With paper PODs that could have taken an hour – provided, of course, that we were able to locate the document."
Laserfiche's in-built OCR technology captures and interprets POD barcode and recipient information.
With the recipient information, company personnel now have the ability to conduct general and precise searches for specific or groups of PODs. Matt explains: "Quite often we'll have customers call and request details for deliveries made over a certain period of time to a specific recipient. With the Laserfiche solution, we can do a search for the recipient's name and bring up a full list of every delivery made to them."
Similarly, with the automatic interpretation and capture of POD barcodes, personnel can enter the specific job number and have the POD displayed automatically on their screen.
"These are capabilities we simply didn't have with the old paperbased system, and it's saving us an enormous amount of time and effort," Matt states.
At the core of Ron Crouch Transport's IT systems is TransLogix, a software application designed specifically for the transport industry. To protect the company's investment in the software it was vital that any electronic POD management system was able to interface with.
"The alternative to Laserfiche was to spend hundreds of thousands of dollars on electronic equipment for the trucks so deliveries would be signed for digitally."
"TransLogix does everything from booking our jobs to managing customers, invoicing, payroll, warehousing, truck maintenance… it's the crux of our business," Matt says.
"Our Ricoh partner worked with us to devise a custom integration solution so that now each POD is scanned and stored in the repository then automatically exported as a compatible file to TransLogix."
"That's not something you can implement overnight, and just trying to make it happen for a medium sized business like ours would have been very difficult. Our Laserfiche solution has given us an equally efficient system without having to make that huge outlay in time and money."