Cloud apps battle at the checkout
Wednesday, April 17, 2013 - 20:29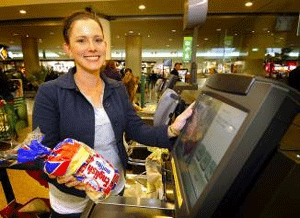 Woolworths and Coles have taken the supermarket war to the cloud, with the two giant Australian retailers taking diametrically opposed options via Google Apps and Office365.
Announcing the decision this week to begin a phased migration of 200,000 staff to the Google cloud platform, Woolworths CIO Dan Beecham said, "Our decision to move to Google Apps is a key element of transforming our workforce computing to achieve a step-change in our collaboration and productivity. 
"We are in the process of moving to Google Apps for mail, calendar and instant messaging and feedback from our early adopters is that they like the new tools. The next step will be to roll out these services to 26,000 of our national office and state office staff in coming months.
"We are also actively looking at how we can innovate with Google+, Google Drive and Google Sites to transform the way we approach other aspects of our business."
In 2012 Coles announced it is providing 100,000 staff with access to  Microsoft SharePoint Online as part of a company-wide adoption of Office 365. 
"Office 365 will provide our employees with a digital identity with security protection that gives them the ability to create and share ideas and learnings in a less structured way wherever they choose", said Conrad Harvey, IT Group General Manager, Coles Australia. 
"For Coles, the Microsoft Cloud was the only choice for such a progressive project of this scale. It integrates with our existing on premise environment and its familiar interface will ensure our team members can interact easily with the new platform."
Coles aimed to provide all staff with Web access to a portal that will automate many functions such as holiday requests and approvals. It will provide around the clock access to payslips, rosters, holiday calendars, training, blogs and corporate social networking .
Woolworths plans to begin by migrating its national and state office staff to the Google Apps platform. 
Writing on the Google blog, Woolworths CIO Dan Beecham said, "This is the first phase of what we hope will be a company-wide transformation of our workplace technology. 
"The move to Google Apps and Chrome builds on the successful roll out of Gmail and our 'Tap to Support' App on iPads to Woolworths supermarket store managers last year. The custom-made application, built on Google App Engine, helps our managers stay on the shop floor and focused on customers by allowing them to log a support ticket with our national support office in just one click rather than being tied to a PC in the back office. 
"Soon more of our staff will be able to experience the productive and collaborative benefits of being able to work from any device, anywhere. Geographically dispersed teams, like our merchandising or state based workers, will be able to use Docs to collaborate in real-time. 
"To help our staff get the most out of this technology, we're re-training our technology support team to focus more on proactive technology coaching. As part of this, we have established dedicated Technology Coaches and a Tech Centre, which will provide a mix of face-to-face training and support to help more than 3,500 national office employees with these technologies," said Mr Beecham.
Last year Woolworths equipped 890 Supermarket Store Managers with iPads running a custom-made application, Tap for Support, which is built on Google App Engine. Tap for Support is a one-click app that allows staff to log a support ticket with Woolworths HQ. In an instant, a Manager can log a support request for example to fix a faulty freezer and get back to the multitude of other tasks at hand.