Objective CEO in the driver's seat
Thursday, March 27, 2014 - 22:29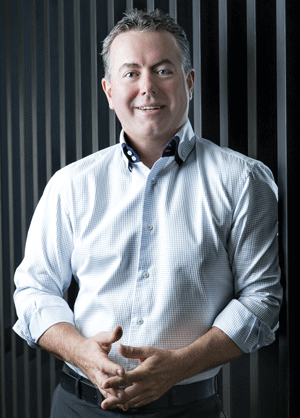 Founder and CEO of Australia's Objective Corporation, Tony Walls is driven to excel at whatever he does. Be that building a successful global enterprise software company, or hurtling around a racetrack on weekends competing against professional drivers in Carrera Cup, a fully-fledged national motor racing championship that routinely acts as the premier support category for the V8 Supercars Championship.
Tony Walls says that while business is his favourite sport, he enjoys the challenge of competition outside the office as well.
His urge to compete has been a driving force in his 25 plus years carving out a leading role in the information management market for Objective. Motor racing started as a consequence of spending time at the kart track in recent years, as an opportunity to share a fun pastime with his young children.
Given his competitive nature it wasn't long before he started racing karts competitively himself, winning multiple championships. Then, when the opportunity presented itself in 2013, he stepped up to competing in the Carrera Cup with his team, Objective Racing. It was a "now or never" moment, and Walls hates words like "never" and "can't".
Walls, a resident of Pittwater on Sydney's northern beaches, earlier took up sailing when he realised he needed challenges outside of the work environment. He built a sailing team which, in just four years, won the Australian Championships in the Sydney 38 One Design class.
"I spend a tremendous amount of time focussed on Objective's success, outside of my family, it's my number 1 passion. But I found long ago that I needed diverse interests to keep me energised" he says.
"I like competing. I approach business like sport and sport like business. Anyone who has been successful in team sport approaches it like a business. You need the absolute best people around you to win."
In his first year as a driver racing in the Carrera Cup in 2013. Walls was the only amateur driver to finish all 20 races in the season including top 10 finishes against a number of professional racing teams. He  ending the championship in the upper half of the entire field. Although his number 6 car is emblazoned with the Objective logo, Walls is keen to point out that Objective Racing is his personal initiative and not funded by Objective Corporation.
Objective Australia was another personally sponsored initiative from Walls to create and support Australia's team that recently competed in San Francisco in the inaugural 2013 Youth America's Cup. Whilst the Cup was ultimately won by the New Zealand team, the Objective Australia initiative gave a group of young Australians the development opportunity of a lifetime - to sail on the world's largest stage, in the same high performance AC45 catamarans that they used in the America's Cup World Series. 
The passion for success on the racetrack and on the water is even stronger in his quest for success for Objective to lead in the public sector and regulated industries where they compete with a portfolio of Information Management solutions. 
Defence challenge
The jewel in the crown is Objective's largest customer Department of Defence.
"What I've always loved about Objective's relationship with Defence is they keep bringing us fresh challenges for managing information on a massive scale. I don't believe that anyone else in the world has a single solution doing what Defence is doing. 
"To the credit of the team at Defence and our own engineering team, we're ahead of the curve, and that curve is often steep."
The sheer scale at Defence has always been one of its greatest information management challenges. Today, there are more than 100 shelf kilometres of physical records and over 160 million electronic records in Objective Enterprise Content Management (ECM).  
Defence has 60,000 people using Objective ECM each week, making it the fourth most used application in all of Defence. The final roll out to the Defence Science and Technology Organisation (DSTO) will bring the total number of Defence personnel using Objective to 67,500. Those users are creating 160,000 new documents every day, around five documents per second. In the last twelve months Defence has added 60 million documents to their Objective system.
R&D commitment
Walls is focused on the longer term and has made a significant investment in Australian R&D over the past 10 years. He believes that this investment positions Objective incredibly strongly in a perennially competitive environment.
"Objective is routinely investing twice the industry average in R&D, well over 20% of revenue. As a result, the commercialisation of our portfolio of solutions has probably doubled over the past two and a half years," he said.
Objective' product offerings are also broadening as a result, beyond their own ECM customers. This began with the launch of Enterprise Search for HP TRIM in 2011 and the secure information sharing and process management platform, Objective Connect for Objective ECM, MS SharePoint and HP TRIM, in 2012.
These will soon to be joined by dedicated solutions offering Governance and Workflow for SharePoint users.
"Objective ECM continues to deliver, our customers are very invested in it and we're very invested in it. New customers are investing in the solution, in many cases replacing an existing EDRM system. 
"Objective 8 has had the fastest take up of any platform we've had in our entire history; full credit to our customer relationship team and again our product management / engineering team.  More than 70% of our ECM customers have already upgraded to Objective 8, so by any metric it's a phenomenal result.
"Based on the success we have had with helping customers automate their business processes, we are bringing new solutions to market that add significant value to customers of other EDRMS systems.  We've built connector technology as part of Objective Connect and our Workflow solution that allows us to bring connected process management to all organisations." said Walls 
Walls is adamant that Objective remains firmly committed to its core ECM platform. While the competitive landscape has changed remarkably over the past 15 years, he believes the history of acquisitions of ECM vendors by large enterprise software companies demonstrates the advantages of remaining firmly devoted to specialising in managing unstructured data.
"With all the acquisitions of ECM companies that have taken place over the last 15 years, every product that gets acquired by a global enterprise software company seems to diminish or disappear" he said. 
"You can see it and you ask, "Why is that?" 
"I think it really comes down to focus. 
"ECM done properly touches virtually every person in an organisation, you have a different mindset about the strategic value of information, where you invest your innovation dollars and the expertise you need to give a customer a successful project outcome"
"To educated buyers, of which most are these days, enterprise systems are no longer about a feature function bake-off. It really is about having an informed discussion about how you are going to add value and produce measurable outcomes".
"The core questions really are "Can you deliver me the business outcomes I am looking to achieve and how well are you going to support me as a customer over the long term?" 
"They are the two core questions no matter what solution you're buying. Today, Objective has incredible strong domain expertise and I think Objective globally has one of the strongest evidence bases of having delivered reference-able outcomes for our Customers. Ultimately, that grows trust in your brand."
ECM Market
Tony believes that there is still an outstanding opportunity for ECM market to grow because many organisations who bought a competitors ECM over the last decade haven't always achieved the outcomes that they were looking for. 
"A lot of people are coming back to market, not necessarily just looking for the next generation of product, but because they didn't really succeed in implementing EDRMS or ECM the first time. 
"I believe that there's a significant opportunity. However customers are now saying "I've got an information governance problem or an efficiency problem. I need a solution that gives a great end-user experience, is simple to use and I need to comply with myriad of government legislation, but it needs to do that as a by-product of automating my business processes".
A little known fact about Objective is that the majority of their customers with Objective Enterprise Content Creation (ECC)  and Objective Connect use cloud and hybrid cloud based solutions already. While the talk in the industry for hybrid and cloud-based ECM solutions has grown in volume in recent time, Objective's ECM customer base remains largely on-premise. Given the sensitivities over security and data sovereignty, integration and customer control over change management, for the average ECM user this is understandable. In 2013 Objective's made a significant step towards overcoming these sensitivities and launched a cloud based ECM, Objective ECM for Small Agencies.
"The reason we built Objective ECM for Small Agencies was following a very detailed engagement with National Archives of Australia.  
They said: "Small agencies need the business outcome but they need a enablement strategy that removes the complexity of building a business classification system and reduces the ongoing requirement to manage a larger enterprise ECM. 
"So, we took the collective wisdom that we have gained from implementing hundreds of thousands of users of these systems over the last two decades and delivered a preconfigured system via the cloud."
"Objective provides the customer with flexibility and choice in the way that they purchase and implement their solution." said Walls
"Will everything ultimately end up in some type of Cloud?  I suspect so.  How long is that journey going to take?  While I can't give you a specific answer, I can say I don't think that it's going to be in the next three years. I do know that customers that make the decision to move enterprise systems to the cloud will be moving for solid business reasons not just because the cloud term is fashionable."
"In 2012 we introduced Objective Managed Services for our on premise ECM customers. Every Managed Services customer has renewed their contract and the Service is growing rapidly because customers have realised that, as experts and with a pool of expertise, Objective can often manage their ECM more effectively and efficiently than they can. 
"And ultimately, that's the real value proposition of the cloud. A customer doesn't have to worry about running the system, because someone competent is looking after it and they can pay for it over a contracted period".
Objective Connect
The launch of Objective Connect in 2012 was simultaneous with the Version 8 ECM upgrade, which is required to make full use of Connect's secure information sharing and process management functionality.
"The uptake of Objective Connect has been very good and we now have a lot of organisations converting to the paid platform. We adopted the model where a recipient of information doesn't need to pay to receive information. 
"Customers only pay when they want to share information with others.  It's similar to the familiar concept of Acrobat Distiller and Acrobat Reader, where you only pay for the capability to create a PDF but not to read it. We have some great examples of government agencies who have transformed their business processes using Objective Connect. IP Australia is using Connect for their Intellectual Property Oppositions Proceedings process. Further afield we have key customers, such as the UK Cabinet Office and the Welsh Government."
Walls downplays the comparisons that are invariably made with Objective Connect being described as a "Dropbox for Government".  
"If you look at the heritage of Objective, we've been implementing multi-server systems across government for a long time. There are still massive silos of information across government and we are finally able to link those up.  Objective Connect enables the connection of information and processes across those departments and agencies. A government process typically involves a document or case file of some sort. Connect allows you to securely manage that case file through the reviews, approvals and conversation threads that occur around those documents. Objective Connect is all about connected process management, which is much more than a "Dropbox for Government." 
"Our ultimate vision is to connect government, by enabling processes and information to transcend organisational boundaries and also connect with private organisations and citizens. To connect government the culture of government had to change and the technology had to change. With both of these occurring Objective is uniquely positioned to allow an organisations to drive more efficiency and greater strategic value from their information."