TOSHIBA releases 6 new high-end MFPs
Toshiba (Australia) has launched six new high end multifunction systems. The range consists of three A3 colour models (e-STUDIO7506AC series) and three A3 monochrome models (e-STUDIO7506AC).
All models features Toshiba's new advanced e-BRIDGE next technology, which enables complete third-party integration and support for internally driven solutions. In addition, Toshiba's standard secure hard disk drive is included. 
The new 22.9 cm (9") tablet-style user interface featured on all models can be completely customised, by changing the background, image, icons and personalised messages, or creating shortcuts that can start complex document workflow processes. 
A Dual Scan Document Feeder (DSDF) is standard on all six models. This document feeder has a  300 sheet paper capacity, and allows double-sided scanning at a speed of up to 240 images per minute.
The print speeds range from 55 to 75 pages per minute (ppm) in colour for the e-STUDIO7506AC series, and 55 to 85 ppm for the e-STUDIO8508A series.Toshiba offer a wide range of hardware and software options to allow the creation of tailor-made document workflow solutions. 
In striving for world-leading environmental standards, the series is compliant with Energy Star Tier 2 and the Restriction of Hazardous Substances Directive (RoHS). They also make use of recycled plastics and feature a low-power Super Sleep Mode to save resources.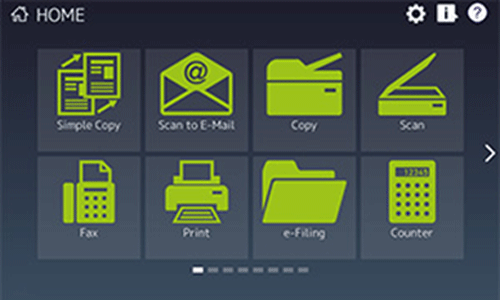 e-BRIDGE Next Tablet-like user interface