fyio adds document and personal ID verification
UK-based digital ID verification company OCR Labs Global has announced a partnership with fyio, an app designed to navigate life and securely share the important documents that underpin it. OCR Labs Global customers include Westpac, the Australian Government, Vodafone, ZIP, BMW and ANZ.
Increasingly tight Anti Money Laundering (AML) regulations demand that key documents like passports are verified and shared securely with professional and financial services providers but still rely on unsecured email as a sharing channel.
The partnership between fyio and OCR Labs Global provides a platform to mitigate risk for both sharer and recipient. The fyio community will benefit from a seamless and secure end-to-end workflow when verifying sensitive documents and lays the foundation for fyio Pro, a new and secure document-sharing service.
Launching in early 2023 with two professional service providers' pilots, fyio Pro allows users to store documents and get them verified directly via OCR Labs Global technology at the click of a button. The verified document can be shared with the party who needs to review it within the fyio ecosystem. With fyio Pro, users can also limit the amount of time they share their data, rather than letting the data processor store it indefinitely.
Recent reports show that £50Bn is currently unclaimed in the UK due to lost and forgotten paperwork1. Lost paperwork can lead to many types of forgotten assets, including investments, savings accounts, insurance policies, and pension plans.
Experian's Unclaimed Assets Register was the only database that helped customers trace forgotten pensions, bank accounts, premium bonds, investments and insurance policies. The service closed after 20 years of operation earlier this year, leaving consumers to rely on financial services companies for answers.
One organisation that relies on fyio's secure document sharing is the Royal Marines Charity (RMA). Its CEO, Jonathan Ball, comments, "The RMA likes the fyio concept because it is exceptionally simple and secure, meaning sensitive documents can be shared safely from one side of the world to the other. I believe we are delivering something to our members that is not only life-enhancing but potentially life-saving."
Sarah Wrixon, CEO and Co-Founder at fyio, says: "fyio set out to be a disruptor and a unique problem solver in the life and document management space. OCR Labs Global is the leading IDV service provider in the UK market and has a strong international presence. This partnership further strengthens our position as we plan to expand internationally and will offer the fyio community access to a simple and globally recognised document verification function. In due course, all members will be able to share their verified documents securely with professional and financial service providers within our ecosystem."
Russ Cohn, General Manager at OCR Labs Global, says: "We saw in fyio a stand-out new life and document management solution, not predicated on accessing huge amounts of cloud storage but focused on solving a real-life problem: specifically providing a compass to guide people through modern life's complexities, simply and securely. We are excited to take this partnership to new levels and become the go-to service for professional and financial service providers."
For more information, visit https://ocrlabs.com/ and https://fyio.app/.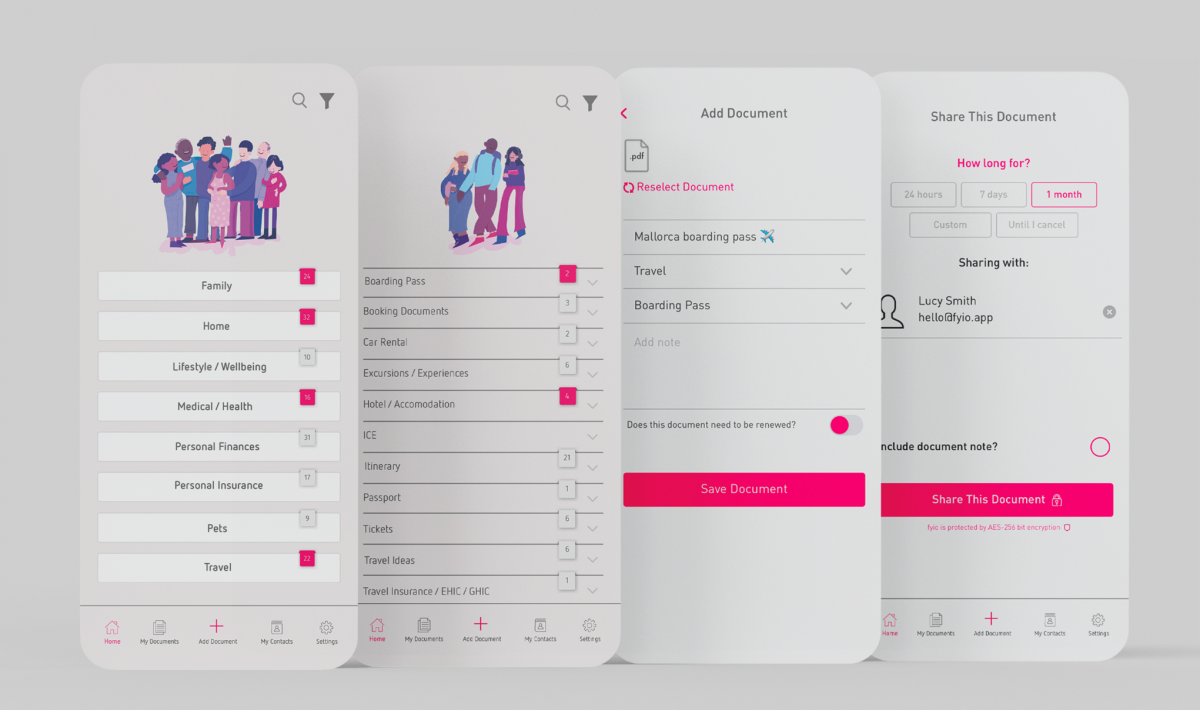 OCR Labs Global provides the underlying realtime technology for document verification, fraud detection and biometric matching to support fyio users with a reliable document verification process.