Paper & digital forms signed and completed in one go with new Wacom Clipboard
Wacom has announced the PHU-111 Wacom Clipboard, a smartpad that lets users complete and sign documents using standard paper forms with ink and converts the documents to a digital version in realtime.
As part of Wacom's family of signature solutions, biometric handwritten signatures can also be captured and attached. The digital documents can then be saved to local PCs, or uploaded immediately to servers or the cloud for easy document management.
For businesses like service, healthcare, insurance industries and public sectors that still want or need to use paper forms but want to archive digitally, the Wacom Clipboard provides a secure and easy way to instantaneously digitise and save these paper documents without changing current paper-based workflows.
The electronic clipboard pairs with a host PC or a mobile device via Bluetooth – an option for USB connectivity is available in PC environments.
When a user places a document onto the Wacom Clipboard, the integrated barcode reader automatically identifies the document and communicates to the PC or mobile device so that the corresponding digital document can be called up.
Using the included inking pen, the user can fill out the paper form as they normally would. All the strokes made by the pen on the smartpad are captured and streamed in realtime to the host device and immediately applied to the digital document.
The key to the Wacom Clipboard is Wacom's EMR (Electro-Magnetic Resonance) technology, which produces high quality digital handwriting performance and biometric electronic signatures that are attached to the digital document.
"With the introduction of the Wacom Clipboard, businesses can maintain their customer-facing processes – having their customers still fill out familiar paper forms, either A4 or letter size. However, they can easily gain efficiencies of digital document management without scanning," says Peter Sommer , Senior Vice President of Wacom Business Solutions.
"Additionally, as a global leader in eSignature solutions, we support the capture and inclusion of secure handwritten electronic signatures into the final digital document."
To support this workflow, Wacom offers simple applications that will let users get up and running quickly and SDKs that allow developers flexibility when working with the Wacom Clipboard and associated documents.
CLB Create is an authoring tool used at the front end of the process. It makes it easy to lay out forms to be used with the smartpad – both the paper and digital versions.
CLB Paper is the client application that captures, processes and saves in digital format everything written on the Wacom Clipboard. CLB Paper can also apply handwriting recognition to convert handwriting to text and capture secure, biometric Wacom eSignatures.
Wacom's WILL SDK family allows developers to build customised applications for interfacing with the Wacom Clipboard and collecting data from it.
"The Wacom Clipboard and supporting applications and tools help bridge the gap between the analogue and digital worlds," adds Sommer.
"We see this as an important step in allowing businesses to increase their productivity and focus more energy on their core business."
The Wacom Clipboard will be ready to ship in the end of July.
http://signature.wacom.eu/en-us/products/smartpad/ .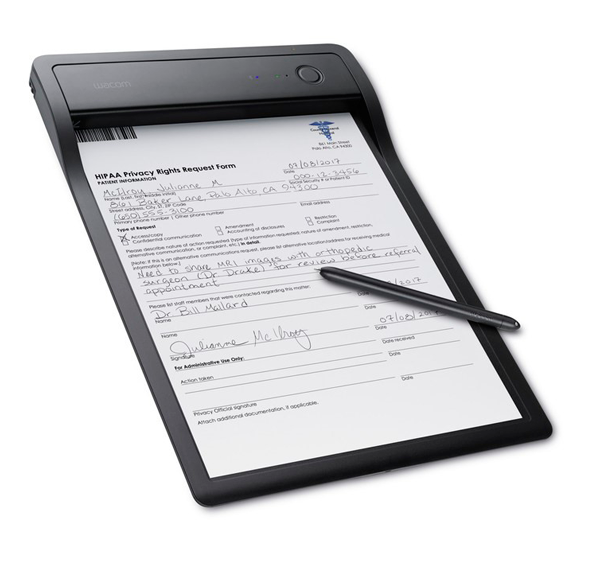 Turn paper documents to digital in real-time with the new Wacom Clipboard.