HP unveils compact large format MFP
Post date:
Friday, November 27, 2015 - 12:09
HP has launched five new HP DesignJet technical printers for architect, engineering and construction (AEC) professionals, including the flagship HP DesignJet T830 Multifunction Printer (MFP).
"Even as AEC and design professionals become increasingly mobile, they prefer making edits and reviewing plans on the printed page," said Craig Hunter, South Pacific Country Manager, Large Format Printing, HP.
Designed for construction professionals, general contractors, and computer-aided design (CAD) teams, the HP DesignJet T830 MFP offers a damage-resistant design able to withstand challenging job sites, a built-in scanner, and a front panel that can be extended and operated from a tablet.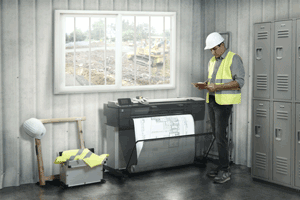 Recommended for tough environments where the MFP must endure dust, frequent transportation or potential hits, such as in mobile offices at construction sites, an optional HP DesignJet Rugged Case offers enhanced damage and dust protection. In addition, reinforced wheels and feet on the device's stand make printing at job sites more convenient.
A 36-inch wide, integrated scanner enables users to modify, scan and share plans in the office or on construction sites from a mobile device, and its touchscreen offers realistic print preview and document cropping.
The HP DesignJet T830 MFP aims to eliminate traditional printing pain points, enabling users to economically deliver prints for meetings, mark up real-time changes, and easily share documents with key stakeholders to streamline workflow.
The new HP All-in-One (AiO) Printer Remote is a free mobile application that enables easy, convenient printing and scanning to HP web-enabled printers and MFPs from both Apple and Android devices. It makes mobile scanning and sharing easier, offering a direct connection to online repositories, such as Dropbox, Box and Google Drive.