Opex unveils FalconV scan workstation
OPEX Corporation has announced the release of FalconV, the latest mixed document capture workstation in the Falcon series of scanners. FalconV combines the performance of a high-capacity production scanner with OPEX's unique prep-reducing process.
With two additional sort bins and enhanced multi-feed detection, FalconV increases the functionality and flexibility of its universal document scanning workstations. From forms processing, insurance & mortgage documents, invoice capture, backfile/archive scanning, to medical records, legal discovery, and digital mailroom, FalconV is designed to attack the most difficult workflow challenges.
FalconV allows operators to prep and scan documents at significantly faster rates than can be achieved using the traditional multi-step process of separating, prepping and then scanning the pages. By combining these steps into a single process, labor costs are dramatically reduced.
FalconV is engineered to process a variety of document types, from thick paper to onion skin and fragile or damaged pieces, to envelopes and file folders stuffed with receipts, odd-shaped pages, and business cards. FalconV can even take on difficult challenges other scanners will not touch, including X-rays and three-dimensional objects – nearly any style or type of "document" can be scanned.
Designed with five sort bins, FalconV offers enhanced sorting capabilities. An additional pass-through bin allows large or delicate documents to be scanned. Seven strategically placed Ultrasonic Multi-Feed Detectors (MFDs) recognise the slightest paper overlap wherever it occurs, practically eliminating any chance of multiple pages being scanned simultaneously. This capability vastly improves the overall scanning process and helps to eliminate the problem of missing documents.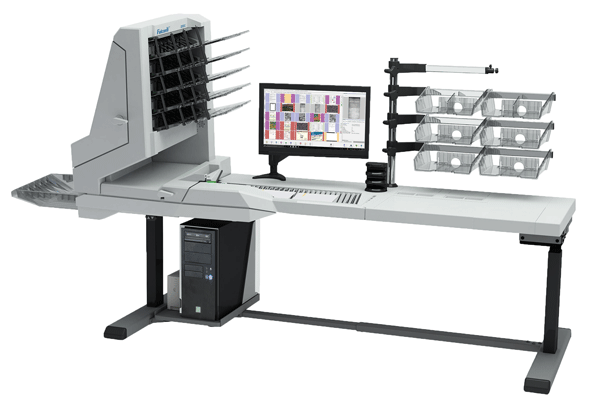 According to Mark Stevens, Chief Operating Officer at OPEX Corporation, "FalconV keeps OPEX ahead of the pace in document scanning technology. When we can provide our customers with the product improvements they've asked for, add useful hardware and software features to help them do more with less, and make the product cost effective; it is a definite win-win."
When fitted to the OPEX Model 72 Rapid Extraction Desk, FalconV RED is ideal for digital mailroom scanning. It provides a fast, efficient way to process payments and mail orders, and it scans virtually any document directly from the envelope.
Other notable features include: 600 dpi capture, OPEX CertainScan 4.0 prep-reducing software, versatile document feeder, 22" touch screen monitor, and automatic and one-touch page classification.
For more information, visit www.opex.com